UPDATE, July 2017
New Hawaii House Bill 1396 Law Allows Non-Medicaid, Private Pay Couples to Live Together.
Gov. David Ige has signed House Bill 1396 aimed at assuring that private pay couples will be able to stay together in community care foster family (CCFF) homes. The compassionate new law allows more than one non-Medicaid patient to reside at the same care home. In recent years, a number of elderly couples have had to live apart because of rules requiring no more than one private pay resident per CCFF home.
442nd Regimental Combat Team, 2nd Battalion Headquarters veteran Noboru Kawamoto and wife Elaine, 95 and 89 years respectively, married for 69 years, were one such couple separated because they were both private pay, non-Medicaid patients. (The Kawamotos were allowed to live in the same CCF from Sept of 2016, see below.) The bill will now ensure that private pay married couples and civil union couples are permitted to be united forever in the same CCFF residence.
————————————————–
UPDATE, Sept 2016
Joint Statement by the State of Hawaii and Counsel for Plantiffs Noboru and Elaine Kawamoto
HONOLULU, HAWAII (September 6, 2016) – As a result of meetings and discussions between Plaintiffs' counsel, Jeffrey S. Portnoy and John P. Duchemin, and Defendants' counsel, Deputy Attorneys General, Andrew L. Salenger, Dana A. Barbata and Caron M. Inagaki, Plaintiffs Noboru Kawamoto and Elaine Kawamoto have been reunited in his nursing care home pending determination by the Court of the constitutionality of certain Hawaii state statutes and administrative rules applicable to community care foster family homes.
Plaintiff Noboru Kawamoto is 95, a World War II veteran and member of the 442nd Regimental Combat Team, and his wife, Plaintiff Elaine Kawamoto, is 89. This temporary accommodation is limited to these Plaintiffs and the impact of the laws as applied to them only. Counsel expect to file motions seeking summary adjudication of this lawsuit by United States District Court Judge Leslie E. Kobayashi to resolve this case.
Please note that there will be no further comment to the press at this time. Thank you.
###
Cades Schutte LLP
——————————————————-
March 2016
442 Sons & Daughters join the battle to restore the civil rights of 442nd RCT WWII veteran Noboru & Elaine Kawamoto so they can be reunited
Aloha Friends,
This notice is from the Sons & Daughters of the 442nd Regimental Combat Team.
One of our veterans of the famed 100th Infantry Battalion – 442nd Regimental Combat Team – NOBORU KAWAMOTO — needs your help.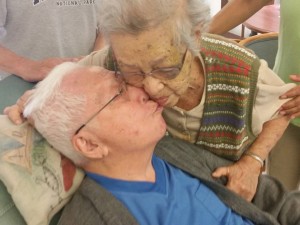 At the age of 95, after serving in World War II to preserve the freedoms we enjoy today and after years of working hard as a longshoreman so he could afford to pay for elder care, he and his wife Elaine are being denied the right to live together in the same care home because of a State of Hawaii law.*
This is a wrong that we need to fix.
HB600 was introduced last year to right this wrong – after unanimously passing both the House and the Senate it is now stalled in Senate committee.
It only needs to clear committee by May 5. No Federal, Medicaid, or financial issues are detrimentally affected by this bill.
                        The state should not have the right to keep an elderly married couple apart.
Here's what you can do to help move HB600 out of committee and to Governor Ige for signature:
Thank you to those who joined us for the rally in support of the civil rights of our kupuna – at the State Capitol on Tuesday, April 5, 11:30am-1:30pm, see this linked flyer and some photos.  And thanks to those who sent emails to our state legislators in support of HB600.
Thank you also to you if you signed the HB600 Petition form or got signatures of your 'ohana, friends, Facebook contacts, etc.
Mahalo for your kind consideration in helping reunite the Kawamotos.
For more background: The Kawamotos (a private-pay couple – not on Medicaid) lived in the same low-level care facility until late 2014 when Noboru was sent to the hospital.
Upon discharge, he needed a higher level of care and was sent to a 3-bed home.  Per state law, a 3-bed home must reserve 2 of its beds for Medicaid residents and only 1 bed may be private-pay.  There is no shortage of Medicaid beds – in fact, the 3rd bed in Noboru's care home is empty!  All Noboru wants is to have his wife with him at this stage of his long life.  (see this FAQ sheet)