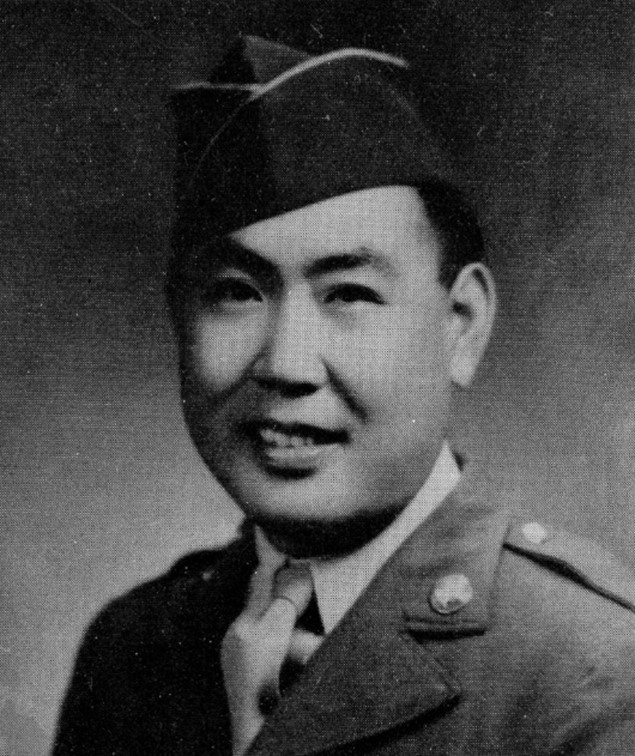 John Tadashi Hashimoto
Staff Sergeant
442nd Regimental Combat Team
3rd Battalion, L Company
John Tadashi Hashimoto was born on December 15, 1915, in Clovis, Fresno County, California, to Senzo and Sono (Sasaki) Hashimoto. His father, Senzo, emigrated from the village of Kawachi, Hiroshima Prefecture, Japan, in 1907. His mother, Sono, arrived in San Francisco on August 14, 1914, on the Shinyo Maru. She was from the same village and her nearest living relative was her brother-in-law, Juntaro Hashimoto. John had three siblings: brothers, Bill Tatsuichi and James Goro; and sister Teoki (died young). Bill was born in Hiroshima in 1911.
In 1920, the Hashimoto family lived on Teilman Avenue in Fresno and father Senzo was a farmer. By 1930, they were living on Villa Avenue. In 1940, John, his parents, and his brother James Goro lived at 238 McKinley Avenue. John operated a truck farm and his elderly father assisted him. During that time, John was listed in the 1940 Federal Census as the head of the family.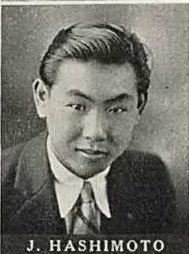 John attended Teilman Elementary School and Edison Technical School before graduating from Fresno High School in 1933. He then attended Fresno State College.
Senior class photo from Fresno High School
John registered for the draft on October 16, 1940, at Local Board No. 123 in Fresno. He was living with his family on Route 9, Fresno. He listed his occupation as a self-employed farmer, and his point of contact was his father, Senzo. He was 5'8" tall and weighed 165 pounds.
He enlisted in the Army on March 17, 1941, in Los Angeles, California, nine months before the attack on Pearl Harbor. His residence was given as Fresno, he had completed four years of high school, and his occupation was "Farm hands, General farms." He was sent to Fort Lewis, Washington, for basic training in the Medical Corps.
John married Amy Emiko Marumoto, daughter of Mr. and Mrs. Marumoto of Fife, near Tacoma, Washington, in early 1942. She was an active member of the local chapter of the Japanese American Citizens League. John was also a member of the Japanese American Citizens League. The couple was soon posted to Fort Riley, Kansas.
In May 1942, John's parents, brother Jimmy Goro, and brother Bill and his wife and two children were evacuated to the Fresno WCCA Assembly Center, located at the Fresno County Fairgrounds. His parents were housed in Unit E-8-5. Five months later, on October 28, 1942, they were incarcerated at the Jerome WRA Relocation Center in Jerome, Arkansas.
John and Amy's son Jonathan Keith was born on April 18, 1943 – the first child of Japanese ancestry to be born at Fort Riley. In November, John went from Fort Riley to the Jerome internment camp to spend Thanksgiving with his family. A year later, on October 27, 1943, his brother Jimmy Goro was released from the internment camp for employment in Des Moines, Iowa. On June 18, 1944, when the Jerome Camp closed, his parents were transferred to the Gila River War Relocation Authority internment camp in south-central Arizona. They arrived on June 21 and were housed in Unit 8-19-A. They were released to Fowler, California, on September 15, 1945. Bill and his family were also transferred to Gila River and released separately in May and September 1945.
John reported to Fort McClellan, Alabama, for combat infantry training in early 1944. In March 1944, John was hospitalized due to illness – and released the following month. He was at Fort George G. Meade, Maryland, prior to shipping out to the European Theater of Operations. His wife and son remained in Riley, Kansas, adjacent to Fort Riley. [Note: There was an outbreak of measles among the 442nd replacements at Fort Meade at this time, which delayed the departure of some of the men to Europe.]
In August 1944, John was sent as a replacement for the 442nd Regimental Combat Team as it was preparing to leave Italy to join in the battles to liberate France. Hashimoto was likely among the 672 replacements who arrived on September 18 while the Combat Team was bivouacked in a group of olive groves just south of Naples. He was assigned to 3rd Battalion, L Company. The new men had to be trained and integrated into their companies. They then moved to Staging Area No. 1 in what had been the University of Naples. On September 25 and 26, the troops boarded light assault boats that took them to the Navy transport ships USS Thurston, USS Dickman, USS Chase, and USS Henrico. On September 27 at 12:00 p.m., they sailed for Marseilles, France.
After landing in France on September 30, 1944, the 442nd moved to a staging area at nearby Septèmes. After a fortnight there, the men were transported north to the Vosges Mountains for engagement in the Rhineland-Vosges Campaign. The 3rd Battalion was moved by rail in "40 and 8" boxcars and arrived at Charmois-devant-Bruyères at midnight on October 13. The rest of the 442nd had traveled by truck and arrived two days earlier.
S/Sgt. Hashimoto was in the fierce fighting to liberate the towns of Bruyères, Belmont, and Biffontaine in October. He also joined in the rescue of the "Lost Battalion" – the 1st Battalion of the 141st Texas Regiment, which had gotten beyond its supply lines and was surrounded by the enemy. Following the rescue on October 30, the 3rd Battalion was ordered to push on to the end of the long mountain ridge that had been the objective of the Lost Battalion. Heavy fighting continued for another 10 days. Since they had arrived in the Vosges, the weather had been miserably cold, with nearly constant rain or snow. The 442nd soldiers suffered from exposure in their summer uniforms.
By November 9, the enemy line was completely shattered. All elements of the 442nd had been relieved and pulled back to rest areas. The 3rd Battalion was moved to a rest area at Lépanges, just south of Bruyères. The men got hot showers, clean clothes, and time to catch up on many days of lost sleep. Memorial services were held for the 140 men killed in the previous 25 days of fighting. On November 13, they were returned to the lines, with 3rd Battalion in regimental reserve behind 2nd Battalion. Their purpose was to hold a defensive line in the forest that the 442nd had cleared in the previous fighting in the Forêt Dominiale du Champ. For the next four days, 2nd and 3rd Battalions patrolled constantly to the front and on their flanks.
On November 14, 1944, S/Sgt. Hashimoto was squad leader on an L Company combat patrol that left the Command Post by vehicle at 1:00 p.m. to the area of Chestel, dismounted, and moved up to clear the houses near Le Petit Paris. Enemy resistance was encountered, estimated to be 15 Germans barricaded in the houses and dug in around them. The Germans opened up with machine guns, rifles, and mortars. The L Company patrol was engaged in a severe firefight, suffering seven wounded, two of whom were captured, including Hashimoto.
S/Sgt. John T. Hashimoto was listed as killed in action and also later reported missing in action. [Note. Confusingly, the Army hospital record shows that he was admitted as a battle casualty in November 1944 and died.] His name does not appear on the list of soldiers buried at the nearby U.S. Military Cemetery in Epinal, where men who were killed in the Vosges Campaign were interred.
According to the Pacific Citizen, S/Sgt. Hashimoto died of wounds on November 14, 1944, in a German prison camp and his widow was informed by the US authorities on April 30, 1945.
On May 11, 1945, the Kansas City Star listed Sgt. Hashimoto, husband of Mrs. Amy E. Hashimoto of Riley, Kansas, among the list of area soldiers killed in the war.
The Hashimoto family held a memorial service for John the following month, May 1945, at the Canal Camp section of the Gila River War Relocation Camp, where his parents were still incarcerated. The Reverend E. Hojo officiated at the memorial.
For his military service, Staff Sergeant Hashimoto was awarded the Bronze Star Medal, Purple Heart Medal, Good Conduct Medal, American Defense Medal, American Campaign Medal, . European-African-Middle Eastern Campaign Medal with one bronze star, World War II Victory Medal, Distinguished Unit Badge with one oak leaf cluster, and Combat Infantryman Badge. John was awarded the Congressional Gold Medal on October 5, 2010, along with the other veterans of the 100th/442nd Regimental Combat Team. This is the highest Congressional Civilian Medal.
In 1948, S/Sgt. Hashimoto's remains were retrieved by the US, and according to the wishes of his family, were sent home. He was among the 7,573 war dead aboard the USAT Carroll Victory, which left Antwerp, Belgium on November 6 and arrived on November 16, 1948, at Brooklyn Army Base in New York Harbor. Over 700 family and friends welcomed the ship and attended a dockside memorial service. Joseph Reich, President of the Borough of Brooklyn, officiated at the service and music was provided by the 328th Army Band. The ship brought the thirteenth and largest group of American war dead home from overseas burials.
Hashimoto's flag-draped casket was then sent to Fort Ord, California where it was escorted to Washington state by Sgt. Kanagaki. His funeral service was held at 1:00 p.m. at Butterworth Chapel on December 18, 1948, with Reverend Nishinaga of the Tacoma Buddhist Church officiating. He was buried in the Lexington section of the Veterans Memorial Cemetery at Evergreen-Washelli Memorial Park in Seattle. The pallbearers were from neighboring families of the Puyallup valley: Art Yamada, George Yamamoto, George Iwakiri, Hiroshi Sakahara, Frank Yaguchi, Satoshi Dogen, Minoru Uchida, and Toru Kuramoto. His widow and son lived with her family on Route 5, in Fife, a suburb of Tacoma, and his parents lived in Fowler, just south of Fresno. His two brothers also lived in California. The Hashimoto family travelled to Tacoma for the funeral.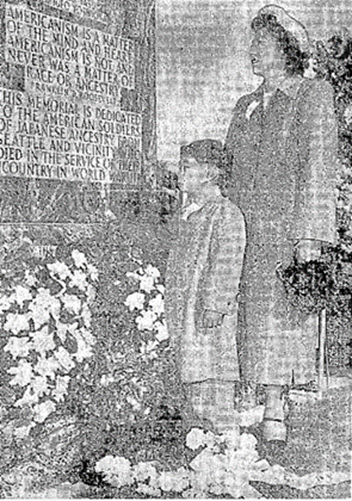 The Seattle Daily Times reported that on May 30, 1949, at Lake View Cemetery, Seattle, a large granite monument was dedicated to the greater Seattle area Japanese American soldiers who had lost their lives in war. John's widowed wife, Amy, took their 6-year-old son, Jonathan, to see his father's name on the monument. Amy later said,
It doesn't mean much to Jon now. But when he grows up, I believe he'll understand that this monument symbolized our loyalty and that because of what his father and the others did we live in dignity today.
Son Jonathan and Amy Hashimoto at the Lake View Cemetery Monument
John's name is also among those of 28 others etched on the Japanese War Memorial granite monument in Roeding Park in his hometown of Fresno. The monument is dedicated to the Japanese Americans from California's Central Valley who lost their lives in World War II.
The remains of the Honor Roll Monument, which overlooks the site of Butte Camp at Gila River WRA Camp in Arizona, also contains the name of John Hashimoto. This monument was built by the Japanese families of the camp to honor their sons who served during the war. Additionally,John's name is on the Nisei Veterans Committee (NVC) Memorial Wall in Seattle, Brick #469, Column 33, Row 18.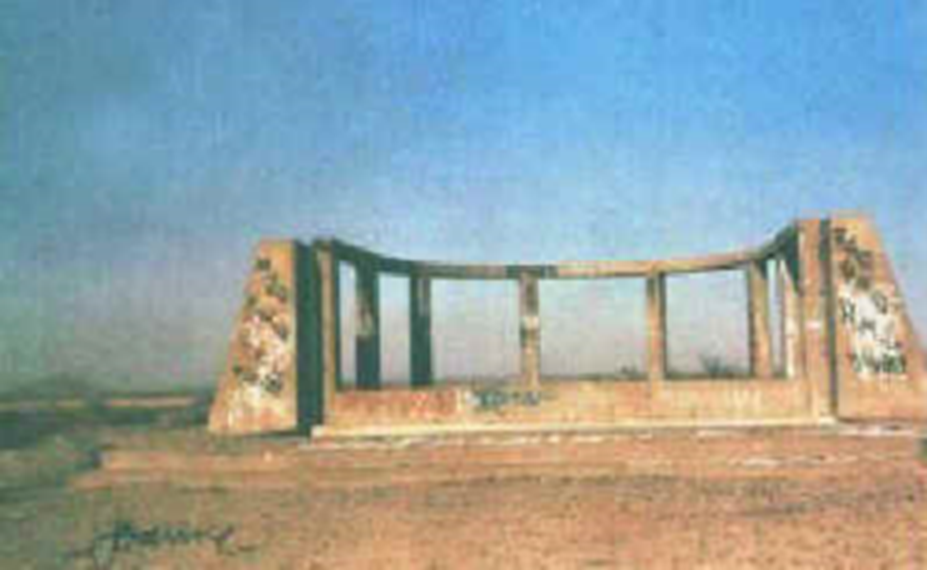 Gila River Honor Roll Monument
John's younger brother, James Goro Hashimoto, served as a Technician Fifth Grade in the 442nd RCT, Service Company.
Researched and written by the Sons & Daughters of the 442nd Regimental Combat Team in 2022.