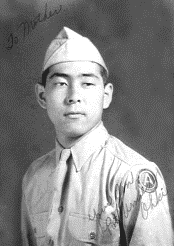 Arnold Ohki
Private First Class
442nd Regimental Combat Team
3rd Battalion, K Company
Arnold Ohki, son of Zenjiro and Yayeko (Watanabe) Ohki, was born on February 4, 1921, in Livingston, California.  He was the second-born of five siblings: Robert, Arnold, Kenneth, Edwin, and Anne.  His parents both emigrated from Japan.  His father arrived from Saitama Prefecture on June 30, 1904, aboard the S.S. Umatilla, from transiting in Vancouver, British Columbia, Canada, to San Francisco.  Zenjiro worked as a fruit farmer.  Mother Yaye arrived on June 15, 1914, on the Chiyo Maru in San Francisco.
Zenjiro died on February 25, 1931.
Arnold graduated from Livingston High School in 1939, and went on to graduate from Modesto Junior College in June 1941. While in college, he served as vice president and later as secretary of the Hammurabi Club, a pre-legal and pre-commerce students' group. He was a member of the Livingston Dodgers, Boy Scouts, Livingston High School basketball team, and Livingston United Methodist Church.
Arnold registered for the draft on February 15, 1942, Local Board No. 115, at the Library Building in Merced. His mother was his point of contact and the family lived on Route 1 in Livingston. He was 5'5" tall and weighed 135 pounds. He was a self-employed farmer.
In May 1942, the family was evacuated to the Merced WCCA Assembly Center, located on the property of the Merced County Fairgrounds in Merced. On September 18, they were incarcerated in the Granada WRA Relocation Center, known as Camp Amache, in Prowers County, southeastern Colorado. He was released on May 21, 1943, to Fort Logan, Colorado, to join the Army.
Private First Class Arnold Ohki enlisted in the Army on May 21, 1943, in Denver, Colorado.  His address was given as Prowers County, Colorado, and his civilian occupation as general farmer.  He was sent to Camp Shelby, Mississippi, for basic training, where he was assigned to the 3rd Battalion, K Company, 442nd Regimental Combat Team.
After over a year at Camp Shelby, the 442nd left for Camp Patrick Henry, Virginia, on April 22, 1944.  They shipped out from nearby Hampton Roads to the Mediterranean Theater of Operations on May 2 in a large convoy of troop ships and arrived at Naples, Italy, on May 28.
The 442nd went by LST to the beachhead at Anzio. From Anzio, they transferred to a bivouac area near Civitavecchia, just north of Rome. They went into combat near Suvereto, farther north, on June 26, in the Rome-Arno Campaign. The 442nd moved north from Suvereto, taking the towns of Belvedere, Sassetta, and Castagnetto. On July 1, they marched from Bibbona to an assembly area just south of the Cecina River. At that time of year, the river was hardly more than a trickle of water and very fordable in most places. Enemy artillery first became increasingly heavy, indicating they would make some sort of a stand on the high ground north of the river.
The regiment encountered fierce resistance from the Germans as they engaged near Castellina Marittima just north of the Cecina River on July 5, 1944. The 3rd Battalion came under an intense artillery barrage. From July 5 to July 7, major action was the assault on Hill 140, a German strong point. The hill was finally taken on July 7, with heavy casualties by the Regiment. It was during this battle that Pfc. Ohki was hit by fragments from an artillery shell, which proved fatal. K Company, in seizing Hill 140 (known as "Little Cassino"), lost four of its men killed – Calvin Saito, Arnold Ohki, Yoshito Ogata, and Benjamin Ogata.
The July 1944 hospital admission card for Pfc. Arnold Ohki states that he was hit in the thorax (chest) and leg and died as a battle casualty in the line of duty.
Private First Class Arnold Ohki was interred at the U.S. Military Cemetery in Follonica, Italy, Plot D, Row 38, No. 452.
There were three Ohki brothers serving in the Army. Upon learning of the death of Arnold and the wounding of Edwin, their mother, Mrs. Yaye Ohki, at Camp Amache, commented:
This is their country. This is their home, and my sons are working toward the betterment of their motherland, are fighting endlessly to win their place in the United States, as loyal citizens whose faith in America will not die, and will grow even stronger. My son, Arnold, proved that, by sacrificing his life on the Italian front.
For his military service, Private First Class Arnold Ohki was awarded the Bronze Star Medal, Purple Heart Medal, Good Conduct Medal, American Campaign Medal, European-African-Middle Eastern Campaign Medal with one bronze star, World War II Victory Medal, and Combat Infantryman Badge. Arnold was awarded the Congressional Gold Medal on October 5, 2010, along with the other veterans of the 100th/442nd Regimental Combat Team. This is the highest Congressional Civilian Medal.
In 1948, the Army began the process of closing the smaller military cemeteries in Italy and offering the family the choice of reburial at the large U.S. Military Cemetery in Florence or returning home.
Pfc. Arnold Ohki was brought home and reinterred at the Golden Gate National Cemetery in San Bruno, California, Plot C, Grave 616-A.  He was buried following a military graveside service held at 2:45 p.m. on December 3, 1948.  On December 10, his family printed a Card of Thanks in the Atwater Signal for the help and sympathy of the Atwater (California) American Legion, Delhi American Legion, and their many friends upon the return and re-interment of their beloved son.
Arnold's brother, Pfc. Edwin Ohki, served in the 2nd Battalion, E Company
Arnold's brother, Kenneth Ohki, served in the Military Intelligence Service.
Researched and written by the Sons & Daughters of the 442nd Regimental Combat Team in 2021.