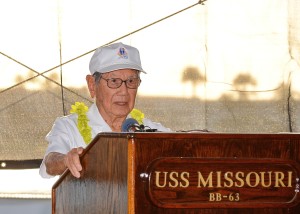 November 11, 2013 – Honolulu, Hawaii. The Battleship Missouri Memorial hosted a ceremony to recognize the 70th Anniversary of the Nisei Veterans of World War II. The event was held on deck of the Missouri and was attended by veterans, families and friends.
Veteran Ted Tsukiyama, 442nd RCT and MIS, gave the following speech:
ANSWERING THE CALL
Pearl Harbor Attack
            7:55 a.m., December 7, 1941, that fateful moment in history when the first Japanese bombs rained down upon Pearl Harbor and drastically transformed the lives of everyone in Hawaii, and most particularly those of Japanese ancestry. No one who was here can ever forget that day. I remember it well.
I couldn't sleep that unforgettable Sunday morning by the constant rumbling of thunder that would not cease. The sky above Pearl Harbor was black with smoke, punctuated by puffs of white aerial bursts. "They're sure making this maneuver look real," I thought. Turning on the radio, I heard the KGU announcer screaming, "Take cover! Get off the streets! We are being attacked by Japanese enemy planes. This is the real McCoy! Take cover!  Those words pierced my very core like a piece of shrapnel.
I heard but could not comprehend. I was assailed by swirling succession of feelings and passions. First I was stunned by utter surprise and shock. I was benumbed with disbelief and then denial…."this is just a bad dream, it can't be really happening." There was indignant condemnation….."You stupid damned fools, don't you know who you are attacking?"  Then strangely, there was a twinge of guilt and shame for being the same race as the enemy but quickly supplanted by a dark foreboding and concern for innocent people like my parents who had nothing to do with the bombing and for the suffering that was sure to follow. But the final and lasting emotion was anger, outrage and hatred for our attackers and a vow that "I'm going to get you bastards!", feelings that would last and would not diminish for the rest of the war.
Meanwhile the radio announcer Webley Edwards was frantically calling for all soldiers, sailors and marines to report to their battle stations, when suddenly I heard him say "All members of the University ROTC, report to your campus unit immediately." I jumped into my ROTC uniform and rushed up to the ROTC armory at the UH campus within the first hour of the attack. The several hundred ROTC cadets arriving on campus were greeted with the sight of ROTC staff Sgt. Ward and Sgt. Hogan feverishly inserting firing pins in the World War I vintage Springfield .03 caliber rifles and issuing us a clip of five bullets. It should be noted that 60% to 75% of the ROTC corps was made up of cadets of Japanese ancestry, yet throughout it all there was no registration or signups, no swearing in nor any kind of formality. No one questioned us. There was absolutely no hesitancy, doubts or distrust in mustering us in. We were ordinary ROTC cadets responding to the call to defend our country, just like any other American soldier or sailor reporting to their battle stations in time of war. I reported to my ROTC unit, Company B, lst Battalion commanded by Captain Nolle Smith, for which I served as First Sergeant.