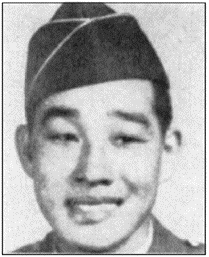 Ben Masaki Inakazu
Staff Sergeant
442nd Regimental Combat Team
3rd Battalion, I Company
Ben Masaki Inakazu was born on December 6, 1912, in Honolulu, Oahu, Territory of Hawaii. He was the son of Kijiro and Fui (Sakai) Inakazu. Kijiro and Fui emigrated from Fukuoka Prefecture, Japan in 1898, and they raised a family of two sons and three daughters. Kijiro was a machinist for the California Packing Corporation (CPC) pineapple cannery in Honolulu.
Ben was educated at Kalihikai School, and graduated from Mid-Pacific Institute in 1931. He then began working with his father in various positions for CPC in Honolulu. About 1939, he moved to Los Angeles, where on October 16, 1940, he signed his Draft Registration card, Local Board No. 18, 333 W. 2nd Street. He was living at 553 Stanford Avenue and was employed as a bartender for the Three Star Café at 511 South Main Street. His point of contact was a friend, Ross Toyo Arita, who lived at 118 Weller Street. Ben was 5'7½" tall and weighed 138 lbs.
After three years on the mainland, Ben returned to Hawaii on October 3, 1941, aboard the S.S. Lurline and began working for the Del Monte Corporation.
Ben Masaki Inakazu enlisted in the U.S. Army at Schofield Barracks, Oahu, on March 30, 1943. His civilian occupation was listed as "bartender." He was in the "tent city" with other inductees at Schofield Barracks. On April 4 they sailed on the S.S. Lurline to San Francisco. After a train trip across the US, they arrived at Camp Shelby, Mississippi. After basic training, Ben was assigned to 3rd Battalion, I Company.
After over a year of training, Inakazu shipped out to Europe with the 442nd on May 2, 1944, from Hampton Roads, Virginia, in a convoy of over 100 ships. After arriving in Naples and entering combat near Suvereto on June 26, he served in the Rome-Arno Campaign.
In July 1944, he suffered an ankle injury in battle in Italy – due to "falling earth/stones/other material." He was treated and released back to duty. Then in August he was treated for neuralgia (not stated if it was related to his ankle) and again released to duty.
The Combat Team was then sent to France at the end of September and participated in the Rhineland-Vosges Campaign. On October 14 they moved into position from the staging area in Charmois-devant-Bruyères for the attack the next morning on Bruyères itself – an important road center that was vital to the Germans. After three days of heavy fighting in the hills around the town, 3rd Battalion was set to attack directly into Bruyères on October 18. German defenses finally gave in after 6½ hours and the town was taken. On October 19, 3rd Battalion moved against Hill D, one of four hills that surrounded the town on three sides. Hill D was taken and K and I Companies moved on toward the rail line only to find themselves in the midst of a field that the Germans had mined. Sometime during the day of heavy fighting and forward movement, Staff Sergeant Ben Masaki Inakazu was killed in action. He was buried at Epinal in the U.S. Military Cemetery, which had been opened that month and would become one of the major U.S. cemeteries in France.
His family printed a thank-you card in the Honolulu Advertiser on November 7 for the many kindnesses and floral tributes from friends. The family then hosted his memorial service on Sunday, November 19, 1944, at 1:00 p.m. at Nishi Hongwangj Mission on Fort Street in Honolulu.
For his military service, Staff Sergeant Ben Masaki Inakazu was awarded the Bronze Star Medal, Purple Heart Medal, Good Conduct Medal, American Campaign Medal, European-African-Middle Eastern Campaign Medal with two bronze stars, World War II Victory Medal, and the Combat Infantryman Badge. Ben was awarded the Congressional Gold Medal on October 5, 2010, along with the other veterans of the 100th/442nd Regimental Combat Team. This is the highest Congressional Civilian Medal.
In 1948, many war dead were returned home from military cemeteries in Europe. On September 1of that year, Ben Inakazu was among 78 soldiers whose remains arrived in Honolulu from San Francisco on the USAT Dalton Victory at Pier 40 at 1:00 p.m. Chaplain Hiro Higuchi of the 442nd placed one memorial wreath for each of the major islands of Hawaii in the ocean path of the Dalton Victory as it steamed toward Honolulu Harbor on its final day. George Miki, President of the 442nd Veterans Club, and Earl Finch of Hattiesburg, Mississippi, were at the dock to welcome the soldiers home and talk to the fathers who were awaiting the arrival of the ship. The flag-draped caskets were held at the Army mausoleum on Oahu pending burial arrangements.
On July 28, 1949, Staff Sergeant Ben Masaki Inakazu was one of 20 war dead interred at the National Memorial Cemetery of the Pacific at Punchbowl, Honolulu, in Section D, Site 367.