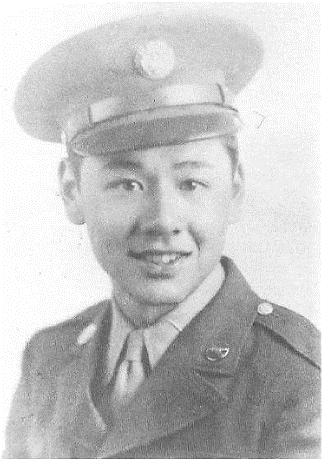 Benjamin Franklin Ogata
Private First Class
442nd Regimental Combat Team
3rd Battalion, K Company
Benjamin Franklin Ogata was born on January 17, 1925, in Dallas, Texas. Known as Benny, he was the only son of Harry Masaru and Antoinette Caroline (Hildeman) Ogata. Benny had one sister, Marie Louise. His father, Harry, was born in Tokyo, Japan, and emigrated in 1908. Harry was a commercial artist and initially worked for the Lewis Sign Company in Dallas and later started his own company – Ogata Art Studio. His mother, Antoinette, a Dutch citizen who was born in Curaçao, Dutch West Indies. She arrived in the U.S. on September 3, 1907, into New Orleans on the S.S. Yucatan. She had a son, Niels S. Sorenson, from a previous marriage
In 1930, Benny lived with his parents, stepbrother, and sister at 2206 Garrett Avenue in Dallas. Benny's father died in July 1940, when Benny was only 15 years old and a student at North Dallas High School. He quit school to work and care for his mother. A year later, he was a student at Dallas High School, also known as Crozier Technical High School, and graduated soon after.
Benny registered for the draft on his 18th birthday, January 17, 1943, at Local Board No. 8 in Dallas. At the time, he was employed as an auto mechanic at the Ed Maher Company in Dallas. He was 5'7" tall and weighed 136 pounds. He listed his mother as his point of contact, and they lived at 2206 Garrett Avenue. He told the lady at the draft board, Mrs. Jerome Murff, that he did not want to register as "Japanese," so she checked both "White" and "Japanese" on his draft card.
On August 19, 1943, in Dallas, Benny enlisted in the Army. His civilian occupation was listed as "Skilled mechanic/repairman, motor vehicles." He went through basic training at Camp Wolters, Texas. Following basic training, he was sent to Camp Shelby, Mississippi to join the 442nd Regimental Combat Team. He was assigned to the 3rd Battalion, K Company. While there, he acquired the nickname "Tex." He went home on leave and visited Mrs. Murff from Dallas Draft Board No. 8, who had been sending him cakes, handkerchiefs, and other small things almost weekly while he was in training. About this time, his mother became a naturalized U.S. citizen.
After over a year at Camp Shelby, the 442nd left for Virginia on April 22, 1944. They shipped out to the Mediterranean Theater of Operations on May 2 in a large convoy of troop ships and arrived in Naples, Italy, on May 28. They then went by LST to the beachhead at Anzio. From Anzio, the 442nd transferred to a bivouac area near Civitavecchia, just north of Rome.
The 442nd went into combat near Suvereto, farther north, on June 26, in the Rome-Arno Campaign. The 442nd moved north from Suvereto, taking the towns of Belvedere, Sassetta, and Castagnetto. On July 1, they marched from Bibbona to an assembly area just south of the Cecina River. At that time of year, the river was hardly more than a trickle of water and very fordable in most places. Enemy artillery first became increasingly heavy, indicating the Germans would make some sort of a stand on the high ground north of the river.
Benny managed to write two letters about this time – to his friend, Mrs. Murff, whom he told that he was "praying daily," and to his mother to whom he wrote "The Jerries are running."
The regiment encountered fierce resistance from the Germans as they engaged near Castellina Marittima just north of the Cecina River on July 5, 1944. The 3rd Battalion came under an intense artillery barrage. From July 5 to July 7, the major action was the assault on Hill 140, a German strong point. The hill was finally taken on July 7, with heavy casualties by the Regiment. Pfc. Benjamin F. Ogata was wounded during this action. He was admitted to a field hospital where he died. In seizing Hill 140 (also called "Little Cassino"), his squad of 10 men would lose five dead – including Calvin Saito, Arnold Ohki, and Yoshito Ogata – and five wounded.
Later, one of the wounded, Staff Sergeant Takuo Kajimara, wrote: "Benny, when I last saw him, was on his back. Just like he was sleeping."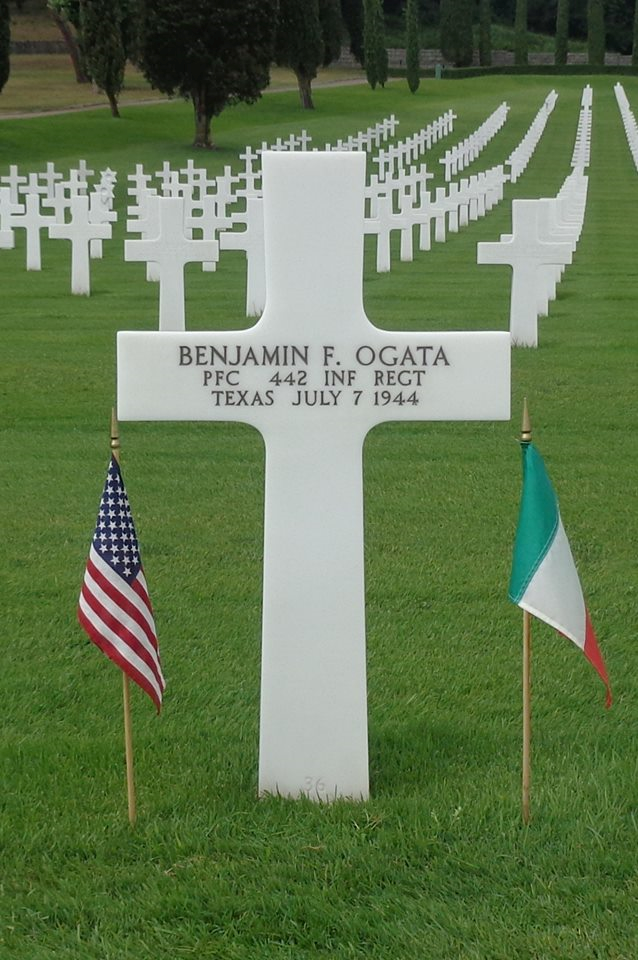 Benny's mother had proudly displayed a Blue Star in her window, and it took some time before she exchanged it for the Gold Star, indicating that her son had died.
For his military service, Private First Class Benjamin Franklin Ogata was awarded the Bronze Star Medal, Purple Heart Medal, Good Conduct Medal, American Campaign Medal, European-African-Middle Eastern Campaign Medal with one bronze star, World War II Victory Medal, and Combat Infantryman Badge. Benny was awarded the Congressional Gold Medal on October 5, 2010, along with the other veterans of the 100th/442nd Regimental Combat Team. This is the highest Congressional Civilian Medal.
Private First Class Benjamin Franklin Ogata was interred in the U.S. Military Cemetery at Follonica, Italy, in Section K, Row 109, Grave 1302.  In 1946, the smaller wartime cemeteries were being closed and many of those interred overseas were being returned home.  The families were given the choice of having their loved one returned to the US, or moved to one of the large permanent cemeteries overseas.  As a result, Pfc. Ogata was moved to the U.S. Military Cemetery in Florence, Italy, where he would rest with 12 of his fellow Go for Broke comrades.  He was buried in Section A, Row 14, Grave 36.
His half-brother, Niels Sorenson, served in the U.S. Navy during World War II.
Researched and written by the Sons & Daughters of the 442nd Regimental Combat Team in 2021.