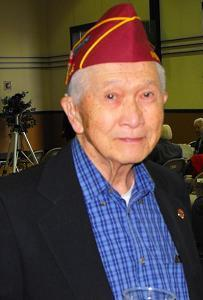 Bob Minoru Akimoto
Private First Class
442nd Regimental Combat Team
2nd Battalion, E Company
Bob Minoru Akimoto was born on December 14, 1925, in Seattle, Washington, to Motokichi George and Nuiko May (Yabuta) Akimoto. He had an older sister, Dorrie Sumi. His parents emigrated from Fushiki, Toyama Prefecture, Japan, in 1907 and 1918, respectively.
In 1910, Motokichi worked as a "house boy" for a private family in Portland, Oregon. He returned to Japan to marry Nuiko on January 5, 1916, in Fushiki. By 1917, he owned and operated his own dyeing and cleaning business in Portland. On March 9, 1918, Nuiko arrived in the US on the Manila Maru with Motokichi, who had gone to Japan to accompany her.
By 1920, they had moved to Seattle, Washington. Ten years later, the family was living at 2318 Thackeray Place, and Motokichi owned and operated a cleaning and dye works business. In 1940, the family was living at 1014 East 45th Street. Motokichi still owned and operated his cleaning shop, where his wife also worked.
In the spring of 1942, the family was evacuated to the Puyallup WCCA Assembly Center, located on the Western Washington Fairgrounds in Puyallup. It was euphemistically called "Camp Harmony." On August 16, 1942, Bob and his family were incarcerated at Minidoka WRA Relocation Center (internment camp) in Hunt, Jerome County, Idaho. While at there, Bob signed his draft registration card on December 28, 1943. His father was his point of contact. The family lived in Unit 15-1-F. At the time he was 5'5½" tall, and he weighed 124 pounds.
Akimoto graduated from Hunt High School in 1944, and then enlisted in the U.S. Army at Pocatello, Idaho, on July 19, 1944. He was released from Minidoka on August 25 to go to the Army Reception Center at Camp Douglas, Utah. His parents were released on June 20, 1945, to return home to Seattle. Nuiko became a U.S. citizen on December 28, 1953.
After basic training at Camp Shelby, Mississippi, Bob arrived in France as a replacement to the 442nd Regimental Combat Team during the Maritime Alps Campaign. The Combat Team left France for Italy in late March for the Po Valley Campaign. After the end of hostilities in Italy on May 2, he served during the occupation.
Akimoto returned to the US and was discharged from the Army at Fort Lewis, Washington, on November 2, 1946.
For his military service, Private First Class Bob Minoru Akimoto earned the Bronze Star Medal, Good Conduct Medal, European-African-Middle Eastern Campaign Medal with two bronze stars, World War II Victory Medal, Army of Occupation Medal, Combat Infantryman Badge and the Distinguished Unit Badge. He was awarded the Congressional Gold Medal on October 5, 2010, along with the other members of the 100th/442nd Regimental Combat Team. This is the highest Congressional Civilian Medal.
After the war, Bob attended the University of Washington and earned his Bachelor of Science degree in Business Administration in 1954.
On August 31, 1958, he married Fusako Uyeda in Tacoma, Washington. They raised a son and a daughter and settled in Burien in the greater Seattle area. He worked for The Boeing Company and the U.S. Small Business Administration, and he retired in 1987.
On January 14, 2012, he was personally awarded the Congressional Gold Medal and the Bronze Star Medal at a ceremony in Meany Hall, University of Washington, Seattle.
Akimoto was a member of the Nisei Veterans Committee (NVC) of Seattle. His name appears on the NVC Foundation Japanese American Memorial Wall in Seattle, Brick #1309, Column 29, Row 27. His hobbies included golf, photography, gardening, and watching the Washington Huskies and Seattle Mariners games.
Bob Minoru Akimoto died on August 7, 2015, in Seattle. He was survived by his wife, son, and daughter. His memorial service was held at Blaine United Methodist Church in Seattle on August 29 and he was buried at Evergreen Washelli Memorial Park in Seattle. A colleague wrote a memory of Bob, "He was always a gentleman, treating everyone with courtesy and respect. He spoke highly of his wife and children…he had a nice sense of humor and was so pleasant."
See the following link for more info: https://www.nvcfoundation.org/newsletter/2015/9/nvc-taps/
Researched and written by the Sons & Daughters of the 442nd Regimental Combat Team in 2021.