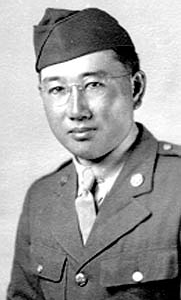 Charles Ishii
1st Sergeant
442nd Regimental Combat Team
522nd Field Artillery Battalion, Headquarters Battery
Charles Ishii was born on August 29, 1916, in Orange County, California. He was the son of Kyutaro and Sada (Nakamura) Ishii. He had five siblings: Joe S., Nellie, Rose, Henry, and Sada. His father arrived in the US in 1902. Sada Ishii arrived in San Francisco on the S.S. Mongolia on February 4, 1913. Her husband accompanied her. They were from the village of Kawakumi, Fukuoka Prefecture, Japan. They were headed to the town of Talbert, where Kyutaro was a farmer.
In 1920, the Orange County area where the family lived was in Huntington Township and Kyutaro owned his farm. By 1930, their address was now denoted as Bushard Avenue in the unincorporated town of Talbert in Fountain Valley. Ten years later the address was the same, but RFD 3 was included.
Charley, as he was called by his family, attended Fountain Valley School, played on the school baseball team, and was an active member of the Cub Scouts and later the Boy Scouts in Talbert. At his 8th grade graduation in 1930, he was class Salutatorian. Charles graduated in 1936 from Santa Ana Junior College, where he was a member of Phi Sigma Alpha, the national honor society for junior colleges, and lettered in baseball. The following year, he played baseball with the Orange County Japanese softball team. He was also active in the Orange County Chapter of the Japanese American Citizens League.
Ishii signed his draft registration card on October 16, 1940, Local Board No. 172, located at City Hall, Santa Ana, California. His home address was on RFD 3 in Santa Ana, where he worked. His point of contact was his brother Joe, also of RFD 3. He was 5'8" tall and weighed 160 pounds.
On March 14, 1941, Charles was among the 26 draftees who left Santa Fe Station by train for the Los Angeles Induction Center No. 1, where he was mustered into the U.S. Army at 9:30 a.m. His residence was given as RFD 3 in Santa Ana. He had attended two years of college and was a farm hand. He was sent to Camp Roberts, in Monterey and San Luis Obispo Counties, for training, prior to being assigned to C Company, 116th Engineers, 40th Infantry Division at Camp San Luis Obispo. When the war broke out, he was sent back to southern California. Charles was next stationed at Post Headquarters, Fort Sam Houston, Texas.
As Ishii said in a later interview, It was so ironic. Here I was, walking guard duty in North Hollywood Park, not 10 miles away from my father as the crow flies, and I couldn't help him. Kyutaro had been taken by the FBI to Tujunga Canyon for questioning concerning his affiliation with a Japanese language school. He was eventually released.
On May 17, 1942, Charley's parents and sister Nellie were incarcerated at Colorado River War Relocation Authority Camp, known as Poston, located near Parker, southwestern Arizona. Brother Joe and his wife and son entered on May 15; sister Rose entered on May 23. Joe and family were released on August 2, 1943, to Gill in northern Colorado. The parents and Rose were released six weeks later on September 18 to Gill. Nellie was released for employment in Denver on November 3, 1943.
1st Sgt. Charles Ishii was assigned to the 442nd Regimental Combat Team in early1943 and sent to Camp Shelby, Mississippi, where he was assigned to the 552nd Field Artillery Battalion. After a year of training and maneuvers, he went with the 442nd as they left Camp Shelby on April 22, 1944, by train for Camp Patrick Henry, Virginia.
The 442nd left on May 2 from nearby Hampton Roads in a convoy of over 100 ships. The 522nd was on the USAT John Hopkins and arrived at Bari and Brindisi, Italy, on May 27, then went by train on May 28 to join the rest of the Combat Team who had arrived at Naples on May 28. From Naples, they spent a week at a staging area in nearby Bagnoli and were then sent by LST 526 to Anzio. After two days in Anzio, they convoyed to a large bivouac area near Civitavecchia and San Romano, traveling at night through Rome.
On June 26, 1944, the 442nd entered combat near Suvereto in the Rome-Arno Campaign. After fighting the Germans north to the Arno River, the Combat Team was pulled back from the lines for reassignment. The 522nd was shipped from Rosignano on the S.S. Richard K. Call on September 10, arriving in the area of Naples the next day. They were at staging areas in Qualiano and Bagnoli from September 11 to 26.
The Combat Team was then sent on September 27 to France – the 552nd was on the U.S.S. Thurston. They landed in Marseilles the next day. After 10 days in a staging area at nearby Septèmes, the 522nd and the rest of the RCT left for the northeast of France, over 500 miles away, for participation in the Rhineland-Vosges Campaign. The 522nd participated with the rest of the Combat Team in the action to liberate the towns of Bruyères, Belmont, and Biffontaine, and the rescue of the "Lost Battalion." This battalion, the 1st Battalion of the 141st (Texas) Infantry, had advanced beyond their support, were surrounded by the enemy, and been unable to extricate themselves.
After the fierce battles in the Vosges, the Combat Team was sent to the south of France on November 19 – the Rhineland-Maritime Alps Campaign in France. The 522nd Headquarters was at La Leopolda, the winter home of the King of Belgium, located at Ville Franche near Menton. Elements of the 442nd were in defensive positions from Sospel to L'Escarène to Piera Cava. Men spent a lot of time in Nice and there was relative peace and quiet; hence, this was dubbed the "Champagne Campaign."
In March 1945, the relatively peaceful time in the south of France ended when the 442nd was returned to Italy for the final push on the Gothic Line in the Po Valley Campaign. The 522nd was detached from the 442nd and attached to the 7th Army for the final battles to defeat the Nazis in Germany and end the war. They entered Germany on March 12, crossing the Saar River at Kleinbittersdorf.
Sgt. Ishii later recalled visiting one of the sub-camps of Dachau – near Munich – the day after the 522nd had liberated it. He was shown the gas chambers and burial urns by one of the former prisoners.
When the war ended on May 8, 1945, the 522nd was in Shaftlach, 28 miles south of Munich. They were sent to Donauworth, on the Danube River 100 miles northwest of Shaftlach. Headquarters Battery was housed in the village of Mertingen, just south of Donauworth. The 522nd remained there until November performing occupation duties.
For his military service, 1st Sgt. Charles Ishii was awarded the following: Bronze Star Medal, Good Conduct Medal, European-African-Middle Eastern Campaign Medal with four bronze stars, World War II Victory Medal, and Army of Occupation Medal. He was awarded the Congressional Gold Medal on October 5, 2010, along with the other veterans of the 100th/442nd Regimental Combat Team. This is the highest Congressional Civilian Medal.
Sgt. Ishii was discharged from the Army in 1945 at Camp Grant, Cook County, Illinois. He married Kuniko Kabumoto on January 23, 1946, in Cook County, Illinois. She was the daughter of Suketaro and Takiko Kabumoto of San Francisco, California. The Kabumoto family had been incarcerated at Jerome WRA Camp in Arkansas on November 3, 1942. When it closed, she and her mother were transferred on June 10, 1944, to Rohwer WRA Camp in Arkansas. They were released to Chicago on July 14, 1944.
After the war, Charles (with his wife Kuniko) and the Ishii family returned home to Orange County, California. As Charles said, We were one of the lucky ones. Some people had their farms sold out from under them. But our family knew the right people – attorneys and good friends – and we got everything back. Over the next few years, the family acquired more farmland.
Charles was a member of Garden Grove Veterans of Foreign Wars, serving as President in 1950.  In 1958, Ishii was among a group of 442nd Veterans who raised $2,500 for the daughter of their comrade, Walter Sakamoto, to fly with her parents from their home in Wailuku, Maui, to Children's Hospital in Houston, Texas, for a heart operation.  Sakamoto had served as a Corporal in Headquarters Battery, 552nd Field Artillery Battalion, 442nd RCT.
Right: Charley in front of his father's house after the war
At this time in the 1950s, Ishii also served as a Councilman for Fountain Valley in Orange County and was on the board of the Orange County Vegetable Growers Association. By 1980, his family had traded 200 acres of their farmland for 800 acres near Fresno, where they grew oranges. In this swap they also acquired several industrial buildings. In 1981, Ishii led a team that conducted oral history interviews of many of the original, elderly Issei (first-generation Japanese) settlers of Orange County. The project was part of an effort to enlarge the county's Bowers Museum.
Charles Ishii died on October 6, 1998. His survivors included his wife Kuniko, two sons, two grandsons, his siblings, and numerous nieces and nephews. His funeral was held at Wintersburg Presbyterian Church in Garden Grove on October 13 at 10:00 a.m. He was buried in Good Shepherd Cemetery, Huntington Beach, California. His wife's name and birth date (November 9, 1919) are on their joint tombstone. As of this writing, there is no death date shown for her.
For more information on the Ishii family farms, visit Ishii Farms (walkthefarm.org)
Researched and written by the Sons & Daughters of the 442nd Regimental Combat Team in 2022