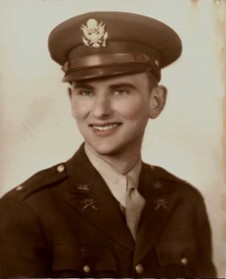 Clarence Edward Lang III
Second Lieutenant
442nd Regimental Combat Team
3rd Battalion, Headquarters Company
Clarence Edward Lang, known as "Junie," was born on July 1, 1920, in Walhonding, an unincorporated community in Coshocton County, Ohio. He was the first born and only son of Clarence Edward Lang and Clara Marie (Schneider) Lang. Junie had three younger sisters, Rosemary L., Elizabeth, and Eleanor J. His father was employed at the Republic Steel Company as the Chief Clerk in the Culvert Division. The family lived at 1223 Auburn Place N.W., Canton, Ohio.
A note about Junie's father Clarence E. Lang:  He was the son of Second Lieutenant Clarence E. Lang of Cleveland, Ohio, who was admitted to the U.S. Military Academy at West Point in 1890 and served in the 2nd Artillery at Fort Warren in Boston Harbor in the 1890s.  Thus, Clarence E. was technically a Jr., but seems not to have used the "Junior" after his parents divorced when he was very young and his mother later remarried. Junie Lang attended one year of college before he was inducted into the U.S. Army.
Second Lieutenant Clarence Edward Lang III was posted to Camp Shelby, Mississippi, and became one of the cadre officers.  He was assigned initially to 2nd Battalion before being transferred to 3rd Battalion, Headquarters Company, where he was a platoon leader.  His duties also included serving as Graves Registration Officer for 3rd Battalion.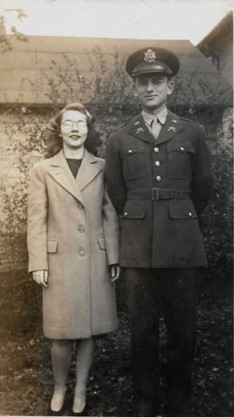 After nearly a year of training in Mississippi and Louisiana, the regiment was alerted for deployment in mid-March 1944.  They left Camp Shelby by train for Camp Patrick Henry, Virginia, on April 22, 1944.  On May 2, they shipped out from the piers at Hampton Roads to the Mediterranean Theater of Operations in a large convoy of troop ships and arrived in Naples, Italy, at the end of the month.
Photo at right: Junie with his sister Eleanor ("Nickie") before he shipped out to Italy.
After several days at a staging area in nearby Bagnoli, the Combat Team left on June 6 in LSTs for Anzio. They arrived the following day and marched five miles to a bivouac area. On June 9, they moved out in convoys to drive through the liberated city of Rome to their next bivouac area at Civitavecchia, about an hour north. It was here that they made final preparations for their move to the front lines.
The 442nd entered combat near Suvereto, north of Rome, on June 26, 1944, in the Rome-Arno Campaign. By July 18, they had pushed the Germans as far north as Livorno (Leghorn), which fell to the Allies on that day. The 442nd continued to drive north toward the Arno River. On July 22, they were moved back to a rest area near Vada.
On August 16, the Combat Team was trucked east to Castelfiorentino. On August 20, the 2nd and 3rd Battalions relieved elements of the 1st British Division along the Arno River just west of Florence. They were ordered to make a show of strength and patrol aggressively all along the front near Florence on the Arno River to keep the enemy off balance and worried about where the next strike would come from.
Following a firefight on August 30, that resulted in the death of M Company Captain Robert L. Hempstead and others, Chaplain Lieutenant Masao Yamada went the next day beyond the lines to retrieve the dead. He and his men fashioned a flag of truce from their handkerchiefs and the Germans motioned for them to come forward. The Germans assisted him and his group in evacuating the bodies.
The next day, September 1, Lt. Lang, as 3rd Battalion Graves Registration Officer, and Chaplain Yamada set out along the south side of the Arno River to recover another body from the same area.  The Germans that Yamada had conversed with the previous day recognized him and made no attempt to fire at them.  After they retrieved the body, their jeep passed over and set off a German teller mine killing Lt. Lang, and injuring Chaplain Yamada and an enlisted man.  This was near Firenze Nova, Città Metropolitana di Firenze – the outskirts of Florence.
Chaplain Yamada wrote the following in a letter home from the hospital in Naples where he was sent to recover:
"I went into the mine fields to pick up a soldier who was killed. On the way home, about 200 yards in front of the front lines, my jeep stepped on a double-deck teller mine. I had three passengers besides myself. All I remember was a tremendous blast. I found myself on the ground, seat and all, about 6 yards from the jeep. The driver was about 10 yards away. The two in the back seat were blown 20 to 15 yards away. All three of my passengers died in the explosion."
Yamada was wounded on his left side and arm, but was able to walk about 100 yards to an aid station. Lt. Lang was one of the men in the back seat of the jeep and was killed from the effects of the blast.
Second Lieutenant Clarence Edward Lang III was interred in the U.S. Military Cemetery at Vada, Italy.
For his military service, Second Lieutenant Lang was awarded the Bronze Star Medal, Purple Heart Medal, American Campaign Medal, European-African-Middle Eastern Campaign Medal with one bronze star, World War II Victory Medal, Combat Infantryman Badge, and Distinguished Unit Badge. Clarence E. Lang was awarded the Congressional Gold Medal on October 5, 2010, along with the other veterans of the 100th/442nd Regimental Combat Team. This is the highest Congressional Civilian Medal.
In 1948, the smaller wartime cemeteries in Italy were being closed.  Families were given the choice of having their loved one reinterred at a larger cemetery in Italy or returned home.  The family chose to have Lt. Lang's remains brought back to the US.  He was among the 41 former residents of the Greater Akron area who arrived at 9:00 a.m. at Pier 3 at the Brooklyn Navy Base in New York on November 5 with 7,129 total World War II dead on the USAT Lawrence Victory.  There was a memorial service held dockside for the ship's arrival.  Participating in the service were Protestant, Catholic, and Jewish clergymen, veterans' groups, and military and naval authorities.  Families and the general public were invited to attend.  The ship sailed from Naples and Livorno with the single largest group of war dead from the Italian battlefields to be returned to date.
On November 19, 1948, he was reinterred in Arlington National Cemetery, Virginia, Section 12, Site 6215. His tombstone was ordered on December 17, 1948, from Green Mountain, Vermont.
Original Biography prepared by Americans of Japanese Ancestry World War II Memorial Alliance, and provided courtesy of Japanese American Living Legacy (http://www.jalivinglegacy.org/)
Researched and rewritten by 442nd S&D 6/11/2021.