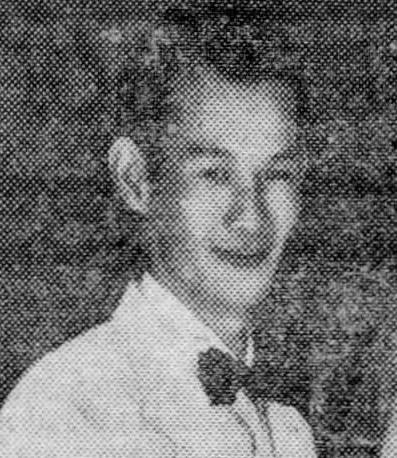 Dale Masao Ebisu
Sergeant
442nd Regimental Combat Team
100th Infantry Battalion
Headquarters Company
Dale Masao Ebisu was born on August 23, 1919, in Paauilo, Hawaii island, Territory of Hawaii. He was the son of Yohichi and Kiku (Ebisu) Ebisu, who arrived from Yamaguchi Prefecture in 1897. There were seven sons and four daughters in the family and Yonichi was the carpenter foreman for the Hamakua (sugar) Mill Company in Paauilo.
When he was almost two years old, his parents took him to Japan where they visited Morino village, Oshima District, Yamaguchi Prefecture. They arrived back in Hawaii on September 19, 1921, on the ship Siberia Maru.
Dale was sent to Honolulu to live with an older brother. He graduated from McKinley High School in 1936. In 1940, he was back living in Paauilo and working in the Hamakua Mill Company office. On July 15, he was among the 100 delegates attending a 6-day meeting at the Honolulu YWCA of the 14th New Americans Conference. He and three others represented Paauilo.
Ebisu signed his WWII Draft Registration card on October 16, 1940, Local Board No. 3 at Honokaa District Courthouse. At the time he was 5'4" tall and weighed 125 lbs. His point of contact was his sister Mrs. Hisayo Higashi Ebisu.
On March 18, 1943, he was inducted with 32 other Honokaa men into the U.S. Army at the Hilo Armory. The group, a total of 275 Hawaii island volunteers, then marched to the park opposite the Federal Building on Waianuenue Avenue for a farewell ceremony.
After arriving in Honolulu and settling in at the "tent city" with other new soldiers at Schofield Barracks, he was among the 2,600 men at Iolani Palace on March 28 for the community farewell. The new soldiers sailed on the S.S. Lurline on April 4 for San Francisco. After a train ride across country, they arrived at Camp Shelby, Mississippi, for training.
The exact date of Ebisu's arrival in the Mediterranean Theater of Operations has not been identified. He was sent as a replacement to the 100th Infantry Battalion (Separate) in one of three waves of officers and men in January, February, and March 1944. In April 1944, he was admitted to a military hospital with pneumonia, but was discharged back to duty.
Dale Ebisu participated in all the campaigns of the 100th/442nd: Naples-Foggia and Rome-Arno in Italy; Rhineland-Vosges and Rhineland-Maritime Alps in France; and Po Valley back in Italy.
After Germany surrendered on May 7, 1945, he remained in Italy for occupation duties. Ebisu arrived back in Honolulu on December 19, 1945, on the USAT Evangeline and was discharged on December 28.
For his World War II service, Sergeant Dale Masao Ebisu was awarded the Bronze Star Medal; Good Conduct Medal; European-African-Middle Eastern Campaign Medal with one silver star, World War II Victory Medal, Army of Occupation Medal, Combat Infantryman Badge, and Distinguished Unit Badge. He was awarded the Congressional Gold Medal on October 5, 2010, along with the other veterans of the 100th/442nd Regimental Combat Team. This is the highest Congressional Civilian Medal.
Dale married Janet Otoe Yoshina of Paauilo, Hawaii island, on April 2, 1949. At the time, he was an employee of the Hamakua Mill Company. They raised a family of three sons and one daughter.
Ebisu died on January 18, 2001, in Laupahoehoe, Hawaii island. Survivors included his wife, four children, and nine grandchildren. He was buried in Area II of the Hawaii Veterans Cemetery in Hilo, Hawaii. His widow subsequently died on December 12, 2015. At that time, Dale was reinterred with his wife, Otoe, at the National Memorial Cemetery of the Pacific (Punchbowl) in Honolulu, Section C12ss, Row 200, Plot 207.
Researched and written by the Sons & Daughters of the 442nd Regimental Combat Team in 2021.