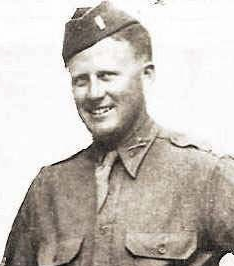 David Leander Moseley
First Lieutenant
442nd Regimental Combat Team
3rd Battalion, I Company
David Leander Moseley was born on September 14, 1912, in Eastanollee, Stephens County, Georgia. He was the fifth of six sons born to John A. and Minnie (Coe) Moseley: Roy J., John Ferd, W. Ralph, John Flavil, David Leander, and Thomas Felton. His father John Moseley was a farmer.
David graduated in 1934 from the University of Georgia, School of Agriculture, with a Bachelor of Science degree in Animal Science. While there, he was a member of the Reserve Officers Training Corps (ROTC) and joined the Army Reserves upon graduation. He was also prominent in the university's Agricultural Club.
After graduation, Moseley moved to Morristown, New Jersey, where he had worked summers during college, to become the manager of a large dairy business. While in Morristown, as an Army reservist, he also worked for the local Civilian Conservation Corps (CCC) as Quartermaster. The CCC was operated by the War Department and individual camps were commanded by reserve military officers.
By late 1938, Moseley was back in Georgia, where he married Mary Evelyn Pattillo in Moultrie in December. They settled in Twiggs County near Macon and Moseley was the County Extension Agent. They would eventually raise a family of two daughters and one son.
Moseley registered for the draft on October 16, 1940, with the Twiggs County Local Board. His card was noted "Reserve Officer." He was 5'9" tall, weighed 160 pounds, and he had grey eyes and brown hair. His father, who lived in Eastanollee, was his point of contact. David's employer was the U.S. Agricultural Extension Service in Jeffersonville, Twiggs County. At the time, he was 28 years old, married, and the father of one daughter.
After war broke out, he received orders in January 1942 to report to Camp Wheeler in Macon for induction to active duty. He was then posted to Fort Benning, Georgia, where he was assigned to the 34th Battalion and sent to Camp Croft near Spartanburg, South Carolina. In August 1942, David was sent to Leesville, Louisiana, where he trained and served as an umpire for maneuvers at Camp Claiborne. In the fall of 1942, Lt. Moseley was sent to Camp Shelby, Mississippi, as second-in-command of F Company, 167th Infantry (R).
By April 1943, he had been transferred to the 442nd RCT, 3rd Battalion, L Company, at Camp Shelby, Mississippi. Basic training began on May 10 for the early mainland arrivals and the 2,686 men from Hawaii. Afterwards, as more inductees from the WRA internment camps arrived, a recruit detachment was formed and Lt. Moseley was put in charge of it.
Moseley left Camp Shelby with the 442nd on April 22, 1944, for Camp Patrick Henry, Virginia. They sailed on May 2 from nearby Hampton Roads in a large convoy of over 100 ships, and arrived at Naples, Italy, on May 28. After some time at a staging area in nearby Bagnoli, they went by LSTs to Anzio, then on to a large staging area at Civitavecchia where the Combat Team readied for movement to the front lines. He entered combat with L Company on June 26, near Suvereto in the Rome-Arno Campaign.
In early August, Moseley was transferred to I Company, and while in action along the Arno River just west of Florence, he received a slight wound. Moseley recovered and was returned to duty.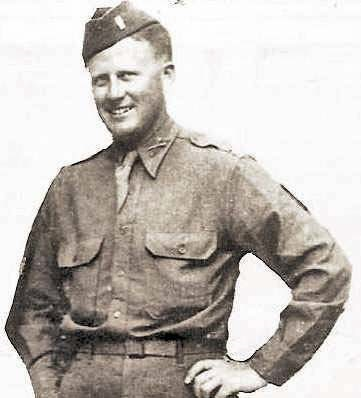 In September 1944, while David's brother, Tom Moseley, was stationed with the U.S. Army in Italy, they were able to meet in Rome for Tom's promotion ceremony to Captain when the silver bars were pinned on his uniform.
Right: Lt. Moseley during the war
Lt. Moseley was sent to Marseilles, France, on September 27, 1944, with the 442nd for the Rhineland-Vosges Campaign. Their first objective was to liberate the important rail and road junction of Bruyères in the Vosges Mountains. The intense battles to liberate Bruyères and neighboring Biffontaine lasted from October 16-24. The combat team was then put into reserve in Belmont for a brief rest. After two days, on the afternoon of October 26 they were ordered to the front lines again to aid in the rescue of the Lost Battalion – the 1st Battalion of the 141st (Texas) Infantry Regiment. This battalion had gotten ahead of the lines and was surrounded on three sides by the enemy. Attempts by the 141st to free it were unsuccessful, so the 442nd was called in.
After several days of severe fighting, on October 30 the Lost Battalion was rescued. It came at great loss for the 442nd, with very high casualties. I Company had lost all of its officers, and on October 31, Lt. Moseley was ordered to become its acting commander.
The initial objective of the Texas "lost" battalion had been to clear the Germans from the entire long ridge of mountain where it had become surrounded – and the 442nd's 3rd Battalion was ordered to push on down to the end of this ridge. The following day, November 1, First Lieutenant David Leander Moseley was killed by an artillery shell during this action.
The fighting would go on until November 9. The German line was completely shattered, but 442nd losses were so great that the Combat Team was temporarily ineffective as a fighting force.
1st Lt. David Leander Moseley was buried in the U. S. Military Cemetery in nearby Epinal, France. His family held a memorial service for him in February 1945.
For his military service, First Lieutenant David Leander Moseley was awarded the Bronze Star Medal, Purple Heart Medal with one oak leaf cluster, American Campaign Medal, European-African-Middle Eastern Campaign Medal with two bronze stars, World War II Victory Medal, Distinguished Unit Badge, and Combat Infantryman Badge.  He was awarded the Congressional Gold Medal on October 5, 2010, along with the other veterans of the 100th/442nd Regimental Combat Team.  This is the highest Congressional Civilian Medal.
In 1948, the smaller wartime military cemeteries in Europe were being closed and the Moseley family had the choice to have their son returned to the US or remain at Epinal, which was a major U.S. cemetery. The family chose to have Lt. Moseley's remains brought home.
He arrived at 9:00 a.m. at Pier 3, Brooklyn Army Base in New York Harbor on the USAT Barney Kirschbaum on December 31, 1949. The ship had been delayed due to heavy Atlantic storms. Moseley was one of 80 Georgians returned among 4,384 total that day from cemeteries in France, Belgium, Holland, and Luxembourg. A memorial service was held at the pier, with Arthur Levitt, the wartime Judge Advocate General for the New York Port of Embarkation, officiating.
Lt. Moseley was interred in the U.S. National Cemetery in Marietta, Georgia, Section Q, Site 23, on January 25, 1949. He was survived by his wife, Mary Evelyn, daughters Coe Moseley Littleton and Mary Moseley Greene, and son David Leander Moseley, Jr. His upright headstone with the Latin cross was ordered from Tate, Georgia, on March 3, 1949.
Postscript. His widow, Mary Evelyn, married Kenneth Vinton Cope on August 23, 1951. He died on September 5, 1973. Evelyn died on October 7, 2007, and was buried next to her second husband in Pinecrest Memorial Garden Cemetery, Moultrie, Georgia.
Lt. Moseley's youngest brother, Thomas Felton Moseley, also served in the U.S. Army in Europe during World War II.
Researched and written by the Sons & Daughters of the 442nd Regimental Combat Team in 1921.