Edwin Shoichi Goya
Private First Class
442nd Regimental Combat Team
2nd Battalion, E Company
Edwin Shoichi Goya was born on November 26, 1920, in Waipahu, Oahu, Territory of Hawaii. He was one of ten children born to Sanra and Ushi (Tamanaha) Goya. His siblings were: brothers Richard Susumo and Takemi; sisters Margaret Haruko, Doris Kikue, Bernice Shizuko, Ethel, Jeanette Kazuko, Grace Sueko, and Carol Sumiko. Sanra emigrated from Okinawa Prefecture, Japan, arriving in Honolulu on June 25, 1906. Ushi emigrated from the village of Nishihara, Okinawa Prefecture, arriving on the S.S. Persia on July 1, 1912. They were married at the U. S. Immigration Station in Honolulu on October 28, 1912.
Sanra initially worked at Puunene, Maui. By 1918, he had moved to Oahu and was a farmer in Pearl City and selling his own produce. By 1930, he was manager of a meat market and Ushi was driving a delivery truck for the market. They lived in Spanish Camp, Waipahu.
Edwin graduated from Central Intermediate School in 1936, and from Farrington High School in 1940.
He registered for the draft on February 16, 1942, at Local Board No. 9 in Waipahu.  He was a senior at the University of Hawaii and in the Reserve Officer Training Program, where he was a cadet sergeant.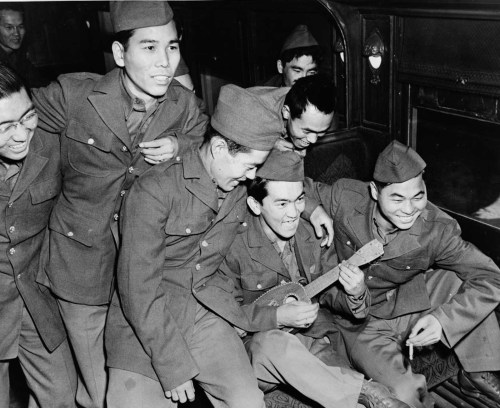 Above:  Edwin Goya in on the far right in this famous photo taken on the train trip across the US
Edwin enlisted in the U.S. Army on March 23, 1943. He was sent to Boom Town, the "tent city" at Schofield Barracks, with the other recruits. They were given a farewell aloha ceremony by the community on March 28 at Iolani Palace. On April 4, the new soldiers left on the S.S. Lurline for San Francisco. Upon arrival, they traveled by train across the country to Camp Shelby, Mississippi.
At Camp Shelby, Goya was assigned to 2nd Battalion, E Company. During training, he was awarded the Expert Marksmanship Medal as a rifleman. After nearly a year of basic and specialized training and field exercises, Edwin left Camp Shelby with the Combat Team on April 22, 1944, for Camp Patrick Henry, Virginia. They shipped out to Europe with the 442nd on May 2 from nearby Hampton Roads in a convoy of over 100 ships. They arrived at Naples, Italy, on May 28.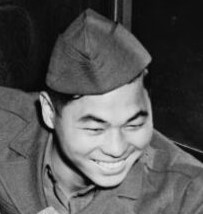 The battalion spent a week at a staging area in Bagnoli, near Naples, before leaving on LSTs for Anzio on June 6, where they marched five miles to a bivouac area. From Anzio, the 442nd went to a large bivouac area at Civitavecchia, north of Rome, where they went through additional training and final preparations for going to the front lines. The 442nd entered combat on June 26 near Suvereto in the Rome-Arno Campaign.
Left: Close-up of Goya from group photo
The 442nd liberated the towns of Suvereto and Belvedere on June 26 and Sassetta on June 27. On June 28, 2nd Battalion cleared Castagnetto and continued to push north before being stopped by direct enemy fire. On June 29, the battalion was placed in reserve in the area of Bibbona, where they bivouacked for two days.
On July 1, the 442nd marched from Bibbona to an assembly area just south of the Cecina River, which at that time of year was hardly more than a trickle and easily fordable. The next day, 2nd Battalion had crossed to the north side before dawn. Resistance was stiffening, indicating that the Germans were intent on making a stand on the high ground just north of the Cecina. On July 3, 2nd Battalion took Molino a Ventoabbto and the two hills just north of it before running into the enemy's main line of resistance located on Hill 140. The Germans had an observation post atop Hill 140 and were able to direct fire against forward battalions, including the 2nd.
On July 4, E and G Companies reached the forward slope of Hill 140, but came under heavy small-arms and artillery fire from an enemy force estimated to be a battalion well supported by all types of artillery. E Company gained the base of Hill 140 and dug in around it.
On this day, Pfc. Goya was wounded by artillery shrapnel, resulting in a fracture to his right leg. He was evacuated to a field hospital. Fighting for Hill 140 finally resulted in victory on July 8.
Goya was sent to a military hospital, and by October he was sufficiently recovered to be sent to a hospital in the US. In December 1944, he was at U.S. Army Torney General Hospital in Palm Springs, California.
For his military service, Private First Class Edwin Shoichi Goya was awarded the Bronze Star Medal, Purple Heart Medal, Good Conduct Medal, American Campaign Medal, European-African-Middle Eastern Campaign Medal with one bronze star, World War II Victory Medal, and Combat Infantryman Badge. He was awarded the Congressional Gold Medal on October 5, 2010, along with the other veterans of the 100th/442nd Regimental Combat Team. This is the highest Congressional Civilian Medal.
Soon after his return to Hawaii and discharge from the Army, Edwin married Leatrice Masako Kobashigawa on March 30, 1946, at Holy Trinity Church in Honolulu. They had one son. Edwin and Leatrice moved to Santa Fe Springs, California, where he worked for Westmont Industries as a design engineer.
Edwin Shoichi Goya died on October 27, 2000, in Honolulu. He was survived by his wife, son, siblings, and two grandchildren. He was inurned in the Columbarium at the National Memorial Cemetery of the Pacific (Punchbowl), Court 5, Wall R, Row 400, Site 446. Leatrice died on September 17, 2014, and was inurned with Edwin.
Researched and written by the Sons & Daughters of the 442nd Regimental Combat Team with the assistance of the Goya family in 2022.