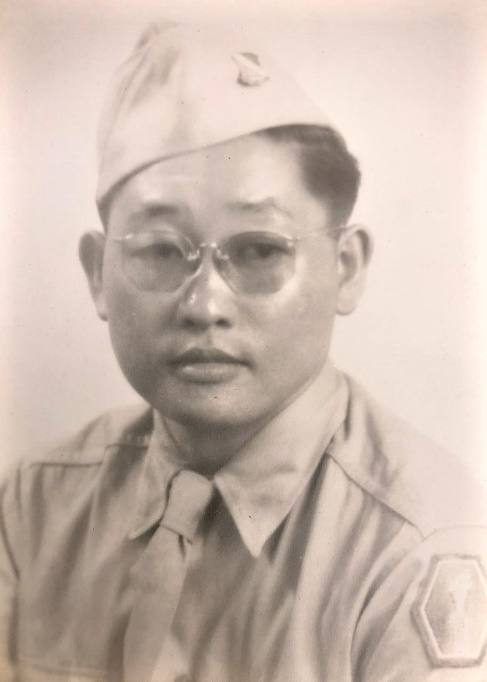 Frank Masao Fujii
Technician 4th Grade
442nd Regimental Combat Team
1st Battalion, B Company, and
171st Infantry Battalion (Separate), B Company
Frank Masao Fujii was born on May 26, 1915, in Los Angeles, California, to Yoshitaro and Masako (Sago) Fujii. They emigrated from Gifu Prefecture, Japan, in 1904 and 1905, respectively. Yoshitaro arrived on the Kanagawa Maru on August 20, 1904, in Seattle; he was a rice merchant headed to San Francisco.
There were five children in the Fujii family: sons George, Frank, and Lawrence, and daughters Haruko and Shizuko.
In 1920, Yoshitaro lived on San Pasqual Street in Los Angeles with his wife and five children and he was working as a feather washer on an ostrich farm.  By 1930, the parents were divorced and Masako and the children were living at 846 El Centro Street in South Pasadena.  She was employed as a saleslady at a fruit store and Frank was a gardener at a private home.  In 1940, he was living at home and working as a clerk at a retail vegetable market.
Frank registered for the draft on October 16, 1940, at Local Board No. 204 in South Pasadena. At the time, he was employed by G. Iwasaki as a clerk in his retail vegetable market at 780 East Colorado Street in Pasadena. His point of contact was his brother-in-law, Clem George Oyama, of 1144 Stringer Street in Los Angeles. Frank lived at 846 El Centro Street, South Pasadena. He was 5'6" tall and weighed 135 pounds.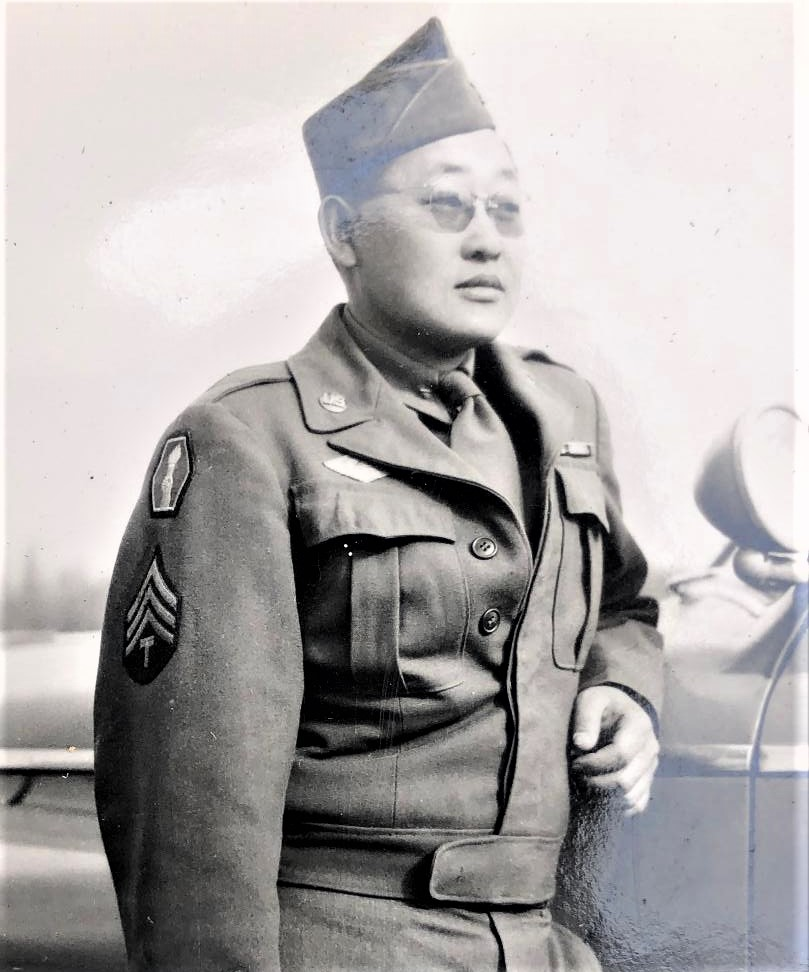 In the spring of 1942, the family was evacuated to the Tulare Assembly Center, located at the Tulare-Kings County Fairgrounds half-way between Bakersfield and Fresno. On August 22, 1942, they were interned at the WRA's Gila River Relocation Camp near Phoenix, Arizona.
On April 26, 1944, he married Akiko Betty Wakita while they were both interned at Gila River Camp.
Frank was released from Gila River on June 22, 1944, after enlisting in the Army at Fort Douglas, Utah, on May 15, 1944. He entered into active service on June 9 and was sent to Camp Shelby, Mississippi, for basic training with the 442nd Regimental Combat Team's 1st Battalion, Company B. He was in the battalion when it was redesignated the 171st Infantry Battalion (Separate).
Above: American servicemen believed to be former members of the 442nd RCT dressed in Japanese uniforms with captured Japanese weapons
Rather than being sent to the 442nd RCT overseas upon completion of his training, Fujii was sent to the Military Intelligence School at Camp Ritchie, Maryland. At the MIS school, he was trained as a small arms instructor and subject-matter expert on Japanese small arms and infantry tactics. Frank apparently was part of a classified group of Asian Americans who wore World War II Japanese uniforms and used captured Japanese small arms (such as the Arisaka Type 99 rifle, Nambu Type 99 LMG, Taisho Type 11 LMG, Type 3 LMG, and the knee mortar) to train U.S. soldiers in the tactics of the Japanese military that they would encounter in the Pacific Theater of War.
Right: Classified booklet on the Japanese military in possession of the Fujii family
For his military service, Tec/4 Frank Masao Fujii was awarded the Good Conduct Medal, American Campaign Medal, World War II Victory Medal, and Meritorious Unit Award.
Frank was discharged from the U.S. Army on February 27, 1946, at Fort MacArthur, San Pedro, California. His military occupational specialty was Small Arms Instructor and he was qualified as a Marksman on the M1 rifle.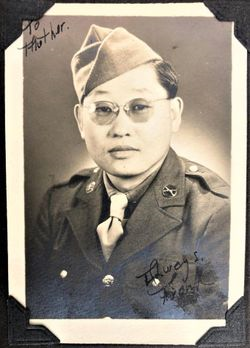 After the war, he and his wife settled in Los Angeles and raised one daughter.  Frank Masao Fujii died on January 8, 1996, in Los Angeles.  He was buried at Rose Hills Memorial Park in Whittier.  His wife died on October 27, 2015, in Monterey, California.  She was buried next to her husband in Whittier.
Researched and written by the Sons & Daughters of the 442nd Regimental Combat Team in 2021.