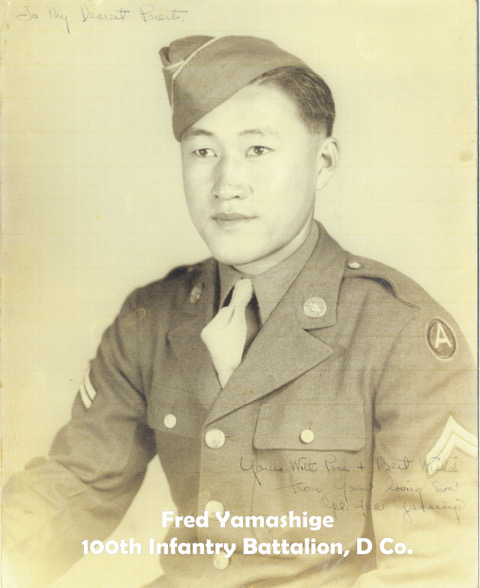 Fred Hiromu Yamashige was born on March 27, 1923 in Pulehu, Maui. After high school, he worked as a stableman at Maui Pineapple Company, a company he would later retire from after 40 years. When the Army began accepting Japanese-American volunteers, he enlisted right away, on March 23, 1943. He was assigned to Company D, 100th Battalion/442nd RCT and was deployed to Italy and France during WWII.
First Sergeant Yamashige was awarded the Silver Star for his bravery during a firefight in Biffontaine, France on October 22, 1944:
"The President of the United States of America, authorized by Act of Congress, July 9, 1918, takes pleasure in presenting the Silver Star to Sergeant Fred H. Yamashige (ASN: 30106044), United States Army, for conspicuous gallantry and intrepidity in action against the enemy while serving with Company D, 100th Infantry Battalion, 442d Regimental Combat Team, attached to the 36th Infantry Division, on 22 October 1944, near Biffontaine, France. When the rifle company which his machine gun was supporting entered the town of Biffontaine, France, Sergeant Yamashige fearlessly led his men through intense 20 millimeter gun fire to a building in the town for the purpose of protecting his company's right flank and rear. After supervising the installation of the machine gun, Sergeant Yamashige, with complete disregard for his own safety, picked up a rifle from a fallen enemy soldier and pursued the fleeing Germans. Despite intense small arms fire, he shot one enemy soldier and wounded two others. Sergeant Yamashige's courage, initiative and leadership were instrumental in effecting the successful occupation of the town."
After the war, he married his wife, Helen. They had three children. He passed away on July 10, 2020.