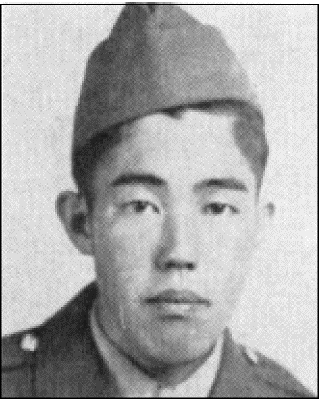 Genichi William Hiraoka
Private First Class
442nd Regimental Combat Team
3rd Battalion, I Company
Genichi William Hiraoka was born on September 11, 1924, in Kaneohe, Oahu, Territory of Hawaii. He was the youngest of five daughters and two sons of Genjiro and Mitsu (Sugimoto) Hiraoka. His siblings were: sisters Koto, Shigu, Tsuneko, Misayo, and Aiko; brother Tsutomu.
His parents emigrated from Yamaguchi Prefecture, Japan, on the S.S. China and arrived in Honolulu on June 20, 1902. Genjiro worked as a laborer on sisal and later a sugar plantation in Ewa on Oahu. By 1930, the family had moved to Kaneohe on the Windward side of Oahu.
Billy, as Genichi was known, was educated at Benjamin Parker High School in Kaneohe. Before entering the service, he was employed as a carpenter for the U.S. Engineers Department at Bellows Field. Hiraoka registered for the draft on December 19, 1942, Local Board No. 1 at Benjamin Parker School. He was living with his family on Keole Road and working at the airport at Kualoa. His point of contact was his brother Tsutomu; and he was 5'8½" tall and weighed 132 pounds.
Hiraoka enlisted in the U.S. Army in Kaneohe on March 25, 1943. He was sent to the "tent city," known as Boom Town, at Schofield Barracks with other recruits. They were given an aloha farewell ceremony by the community on March 28 at Iolani Palace. On April 4, the new soldiers left on the S.S. Lurline for San Francisco enroute to Camp Shelby, Mississippi. Following basic training, Genichi was assigned to 3rd Battalion, I Company.
After over a year at Camp Shelby, the 442nd left for Camp Patrick Henry, Virginia, on April 22, 1944. They shipped out to the Mediterranean Theater of Operations on May 2 in a convoy of over 100 troop ships and arrived in Naples, Italy, on May 28.
On June 26, 1944, the 442nd entered combat near Suvereto in the Rome-Arno Campaign. Two weeks later, on July 10 and July 11, 1944, they had advanced into Tuscany and were north of the Cecina River. The objective was a road that ran west from the town of Pomaja toward the sea and was critical in the German's movement along the battlefront. Resistance by the Germans was stiff. Pfc. Hiraoka was killed during the series of battles on July 11 in the area of Pomaja. It was exactly two months before his 20th birthday.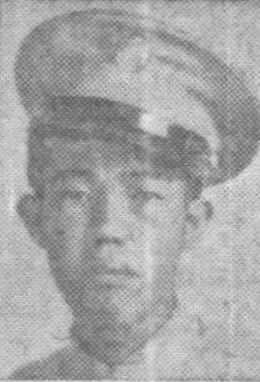 As his comrade 1st Sgt. Kazuo Muto later recalled: Was visiting Genichi Hiraoka on July 11, 1944, when the shells hit the 4th Platoon area. Genichi and I jumped into the nearby creek bed. The last shell came in long and hit very close to us. The explosion and the concussion were terrific. It killed poor Genichi, who was lying to my right side, and flung me backwards, causing injury to my spine. I am feeling the effects of this injury in my old age.
Pfc. Hiraoka was buried in the U.S. Military Cemetery at Follonica, Plot D, Row 41, No. 483. His family held his memorial service at the Parker Memorial Methodist Church in Kaneohe on August 6, 1944. An Army Chaplain assisted Rev. C.P. Goto in officiating.
For his military service, Private First Class Genichi William Hiraoka was awarded the Bronze Star Medal, Purple Heart Medal, Good Conduct Medal, American Campaign Medal, European-African-Middle Eastern Campaign Medal with one bronze star, World War II Victory Medal, and Combat Infantryman Badge. Hiraoka was awarded the Congressional Gold Medal on October 5, 2010, along with the other veterans of the 100th/442nd Regimental Combat Team. This is the highest Congressional Civilian Medal.
In 1948, the Army began the process of closing the smaller military cemeteries in Italy, and offered families the choice of reburial of their loved one at the large U.S. Military Cemetery in Florence or returning him for reburial at a cemetery in the US designated by the family. As a result, on April 21, 1949, Pfc. Genichi William Hiraoka arrived home. The USAT Sergeant Jack J. Pendleton brought 134 war dead, arriving at Honolulu Harbor's Kapalama Basin. There were hundreds of family members and friends present to attend a dockside memorial service. The Secretary of Hawaii, Oren E. Long, officiated, the 264th Army Band played hymns, and military Chaplains participated. One of the Chaplains was Hiro Higuchi, who had served in the 442nd with the men who were returning home that day. The flag-draped caskets were stored in the Army mausoleum at Schofield Barracks pending funeral arrangements.
On September 19 and 20, 1949, there were thirty burials of Hawaii's sons at the National Memorial Cemetery of the Pacific at Punchbowl in Honolulu. Pfc. Genkichi "Billy" Hiraoka was among them. His burial was at 11:00 a.m. on September 20, in Section Q, Site 1230. His flat granite grave marker was ordered on February 23, 1950, from West Chelmsford, Massachusetts.
Researched and written by the Sons & Daughters of the 442nd Regimental Combat Team in 2021.