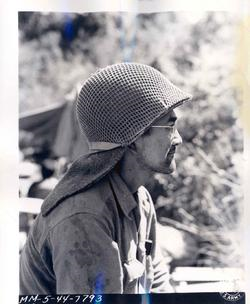 Genkichi Akamine
Private First Class
100th Infantry Battalion (Separate), F Company
and
442nd Regimental Combat Team
100th Battalion, A Company
Genkichi Akamine was born on January 28, 1917, in Waipio, Oahu, Territory of Hawaii, the only child of Genjiro and Uto (Kaneshiro) Akamine.  His parents were from Okinawa Prefecture, Japan.  Genjiro arrived at Honolulu on September 4, 1906, on the S.S. Siberia.  Uto arrived on the S.S. Mongolia on January 28, 1913.
By 1930, they were divorced. Genjiro and Genkichi lived in Wahiawa, where Genjiro worked on a truck farm. In April 1940, he and his father were boarding in the home of Chioko Miyamoko and his widowed mother, Sode, at 2313 Rose Street. His father listed his marital status as "single." Genjiro was the foreman on a pig farm and Genkichi was a fisherman on a deep-sea sampan. Mother Uto later married a man whose last name was Arakaki. She did not have any other children and lived to be 100 years old.
He signed his World War II Draft Registration card on October 20, 1940, Local Board No. 8, Kalihi-waena School, Honolulu. At the time, Genkichi was living at 1459 Fort Street and working for Kitayama Sampan (of the ship America Maru) at Kewalo Basin as a fisherman on a deep-sea sampan. His point of contact was his mother Uto, and he was 5'5" tall, and weighed 133 pounds.
Genkichi Akamine enlisted in the U.S. Army in Honolulu on November 14, 1941. His civilian occupation was given as "unskilled longshoreman and stevedore." According to the 100th newsletter, Puka Puka Parade, of April 1991, Akamine was drafted into the Army in the fourth draft. After a shortened basic training period at the "Tent City," called Boom Town, at Schofield Barracks, he was among 22 men from Oahu and 24 from Kauai who were shipped to Kauai on the Royal T Frank, which soon after was sunk by a Japanese torpedo off the north coast of Hawaii island. He served in I Company, 299th Infantry Regiment at Barking Sands on Kauai.
In late May 1942, the men of the 298th (on Oahu) and 299th (on the outer islands) Infantry Regiments were formed into the Hawaii Provision Battalion and ordered to the U.S. mainland as soon as possible.  On May 28 they were assembled at Schofield Barracks, their weapons were confiscated, no passes were issued, and they were told they would be shipped to the mainland for training.  Secrecy was necessary due to the possibility of an invasion of the islands by Japan.
Akamine was among the other new soldiers who sailed on June 5, 1942, from Honolulu on the S.S. Maui to San Francisco. Once there, they were designated the 100th Infantry Battalion (Separate). After undergoing more than a year of training at Camp McCoy, Wisconsin, and Camp Shelby, Mississippi, they shipped out to the Mediterranean Theater of Operations on the S.S. James Parker, arriving in the port of Oran, northwestern Algeria, on September 2, 1943. They then were shipped to the beachhead at Salerno, Italy, on September 22, 1943, and went into combat in the Naples-Foggia Campaign.
The 100th Infantry Battalion (Separate) consisted of Companies A-F. Akamine was a member of F Company, 1st Platoon. After they became the 100th Battalion of the 442nd Regimental Combat Team during the summer of 1944, the 100th consisted of Companies A-D. Akamine was transferred to A Company.
The famous photo of Akamine above was taken by the U.S. Army Signal Corps in Castellina, Italy, on July 15, 1944, after the battle for Livorno in the Rome-Arno Campaign. Akamine was listed as a sniper for the 100th Battalion.
Akamine served in the campaigns of the 100th/442nd: Naples-Foggia and Rome-Arno in Italy; Rhineland-Vosges and Rhineland-Maritime Alps in France, and Po Valley back in Italy.
On January 24, 1945, the War Department issued a list of soldiers wounded in the European Theater. Genkichi's name was on the list. Given the timing, he was wounded in France where the 442nd was from the end of September 1944 until mid-March 1945.
On August 4, 1945, it was reported in the Honolulu Advertiser that Akamine was among 58 Hawaii soldiers at the Replacement Depot of the Replacement Training Command (RTC) awaiting a furlough upon their recent return from the war, as announced by Brigadier General Herbert D. Gibson, commander of the RTC, Pacific Ocean Areas, at Schofield Barracks. He was discharged on September 14, 1945.
For his World War II service, Private First Class Genkichi Akamine received the Bronze Star Medal, Purple Heart Medal, Good Conduct Medal, American Campaign Medal, Asiatic-Pacific Campaign Medal, European-African-Middle Eastern Campaign Medal with a silver service star, World War II Victory Medal, Army of Occupation Medal, Combat Infantryman Badge, and Distinguished Unit Badge with oak leaf cluster. He was awarded the Congressional Gold Medal on October 5, 2010, along with the other veterans of the 100th/442nd Regimental Combat Team. This is the highest Congressional Civilian Medal.
After the war, Genkichi married Margaret Sadako Kaneshiro and they lived in Halawa Housing, in Honolulu, a government-run housing area that was popular with recently returned Nisei veterans. He was employed by the U.S. Navy as a pipefitter. Over the years, they had one son and three daughters.
On July 31, 1947, Akamine was among 252 disabled veterans who were honored as special guests at the Fort Shafter ceremony to activate the 100th/442nd as a unit of the U.S. Army Reserves. He was a member of Club 100 (100th Battalion veterans) and a life member of the Leeward Oahu Chapter No. 8, Disabled American Veterans (DAV). Genkichi's name appears on the Go For Broke National Education Center Memorial in Los Angeles, Section 4B, Row 70.
Genkichi Akamine died on February 17, 1991. He was survived by his wife Sadako, one son, three daughters, and nine grandchildren. He was buried in the National Memorial Cemetery of the Pacific at Punchbowl, Honolulu, in Section L, Site 397, with his wife Sadako.
Researched and written by the Sons & Daughters of the 442nd Regimental Combat Team in 2021.