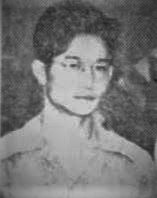 George Kenichi Oide was born on February 22, 1923 in Honolulu, HI to Matsutaro and Hayano (Tanaka) Oide, the youngest of their seven children. After graduating McKinley High School in May 1941, he worked as a carpenter until he enlisted into the Army on March 25, 1943.
Although specifics of his early military career aren't available, he would have been sent to train at Camp Shelby, Mississippi until he was assigned to the 522nd Field Artillery Battalion and sent to fight in Italy. From there, he would have fought in France until the 522nd crossed the Rhine River into Germany in March 1945. He was among the first forward observers to discover the Dachau concentration camp, although they were ordered to stand down and await Caucasian units to liberate the camp.
Serving in Germany at the end of the war, George met Erika Karbe, a German woman who had been drafted into the Luftwaffe as a courier. They were married and she came to Hawaii in 1948. They had a daughter and two sons. George worked as a typesetter. He passed away on January 27, 2021.
In 2019, George was appointed as a Knight in the French Legion of Honor, the highest military and civilian honor awarded by the Government of France. He is pictured here with Jeff Morita, who helped George receive this prestigious award.