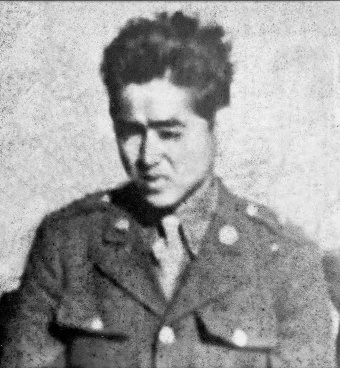 Giichi Chinen
Private First Class
442nd Regimental Combat Team
2nd Battalion, E Company
Giichi Chinen was born on January 18, 1920, in Makawao, Maui, Territory of Hawaii.  He was the eldest child of Kama and Kamako (Tengan) Chinen, who emigrated in 1915 from Okinawa Prefecture, Japan.  His siblings were:  sisters Alice Aiko, Doris Sumiko, Lily Matsue, Shirley Tatsue; and brothers Larry Yoshio and Richard Toshio.  His mother's name was also spelled Kamato.  Kama was on the S.S. Nile sailing from Kobe on April 9, 1914, with a stop in Yokohama, arriving in Honolulu on April 21.  He was unmarried and age 20.
In 1930, the family lived on Molokai where father Kama worked in a butcher shop. They soon moved back to Maui and lived in Lahaina, where Giichi graduated from Kamehameha III Elementary School. As a young man, he was very active in boxing and football.
In 1940, the family lived in Launiupoko Village, Lahaina. Giichi and his father were employed as irrigators for the Pioneer Mill sugar plantation.
He signed his draft registration card on July 1, 1941, Local Board No. 1, at the courthouse in Lahaina, Maui. His address was House No. 5, Launiupoko Village, Lahaina. He was employed as an irrigating contractor at Pioneer Mill Company, Ltd. His point of contact was his friend, Tokio Ajitomi, who lived next door in House No. 6. He was 5'6" tall and weighed 132 pounds.
He enlisted on February 23, 1943, in Kahului, Maui. His civilian occupation was given as "Managers and officials." At this time, the family's address was Hirai Camp, Launiupoko. After travelling from Maui to Honolulu on an inter-island steamer, Giichi was at Boom Town, the "tent city" for new soldiers, at Schofield Barracks.
He was at the March 28 community farewell ceremony at Iolani Palace, and then left Honolulu on April 4, 1943, on the S.S. Lurline with the other soldiers for training at Camp Shelby, Mississippi. He was assigned to E Company, 2nd Battalion.
After a year of basic and combat training and field maneuvers, the Combat Team left Camp Shelby on April 22, 1944, for Camp Patrick Henry, Virginia. They shipped out to the Theater of Operations on May 2 from nearby Hampton Roads in a large convoy of troop ships.
The bulk of 2nd Battalion, minus Giichi's E Company, dropped out of the convoy once in the Mediterranean in late May. They arrived in Oran, North Africa, to discharge cargo. Meanwhile, E Company and the rest of the 442nd arrived at Naples and proceeded about ten miles to Staging Area #4 at Bagnoli. On June 6, the Combat Team left on LSTs for Anzio, leaving E Company behind to await the arrival of the rest of the 2nd Battalion from Oran. After several days in Oran, the 2nd Battalion arrived at Naples and was reunited with its E Company.
The 442nd RCT arrived at a large bivouac area at Civitavecchia, north of Rome, on June 11. They were now attached to the 34th Infantry Division and in their final preparations to move to the front lines.
Chinen participated in the Rome-Arno Campaign from the beginning, when the 442nd entered combat on June 26 near Suvereto. After liberating Suvereto and Belvedere that first day, they moved on to Sassetta, which they liberated on June 27. Continuing to chase the retreating Germans north, they crossed the Cecina River on July 2, and after a hard-fought battle over several days, captured Hill 140 in the vicinity of Castellina on July 6. Moving on, they liberated Molino a Ventoabbto on July 9.
On July 10, the 2nd Battalion was only able to advance about 1,000 yards against small enemy forces, which were obviously rearguards. The enemy had evidently made a limited withdrawal and was now waiting for the Combat Team on the next ridge line. That night, 2nd Battalion gained about 700 yards of ground, moving cautiously over open terrain. The morning of July 11 found them in an exposed position on rolling, open ground and subjected to intense artillery shelling. The 2nd Battalion dug in and absorbed the shelling as it suffered mounting casualties.
Pfc. Giichi Chinen was wounded on July 11, 1944, near Pastina, Italy. He was taken to a field hospital and reported as "wounded in action." He died four days later of his wounds and was buried in the U.S. Military Cemetery at Follonica, Section H, Row 82, Number 982.
The Chinen family held a memorial service for Giichi at 3:00 p.m. on August 13 at Lahaina Methodist Church. At this time, the family lived in Mana Camp, Lahaina.
For his military service, Pfc. Giichi Chinen was awarded the Bronze Star Medal, Purple Heart Medal, Good Conduct Medal, American Campaign Medal, European-African-Middle Eastern Campaign Medal with one bronze star, World War II Victory Medal, and Combat Infantryman Badge. He was awarded the Congressional Gold Medal on October 5, 2010, along with the other veterans of the 100th/442nd Regimental Combat Team. This is the highest Congressional Civilian Medal.
After the war, the families of soldiers buried in overseas cemeteries were given the option of having their loved one returned home or reburied in one of the large cemeteries that was to remain. Chinen's family chose to have him brought home. By this time, they were living at 124 Queen Street, Apt. 2, in Honolulu, where Kama was retired, Kamako was a dishwasher in a restaurant, and the five youngest children still lived at home.
His remains arrived in New York in 1948 and were cremated at Fresh Pond Crematorium and Columbarium in Middle Village, Queen's County, prior to being sent to San Francisco. Chinen's remains were among the 122 war dead who arrived from San Francisco on the USAT Sinnett at Pearl Harbor on December 24, 1948. The ship arrived at Pier M-3 at 8:30 a.m. as the 264th Army Band played Aloha Oe and 700 family and friends gathered for a short memorial service. After a moment of silence, Army Chaplain Eugene L.A. Fisher offered a prayer. Following this was a eulogy by Secretary of Hawaii Oren E. Long. He said, We are proud to have had such sons. These men stood the test of action and added a new chapter of American heroism to our history.
Pfc. Chinen was buried on September 19, 1949, in the National Memorial Cemetery of the Pacific at Punchbowl, Section Q, Site 1181.
On June 9, 1951, Giichi Chinen's name was inscribed with 24 others by the West Maui Lions Club on the new plaque for West Maui's World War II dead. The plaque replaced one placed earlier in their club courtyard in Lahaina that had been damaged in a storm, and it also contains names of Korean war dead.
Researched and written by the Sons & Daughters of the 442nd Regimental Combat Team in 2022.