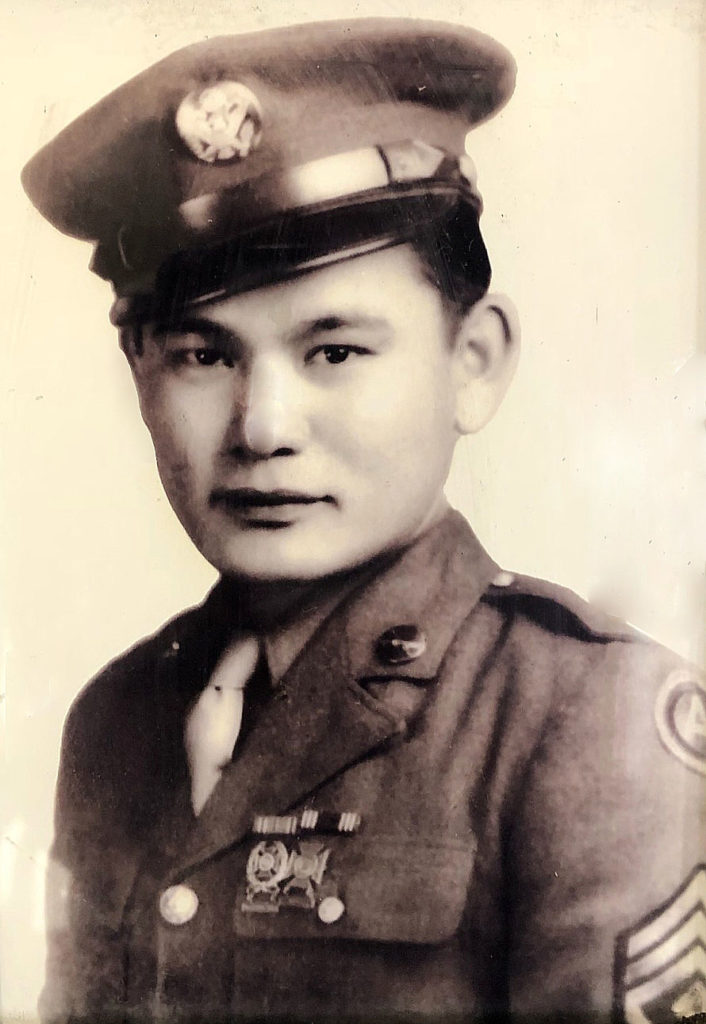 Harold Seisuke Nakasone was born in Wahiawa on May 23, 1920. He grew up on a pineapple plantation there until his family moved to the Mo'ili'ili area. On the morning of the Pearl Harbor attack, he saw his friend Shinkiyo's house get hit by a stray bomb. In the aftermath of the attack, his brother received a draft notice for the Army. Since his brother had just gotten married, Harold took his brother's place and enlisted in the Army. During training at Camp Shelby, he was assigned to the 442nd's Cannon Company. Following training, the unit was deployed to Naples, Italy.
Harold recalled that Cannon Company would provide close combat support with their 105 Howitzers, and would use pidgin English and Japanese slang on the radio to confuse the Germans while directing fire. As First Sergeant, he fought in the Rome-Arno, North Apennines, Rhineland-Vosges, Rhineland-Maritime Alps, and Po Valley Allied Offensive Campaigns. In France, he participated in the liberation of Bruyeres and Belmont-Biffontaine as well as the epic rescue of the Lost Battalion in the Vosges Mountains.
Following the war, Harold moved to Janesville, Wisconsin in 1945 and married his first wife, Beverly Jane. They had one daughter, Sharon. He and Beverly eventually divorced and he returned to Hawaii. He married his second wife, Alice Junko, in 1957. They had four sons – Clendon, Scot, Derek and Lance. He also had 8 grandchildren and 6 great-grandchildren. He started his own produce company and later worked for Schuman Carriage, from which he retired. Later in life, he was awarded the Congressional Gold Metal.
Harold passed away on November 24, 2019. On June 16, 2020, Harold was posthumously appointed as a Chevalier (Knight) of the National Order of the Legion of Honor by the French government.