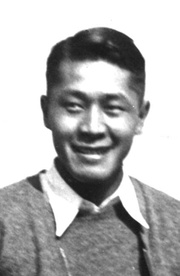 Harry Fumio Madokoro
Private First Class
442nd Regimental Combat Team
3rd Battalion, K Company
Harry Fumio Madokoro was born on March 13, 1912, in Chinatown, Monterey, California, to Nisaburo and Natsu Madokoro. Nisaburo was born in Wakayama Prefecture, Japan, and raised in China where his parents were born. He emigrated to Santa Cruz County, California, in 1898 from China and worked on a farm. Nisaburo, who was a widower, returned to Japan in 1907, where he married Natsu (maiden name unknown) and brought her back to California.
Nisaburo died in 1926 and Harry's only sibling, Mary Yayeko, died in 1937 at the age of 23 due to complications from tuberculosis. His mother had helped support the family by operating a confectionary in the front room of their house where she sold candy and Japanese pastries (omanju). She would continue this practice for many years.
Harry attended Watsonville Joint Union High School for two years, dropping out after his father's death to work driving farm equipment on nearby farms. His greatest joy was riding his Harley-Davidson motorcycle. In the 1940 Federal Census, he was living with his widowed mother on Union Street in Watsonville and employed as a packer for a lettuce packing plant.
He registered for the draft on October 16, 1940, in Watsonville. He listed a friend, Ben Matsuda, as his point of contact. Harry was living with his mother at 118 Union Street, and he was employed by Matsuura Marui Packing Company located on the Union Ice Property in Pajaro, Monterey County. He was 5'7" tall and weighed 155 pounds.
In the spring of 1942, he and his mother were evacuated to the Salinas Assembly Center, located on the California Rodeo Grounds. On July 5, they were incarcerated in the Poston Relocation Center in Yuma County, Arizona, where they lived in Block 213. Poston was so large that there were three separate camps: Poston I, II, and III. Harry was Chief of Police for Camp II. He designed and built Madokoro Park there – a Japanese garden with small bushes, a pond, and a miniature tea house. He also played on Block 213's AA basketball team, known as the "Terrors." Of the team's ten players, four men were later killed in action with the 442nd and two were wounded.
When the call came for volunteers to form a Japanese American combat team, Harry was among the first to volunteer in March 1943. He realized that for things to be better after the war, the Nisei would have to prove their loyalty and patriotism to their country. Harry was older, over 32 years of age, and as the sole surviving son, he did not have to go to war, but he encouraged others to follow his example by volunteering, rather than waiting for the draft.
He was released from Poston on June 25 to Fort Douglas, Utah, where he enlisted on June 28, 1943. His civilian occupation was listed as "Semiskilled chauffeur and driver, bus/taxi/truck/tractor." He was sent to the 442nd Regimental Combat Team at Camp Shelby, Mississippi. Following basic training, Private Harry Fumio Madokoro was assigned to 3rd Battalion, K Company, 2nd Platoon, 1st Squad.
After months of training, the 442nd left Camp Shelby for Camp Patrick Henry, Virginia, on April 22, 1944. They shipped out to the Mediterranean Theater of Operations on May 2 and arrived in Naples, Italy, on May 28.
On June 26, 1944, the 442nd entered combat near Suvereto, north of Rome. By early July, they had pushed the Germans north of the Cecina River and spent several days in the effort to take Hill 140, the enemy's main line of resistance that saw fierce fighting and heavy casualties. On July 7, 3rd Battalion was working its way up Hill 140's western slopes, which was a long ridge that ran west from the summit toward the sea. The ridge was honeycombed with caves that were excellent defensive positions for the enemy. K Company had borne the brunt of this attack. But on this day, the last German resistance was battered into submission. Pfc. Madokoro's actions on July 7 were described in the Distinguished Service Cross that would later be awarded to him:
…For extraordinary heroism in action, on 7 July 1944, near Molino A Ventoabbto, Italy…During the final assault on an enemy held hill, Private First Class Madokoro advanced ahead of his squad to a strategic position from which he could deliver effective automatic rifle fire. Partly exposed to enemy fire, he scanned his sector of the slope for targets. He leveled his automatic rifle on a nest of snipers, forcing them to disperse. Throughout the bitter fight he held his position, neutralizing another enemy nest and pinning down the enemy to enable his platoon to take the hill.
After the victory of Hill 140, the Combat Team continued pressing north. On July 16, the objective of 3rd Battalion was an attack before daybreak on the little hilltop town of Luciana, with K Company making a frontal assault on the town. Again, Pfc. Madokoro distinguished himself by his heroic actions, which were described in the Distinguished Service Cross citation as follows:
…on 16 and 17 July 1944, in Luciana, Italy.  Again, at Luciana, Italy, Private First Class Madokoro occupied an advanced position and proceeded to fire on the enemy entrenched on the outskirts of the town.  With heavy fire directed at him, he stubbornly held his position and provided covering fire when his squad was forced to withdraw because of a concentrated artillery and mortar barrage.  The following day, when his squad became separated from the remainder of the company within the town, Pfc Madokoro provided flank protection against determined enemy attacks.  A group of enemy soldiers entered a nearby draw and threw hand grenades at him, but Pfc Madokoro crawled toward the draw and tossed a grenade into the enemy position.  On another occasion he left his position and silenced a machine pistol position with a grenade.  Still later in the course of the battle, he approached an enemy machine gun nest and silenced it by firing from a kneeling position.  By his stubborn determination, conspicuous devotion to duty, and courage, Pfc Madokoro inspired his squad in preventing the enemy's escape while his company closed in to occupy the town.  His valorous performance is exemplary of the finest traditions of the Armed Forces of the United States.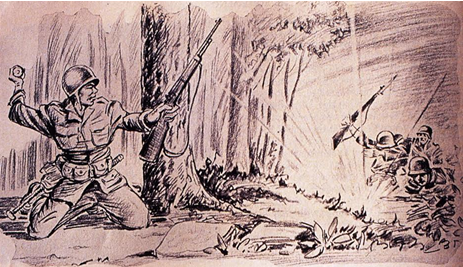 The drawing (left) is from Americans – The Story of the 442d Combat Team by Orville C. Shirey, published in 1946.  It is an illustration by J.W. Guenther of Pfc. Madokoro's actions on July 17 as described in the Distinguished Service Cross citation above.  The caption reads, "Madokoro crawled to the lip of the draw and tossed in a grenade of his own."
Following is an excerpt from a letter that Madokoro wrote to a pen pal during the Rome-Arno Campaign:
… being a heathen, an atheist, and not knowing how to pray, I had to depend on the family to do a lot of praying that all this strife would end soon so that we may all go home and enjoy the simple things in life. Believe me, War is Hell. It's not a pretty picture to see young kids who have not seen or begun to live life all shot up or torn up by shrapnel laying there never to speak or laugh again. I only wish I could get those bigots, those hate mongers, those super patriots here to see them.
Here, in the front, we're respected as fellow Americans fighting for the same cause. We're proud as hell to be here pitching, doing our share of the work.
…What I miss the most whilst in the military are dancing, movies, my motor cycle, popular music, home cooking (i.e. waffles and biscuits)."
After two months of pushing the Germans north from Rome, by late August the Regiment was holding the line along the Arno River. They were tasked with heavy patrolling along the river to keep the Germans guessing where the next Allied attack would be. Patrols were sent across the river in an effort to capture prisoners.
On August 25, 1944, Harry was the first from his squad to volunteer for a night patrol to cross the Arno River west of Florence. After they had completed their mission and were on their return he was killed when a land mine was set off by one of the men on the patrol.
Private First Class Harry Fumio Madokoro was interred at the U.S. Military Cemetery in Vada, Italy, Plot C, Row 3, No. 316. His only immediate survivor was his mother, who was still interned at Poston. He was the sixth volunteer from Poston who died in the service.
For his military service, Private First Class Harry Fumio Madokoro was awarded the following: Distinguished Service Cross, which is the second-highest award of the U.S. Army; Bronze Star Medal; Purple Heart Medal, Good Conduct Medal; American Campaign Medal; European-African-Middle Eastern Campaign Medal with one bronze star; World War II Victory Medal; and Combat Infantryman Badge. Harry was awarded the Congressional Gold Medal on October 5, 2010, along with the other veterans of the 100th/442nd Regimental Combat Team. This is the highest Congressional Civilian Medal.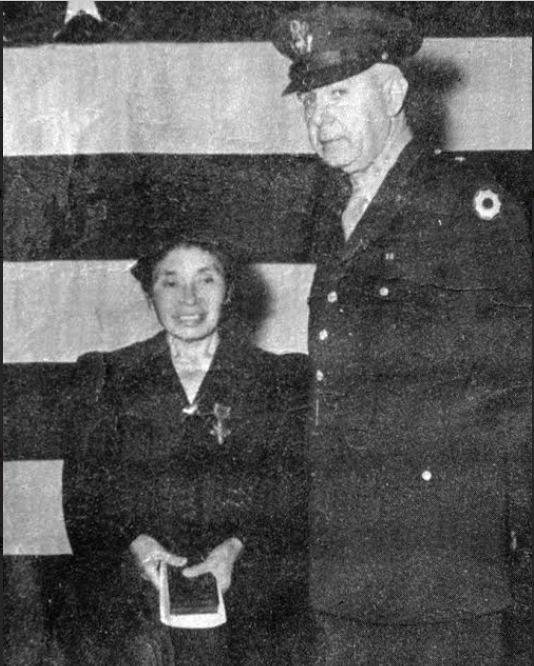 The Distinguished Service Cross was posthumously authorized by Lt. Gen. Mark W. Clark, Commander, Headquarters Fifth Army, on November 14, 1944.  It was presented to his mother, Natsu Madokoro, on February 21, 1945, at Poston WRA Center.  In the photo (right) taken after the ceremony, she is seen wearing the medal and holding her Bible.
On September 19, 1945, Natsu Madokoro was released back to Watsonville from the Poston WRA Center. By 1948, she was living in Los Angeles at 17136 S. Western Avenue, Gardena.
In 1948, the remains of Americans buried overseas began slowly to return to the US if the family so wished. As a result, Madokoro was brought home on the USAT Lawrence Victory. The ship arrived at Pier 3 in New York Harbor's Brooklyn Army Base on November 5, 1948, carrying 7,137 war dead from Naples and Livorno. Of these, 154 were from southern California and 61 from Los Angeles. A dockside memorial service was held after the ship's arrival. At this time, Harry's mother was still living in Gardena.
Harry Fumio Madokoro was reinterred at the Evergreen Cemetery in Los Angeles. A Memorial Stone was erected to his memory next to the joint tombstone of his father and sister at Pioneer Cemetery in his hometown of Watsonville.
With no immediate family members left, Mrs. Natsu Madokoro returned to Japan sometime after 1959.
Original Biography prepared by Americans of Japanese Ancestry World War II Memorial Alliance, and provided courtesy of Japanese American Living Legacy (http://www.jalivinglegacy.org/).
Researched and rewritten by the Sons & Daughters of the 442nd Regimental Combat Team in August 2021.