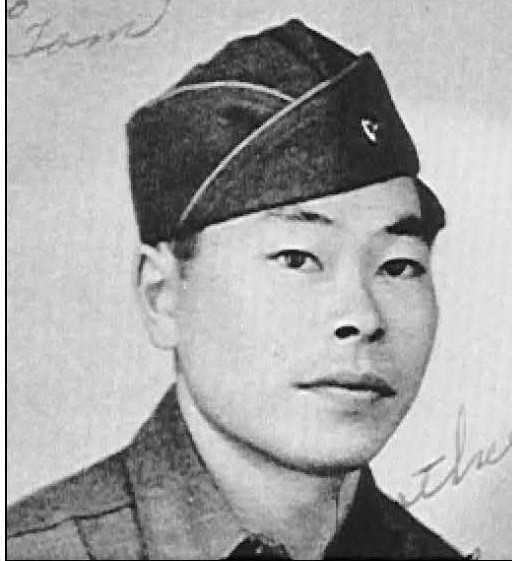 Haruo Ishida
Technician 4th Grade
442nd Regimental Combat Team
2nd Battalion, G Company
Haruo Suyama was born on January 11, 1917, in Thomas, King County, Washington, to Jinzo and Asano (Masaki) Suyama. He was the eldest of two sons and one daughter. His parents were from the village of Kamio, Kumamoto Prefecture, Japan. Jinzo arrived in Washington in 1900. Asano arrived in Seattle on November 22, 1915, on the Hawaii Maru. Jinzo worked for H. Iseri on his dairy farm and later his ranch in Thomas, north of Auburn.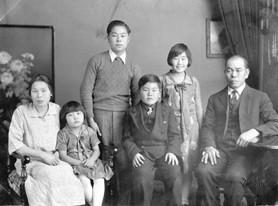 Jinzo died on July 15, 1923, when Haruo was six years old. The following year when his widowed mother married bachelor Gaichi Ishida, Haruo took his stepfather's surname, Ishida. Gaichi and Asano had one daughter, Chieko. Haruo's brother Tamio T. Suyama kept their birth father's surname.
right: family photo taken in 1932
Stepfather Gaichi had arrived in 1899 at the age of 18. By 1918, he was working for the S.H. Lumber Company. In the 1930 Federal Census, the family was living at 2601 Harbor Avenue in Seattle, and Gaichi worked in a lumber mill. Gaichi died on September 20, 1932.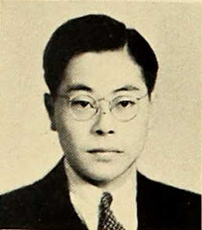 Haruo attended Bailey Gatzert Elementary School and James Madison Junior High School. He graduated from West Seattle High School in 1935. While in high school, he was on the Student Council, and a member of Hi-Y, the Honor Society, and the Chess Team. He was Seattle Chess Champ in 1935-1936.
left: Harou's senior class photo
In the 1940 Federal Census, Haruo was living with his widowed mother and sisters and brother-in-law at 2601 Fauntleroy Avenue in Seattle. Asano was employed as a "bag sewer" and he was a laborer at the Harry Cohen and Company, a burlap bag factory.
Haruo signed his draft registration card on October 16, 1940, Local Board No. 10, at the Field Artillery Armory in Seattle, Washington. He was 5'2" tall and weighed 115 pounds. He was living with his family at 2601 Harbor Avenue S.W., Seattle, and his mother was his point of contact. He was employed by Harry Cohen & Company at 3436 Klickitat Avenue in Seattle.
Ishida was inducted into the U.S. Army on September 10, 1941, and on October 1 he was a member of B Company, 32nd Medical Training Battalion, Camp Grant, Illinois. He later served at Fort Sheridan, Illinois; Fort Leonard Wood, Missouri; and Fort McClellan, Alabama. While he was serving in the Army, his mother Asano Ishida, sister Chieko Ishida, brother Tamio Suyama, and sister Akiko and her husband Tomoyuki Kawamura and their two small children were evacuated to the WCCA (Wartime Civil Control Administration) Puyallup Assembly Center, also known as "Camp Harmony," at Puyallup Fairgrounds in the spring of 1942. While there, they lived at site A-2-79. On September 4 they were incarcerated in the WRA Relocation Camp at Minidoka, in Hunt, Jerome County, Idaho. In the camp, Asano and Chieko lived at 40-2 F. Tamio was released on April 30, 1943, to Fort Douglas, Utah. Chieko was released to Milwaukee, Wisconsin, for employment on May 16, 1944. Mother Asano, and the Kawamura family were released to Milwaukee on September 17, 1945.
Our research did not find any reference to Ishida at Camp Shelby; however, as he was already in the Army he may have been sent there in the spring/summer of 1943 when Nisei soldiers from all parts of the mainland U.S. were arriving. If so, then he would have been assigned to G Company and gone through the months of basic and combat training, including military maneuvers, prior to leaving for Camp Patrick Henry, Virginia, on April 22, 1944. They shipped out to the Mediterranean Theater of Operations on May 2 and arrived on May 28 in Naples, Italy. Most of the 2nd Battalion companies were on a ship that left the convoy and entered port in Oran, Algeria. After offloading cargo, they rejoined the regiment on June 17 in Naples, Italy. The 442nd entered combat on June 26 in the Rome-Arno Campaign.
If for some reason Ishida was not among the first 442nd soldiers to leave for the Theater of Operations in Europe, then he would have been among the 672 replacements that arrived in Italy on September 18, 1944, near the end of the 442nd's time in the Rome-Arno Campaign.
The 442nd left Italy on September 27 for Marseilles, France, to join in the Rhineland-Vosges Campaign.
Once they arrived in Marseilles, the Combat Team was in a bivouac area in nearby Septèmes until October 9, when they were transported north to participate to the Vosges Mountains. In October-November the 442nd liberated the important road junction of Bruyères, followed by Biffontaine, and the famous "Rescue of the Lost Battalion" – the 1st Battalion of the 141st (Texas) Infantry Regiment that had advanced beyond its support, become surrounded by the enemy, and was unable to extricate itself.
Ishida was wounded during the Rescue of the Lost Battalion. He recovered from his wounds and returned to his unit. The 442nd left the Vosges Mountains on November 19 by truck convoy for Nice.
Once in Nice, the Combat Team was part of the Rhineland-Maritime Alps Campaign. G Company moved into the lines on November 28 near the mountain town of Sospel. The 2nd Battalion, with Haruo Ishida, was then in the lines at Peira Cava from December 1-14, when they were again posted to Sospel. This pattern of the 2nd Battalion alternating between the Sospel area and holding a position on the lines at Peira Cava continued until the middle of March 1945. They were then sent to Italy on March 20-22.
Arriving at their staging area in Pisa on March 25, the 442nd entered into the Po Valley Campaign, whose goal was to crack the western anchor of the German Army's Gothic Line. On April 3, the 2nd Battalion moved north from their position near Azzano toward one of the immediate mountain objectives – Mt. Carchio. By April 6, the 2nd Battalion had gained the ridge at nearby Mt. Folgorito during the night, and was poised for an attack on Mt. Carchio and Mt. Belvedere to the north.
Tec/4 Haruo Ishida was killed on April 7, 1945, in the action around these two mountain peaks.
He was buried in the U.S. Military Cemetery at Castelfiorentino, Italy, in Plot Y, Row 66, No. 3376.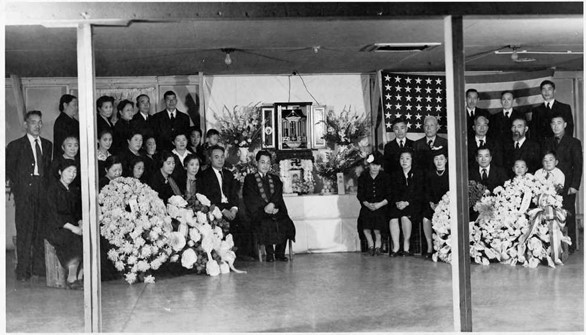 above: Memorial Service held for Tec/4 Haruo Ishida in 1945
Notice of his death was printed in the Times-News of Twin Falls, Idaho, on May 2, 1945, after his family at Minidoka WRA Camp in Hunt had received a telegram from the War Department.
For his wartime service, Tec/4 Haruo Ishida received the following awards: Bronze Star Medal, Purple Heart Medal with one oak leaf cluster, Good Conduct Medal, American Defense Medal, American Campaign Medal, European-African-Middle Eastern Campaign Medal with three (possibly four) bronze stars, World War II Victory Medal, Combat Infantryman Badge, and Distinguished Unit Badge. He was also posthumously awarded the Congressional Gold Medal on October 5, 2010, along with the other veterans of the 100th/442nd Regimental Combat Team. This is the highest Congressional Civilian Medal.
In 1947 and 1948, the Army began the process of closing the smaller military cemeteries in Italy and offering the family the choice of reburial at the large U.S. Military Cemetery in Florence or having their loved one's remains returned home. Haruo Ishida's family chose to have his remains returned to the United States. Tec/4 Ishida was buried at Arlington National Cemetery, Section 34, Site 4234, in Arlington, Virginia. He was survived by his mother Asano Ishida, brother Tamio Suyama, and sisters Mrs. Tomoyuki (Akiko Suyama) Kawamura, and Chieko Ishida Young.
His brother Tamio T. Suyama served in the 442nd RCT, 522nd Field Artillery Battalion, B Battery.
Researched and written by the Sons & Daughters of the 442nd Regimental Combat Team in 2021.