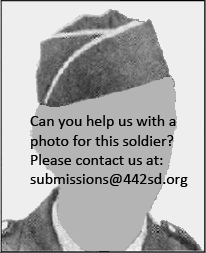 Haruyoshi Matsushige
Technician 4th Grade
442nd Regimental Combat Team
Antitank Company
Haruyoshi Matsushige was born on June 2, 1922, in Nawiliwili, Kauai, Territory of Hawaii. He was the son of Tamezo and Yuku (Fujinaka) Matsushige. Tamezo arrived in 1897 from Japan. On October 8, 1907, Yuku arrived from Hizumi, Yamaguchi Prefecture, Japan, on the S.S. Asia. Haruyoshi was the youngest of seven children. His siblings were: sisters Kawayo, Mitsuyo, Kikumi; and brothers Seichi, Tameji, and Masaichi.
In 1910, Tamezo was a vegetable farmer. By 1920, he was a fishmonger. He died in 1931. Haruyoshi left school after 8th grade in 1936. In 1940, Haruyoshi was working as a plumber and living with his family on Nawiliwili Valley Road near Lihue.
Haruyoshi signed his draft registration card on June 30, 1942, Local Board No. 2, at the Lihue Armory on Kauai. He was living with his family and his mother Yuku was his point of contact. He was employed by the U.S. Department of Engineers at Mana near Waimea, where he was a sheet metal worker and foreman for 4½ years. He was 5'7" tall and weighed 120 pounds.
Haruyoshi enlisted in the Army on August 18, 1944. He left for the mainland on August 28, arriving on September 2. After training, he was assigned to the 442nd RCT. He then left the US on March 7, 1945, and arrived in the European Theater of Operations as a replacement to the Antitank Company while the Combat Team was in southern France on March 18 during the Rhineland-Maritime Alps Campaign. At some point, he also served in the regimental Service Company.
On March 17 to 19, 1945, the 442nd arrived from the area of Nice to their staging area near Marseilles. They left for Italy on LSTs on March 20 to 22 and arrived in Pisa, Italy, for participation in the Po Valley Campaign, which included four days of the Northern Apennines Campaign from April 1-4. Haruyoshi was engaged in the operations as the 442nd pushed the Germans north in Italy.
Matsushige served in Italy with the 442nd during the occupation. When Germany surrendered in Italy on May 2, 1945, the 442nd ceased their pursuit of the enemy and went into bivouac in Novi Ligure. In mid-May they were sent to Ghedi Airport where they were assigned to processing, searching, and guarding German prisoners of war. Approximately 85,000 enemy personnel were processed in eight days. While not on duty, the 442nd men maintained a schedule of garrison training, and day passes to Milan and rest centers at Alassio, Venice, and San Pellegrino were instituted.
In mid-June 1945, the 442nd left Ghedi and moved to Lecco, 62 miles away. They set up a bivouac area and the Regimental command post was located at Lecco Maggianico on Lago Garlate. In late July the 442nd took over the duties of the Pisa-Leghorn-Florence POW Sub-Command. The regimental command post was moved to Leghorn (Livorno). Haruyoshi attended Radio School for six weeks while there and served as a radio operator. During the occupation he also served as a truck driver (1/4-ton trucks).
For his World War II service, Tec/4 Haruyoshi Matsushige was awarded the following:  Bronze Star Medal, Good Conduct Medal, Asiatic-Pacific Service Medal, European-African-Middle Eastern Campaign Medal with two bronze stars, World War II Victory Medal, Army of Occupation Medal, Combat Infantryman Badge, and Distinguished Unit Badge with oak leaf cluster.  He was awarded the Congressional Gold Medal on October 5, 2010, along with the other veterans of the 100th/442nd Regimental Combat Team.  This is the highest Congressional Civilian Medal.
Matsushige was in the last ship carrying 442nd men home from Italy – which was also the last of the Army's "Christmas tree" or highly decorated and famous regiments to return to the US. They comprised 400 men among the 1,344 troops who sailed from Livorno on June 22, 1946, and arrived at 4:45 p.m. on July 3 at Pier 84, North River and 4th Street in New York Harbor on the troop ship USAT Wilson Victory. A big welcome greeted them – two fire boats spouted water all around the harbor, three dive bombers flew low over the ship, and the Fort Hamilton Army Band played. Fresh lei from Hawaii were flown in and hula dancers greeted the ship and presented the lei.
On July 4 they were greeted at nearby Camp Kilmer, New Jersey, by Hawaii Delegate Joseph R. Farrington at a large ceremony that included more lei flown in from Hawaii and 250 watermelons from the 442nd's Camp Shelby benefactor, Earl Finch. They left for Fort Belvoir, Virginia, on July 6, where they were housed during their visit to Washington DC.
Matsushige participated with about 500 veterans of the 442nd in the July 15 parade up Constitution Avenue in Washington DC to the Ellipse in front of the White House for the ceremony with President Harry S. Truman in the pouring rain. The President reviewed the troops, gave a speech, and then attached the Presidential Unit Ribbon to the 442nd flag.
They returned to Camp Kilmer, and left from Staten Island, New York Harbor, on the troop ship S.S. Waterbury Victory on July 22 bound for Honolulu. They passed through the Panama Canal on their way to Hawaii.
On August 9, 1946, Tec/4 Haruyoshi Matsushige was among the 241 veterans of the 442nd who were welcomed home as the S.S. Waterbury Victory arrived in Honolulu at Pier 40 at 8:00 a.m. They were taken from the pier in a 60-car cavalcade to a large homecoming celebration on the grounds of Iolani Palace. The Royal Hawaiian Band played and the USO served pineapple juice and cookies. Speeches and greetings were given by Governor Ingram M. Stainback and Delegate Joseph R. Farrington. Thousands of family and friends were on hand with lei to greet their loved ones.
On August 10, Matsushige was at Schofield Barracks and processed with 42 other soldiers for discharge from the Army. The veterans received their discharge in a public ceremony at Kapiolani Park on the first anniversary of V-J Day, August 14. On August 15, he returned to Schofield for his final discharge papers. His discharge papers stated that his civilian occupation was "sheet metal worker foreman."
He settled into an apartment at 1820-B Dole Street in Honolulu and did not return to live in Kauai. Soon, Matsushige reenlisted in the U.S. Army for an additional two years, serving in Japan. On January 31, 1948, he left Yokohama and arrived back in Honolulu aboard the troop ship USAT James O'Hara.
Matsushige left for the mainland where he attended the Chicago School of Watchmaking. On October 7, 1950, he arrived back in Honolulu on the S.S. Lurline from San Francisco, having completed his studies in Chicago.
On November 8, 1952, at the Honpa Honwangji Mission in Honolulu, he married Hatsue Kadota, daughter of Mr. and Mrs. Giichi Kadota of Hilo. She was employed at the Library of Hawaii. Hatsue had graduated from the University of Hawaii and received her Master's degree in Library Science from Pratt Institute in New York City.
They later moved to 1719-B 9th Avenue and Matsushige worked as a watch repairman. Over the years he worked for various stores, including M.K. Wong Watch Repair, Security Diamond, and Jewel Box.
Haruyoshi Matsushige died on November 15, 1984, in Honolulu. He was buried in the Kauai Veterans Cemetery in Hanapepe. Survivors included his wife, one daughter, and six siblings. His wife Hatsue died in 2019 and was buried next to her husband.
Researched and written by the Sons & Daughters of the 442nd Regimental Combat Team with assistance by the family in 2022.