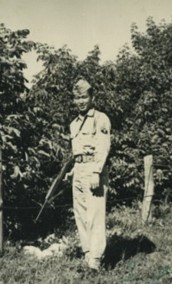 Herbert Hachiro Masunaga was born March 6, 1922, in Hookena, Hawaii Island, T.H.  He was one of nine children (four sons and five daughters) of Tsurumatsu and Yui (Nakayama) Masunaga.  Tsurumatsu first arrived in Hawaii in 1890.  He arrived again 1907 from Naura, Kumamoto Prefecture, Japan, and his wife Yui arrived 2 years later.  Their two eldest children were born in Japan.  The family were coffee farmers in South Kona.
In March 1934, Tsurumatsu filed a report with the Japanese Consulate General in Honolulu for his sons Kazuo, Kiyoshi, and Hachiro to lose their Japanese citizenship.  The report was known as "loss of citizenship in order to complete the expatriation from Japan."  His eldest son, Tsuruki, had died in 1922.
Masunaga signed his WWII Draft Registration card on June 30, 1942, for Local Board No. 1, Post Office Building, Olaa, Hawaii, T.H. At the time he was employed by the Civilian Conservation Corps (CCC) at the camp at Punaewa, Hawaii National Park. He was 5'7" and 130 lbs. and listed his older brother Kazuo Masunaga of Honaunau as his point of contact. He had just graduated from Konawaena High School.
On August 17, 1944, Herbert enlisted in the U.S. Army. His civilian occupation was given as "semi-skilled chauffeur/driver." He departed Hawaii in September 1944 and was in the MIS Language School at Camp Snelling, Minnesota, in December 1944.
The exact date of his arrival in Japan was not found. Masunaga was released from the U.S. Army on August 6, 1946. He sailed from Yokohama, Japan, on the troop ship USAT General William Weigel on November 11, 1946, in Cabin Class with one valpak and one piece of hand luggage. The ship arrived in Honolulu on December 16.
Herbert returned to Japan (date not found) where he married Suzuko Sunada (born May 9, 1918) on August 18, 1947, at the Ikuta Ward Office in Kobe. The date of their move back to the U.S. was not found. He attended Honolulu Business College and graduated from the Business Administration Course in 1951 before becoming a Certified Public Accountant. On November 25, 1953, Suzuko became an American citizen. Herbert was active in the MIS Club, and served in many offices over the years.
Herbert Hachiro Masunaga of Kaneohe died on September 24, 1999, in Honolulu. He was survived by his second wife, one son, and two daughters. He is buried in Plot S, Row 479A at the National Memorial Cemetery of the Pacific at Punchbowl with his first wife Susan Suzuko who had predeceased him on May 11, 1989.