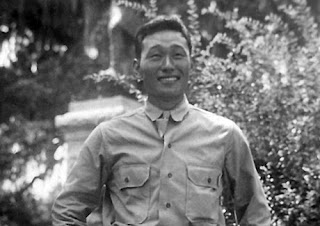 Herbert Shunji Isonaga
Staff Sergeant
442nd Regimental Combat Team
2nd Battalion, Headquarters Company
Shunji Isonaga was born in Koloa, Kauai, on April 11, 1921. He was the son of Tokuichi and Kazuyo (Wakayama) Isonaga. Tokuichi arrived from Tokuyamamura, Yamaguchi Prefecture, Japan, on the S.S. Gaelic on March 18, 1903, at the age of 16; his occupation was listed as "merchant." Kazuyo, who was born in Hiroshima Prefecture, arrived in Honolulu on the Tenyo Maru from Tokuyamamura on June 9, 1914. They had four children: daughters Chito, Shizuo, and Anne Hamae; and sons Kokichi and Shunji. Shizuo died at the age of three from diphtheria. The family operated Isonaga Shoten, a general store in Koloa, catering mainly to Koloa Plantation laborers.
Growing up, Shunji, also known as Herbert, loved swimming in Koloa's Waikomo Stream, fishing and diving at Poipu Beach, sledding down the grassy hills around the town, and eating mango, vi apple, mammee apple, and cherries that grew wild near his home.
His parents were Buddhist, but insisted that the children attend Koloa Union Church. Herb was active in the church's social activities conducted by the YMCA. He worked in the sugar plantation fields and in the pineapple cannery, and helped with duties at the family store. At home, his chores included some cooking, and preparing the fire for the family's evening bath. At Kauai High School, Shunji was elected Senior Class President, by a "landslide" of one vote.
On September 16, 1938, at the age of 17, he boarded the S.S. Aorangi for Victoria, British Columbia, Canada, to attend the University of Oregon in Eugene. He lived for a while with his uncle Seichi ("Sam") Wakayama and family on their strawberry farm in Sherwood. They were later incarcerated at Tule Lake War Relocation Center in California.
In 1941, anticipating the draft and wanting to be drafted with his friends, Herb left Oregon and returned to Hawaii. He enrolled at the University of Hawaii (UH) and lived at the YMCA's Atherton House. He found work with the Honolulu Star-Bulletin, and hoped to become a journalist. He was 20 years old when the war broke out, and he registered for the draft at Local Board No. 4 in Honolulu on February 16, 1942. His address was the corner of University Avenue and Metcalf Street and he was a student at UH. His point of contact was his father in Koloa. He was 5'6" tall and weighed 135 pounds.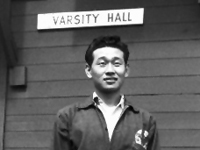 Right: Herb in his VVV uniform at Schofield Barracks in 1942
While at UH, Herbert joined the Varsity Victory Volunteers (VVV or Triple V). It was composed mainly of UH ROTC members who had been kicked out of the Hawaii Territorial Guard soon after December 7. They convinced the military governor, Lieutenant General Delos C. Emmons, to allow them to serve their country in any way possible. The result was the formation of a labor battalion, the Triple V. They were stationed at Schofield Barracks, where Herbert volunteered for kitchen duty.
If the opportunity arose, there was no question in Herbert's mind that he would enlist. The opportunity came, and he enlisted on March 23, 1943. He was at Iolani Palace for the 442nd RCT send-off on March 28, probably in one of the front rows with the rest of the Triple V. On April 4, he boarded the S.S. Lurline for training on the mainland with his fellow volunteers. He trained at Camp Shelby, Mississippi, where his experience living in Oregon enabled him to act as a peace-keeper between the Hawaii boys and the mainland boys, nicknamed "kotonks." Herbert was assigned to 2nd Battalion, Headquarters Company, Antitank Platoon.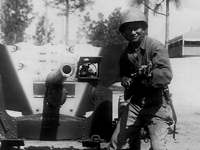 Left: Herb at Camp Shelby
He left for the Theater of War with the 442nd Combat Team on May 2, 1944, from Hampton Roads, Virginia. They arrived at Oran, North Africa, on May 28, as their ship had been ordered there to deliver cargo. The Second Battalion then continued on to Italy on June 6 and joined the rest of the 442nd, who had arrived at Naples on May 28. He fought in the Rome-Arno Campaign in Italy, the Rhineland-Vosges and Rhineland-Maritime Alps Campaigns in France, and the Po Valley Campaign back in Italy.
During the Rome-Arno Campaign, on July 6, 1944, in the vicinity of Hill 140 southwest of Castellina, while under heavy and constant enemy fire and with little rest, Isonaga acted as a litter-bearer. He made several trips through difficult terrain, applied first aid, and carried the wounded to the aid station. He was advised to rest, but refused. When an urgent call came for more aid men up front, he worked his way to the forward slope where wounded soldiers lay exposed to enemy fire. He rendered first aid, and evacuated his wounded comrades throughout the day and night. He was awarded the Bronze Star Medal for his actions at Hill 140.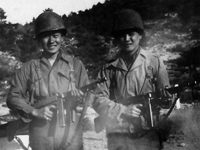 Right: Herb (left) with Edwin Shimabukuro in France
Herbert later recalled that while in Italy there was a call for Catholic soldiers to visit Pope Pius XII and receive his blessing. Isonaga was not Catholic, but thought, I figured I could use all the help I could get. So he volunteered and was blessed by the Pope.
While at Ghedi Airfield during the post-war occupation in Italy, Herb was approached by recruiters for the Military Intelligence Service (MIS) as a Japanese language interpreter. He volunteered, was flown to the US and Hawaii ahead of his unit, and scheduled for a 30-day leave before entering the MIS. By the time he reached California, however, Japan had surrendered. Once he reached home, Staff Sergeant Isonaga was discharged from the Army on October 21, 1945.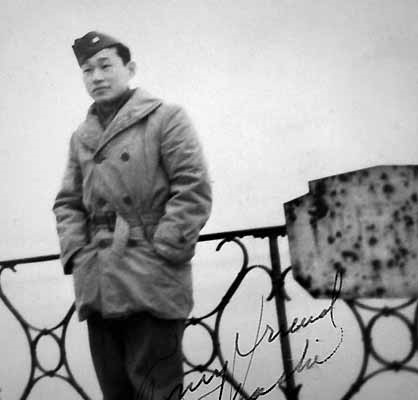 Left: S/Sgt. Isonaga in Nice, France, during the "Champagne Campaign"
For his military service, Staff Sergeant Herbert Shunji Isonaga was awarded the Bronze Star Medal with one oak leaf cluster, Good Conduct Medal, American Campaign Medal, European-African-Middle Eastern Campaign Medal with four bronze stars, World War II Victory Medal, Army of Occupation Medal, Combat Infantryman Badge, and Distinguished Unit Badge. He was awarded the Congressional Gold Medal on October 5, 2010, along with the other veterans of the 100th/442nd Regimental Combat Team. This is the highest Congressional Civilian Medal.
Herbert soon returned to Atherton House, and graduated in 1948 from UH with a Bachelor's degree in Business Economics. He then opened a second-hand bookstore near the corner of University and King Street, and later opened Herbie's Drive-In, a burger joint at the corner of King Street and Waialae Avenue. Under the guidance of his mentor and friend, Hung Wai Ching, Herbert began a career in real estate. He was later appointed to the Real Estate Commission by Governor John A. Burns, serving as Chairman, and then as a commission member.
Hung Wai also introduced him to Suzanne Shizue Kobatake, from Lahaina, Maui. Sue, as she was known, was a cafeteria manager for the Department of Education. They were married on March 26, 1949, at the Church of the Crossroads in Honolulu. Herbert and Sue raised three children: Robert, Mae, and Sara.
Below: Isonagas' wedding photo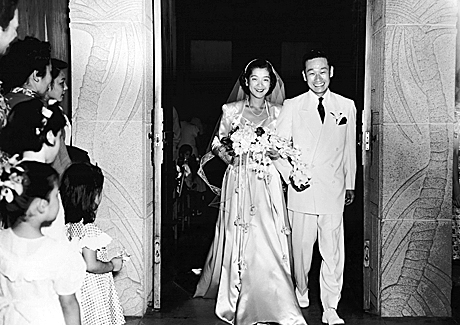 Herbert Shunji was a founding member of the 442nd RCT Veterans Club and was an active member throughout his lifetime. He served for a time as its Vice President. In 1948, the 442nd Veterans Club collaborated with the Honolulu Community Theater, and presented a play by Harry Brown, "A Sound of Hunting." The director was Samoan American writer Johnny Kneubuhl, who adapted the play for the men of the 442nd. Herbert played a mainland-born soldier named Yosh Kotow. They took the play on the road, giving performances throughout Hawaii.
Herb was very active in local politics, and worked on the campaigns of his friends, most of whom were 442nd veterans, including Masato Doi (Antitank Company), Robert Taira (D Company), Wilbert S. Holck (Cannon Company), and Tony Kunimura (long-time mayor of Kauai).
Herbert reenlisted in the U.S. Army Organized Reserve Corps (ORC) at Fort DeRussy as a Second Lieutenant in June 1948. He was called to active duty in June 1951 and served at Schofield Barracks during the Korean War. He was later called to active duty during the Vietnam Conflict. Isonaga retired as a Lieutenant Colonel from the Hawaii Air National Guard Reserves in 1973.
Herbert remained close with his Triple V friends throughout his life. He worked with Ralph Yempuku (MIS) to establish the Triple V Scholarship Fund at the UH Foundation. He was also active in the effort to document VVV history in the book No Sword to Bury by Franklin S. Odo.
In his retirement years, Herb enjoyed golfing, running, reading, keeping up with current events, watching CSPAN, good food and music, and dog-sitting for his family. He was also a member of the Nuuanu YMCA. Herb was a generous man who took care of his friends and family, and a devoted husband and father. He was honest and always spoke his mind.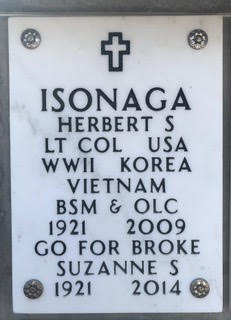 Herbert Shunji Isonaga died on April 1, 2009. Survivors included his wife, Sue, his three children, grandchild Marcia, and great-grandchildren Ethan and Maya. He was inurned at the National Memorial Cemetery of the Pacific at Punchbowl, Court C11, Row 500, Site 586. His wife, Sue Isonaga, died in 2014 and was inurned with him.
For more information on Herbert Isonaga, visit nisei.hawaii.edu at Herbert Isonaga.
Herb's sister Chito Isonaga served in the Women's Army Corps (WAC) during World War II and in the MIS during and after World War II.
Researched and written by the Sons & Daughters of the 442nd Regimental Combat Team with assistance by the family in 2022.