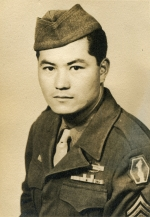 Hidenobu Hiyane
Technician Fourth Grade
442nd Regimental Combat Team
100th Infantry Battalion, Headquarters Company
Hidenobu Hiyane was born on October 18, 1918, in Kapaa, Kauai, Territory of Hawaii. He was the second of five sons and two daughters of Taru and Matsu (Yoshimoto) Hiyane. His siblings were: brothers Phillip Shigeo, Tsutomu, Toshie, and Tamotsu; sisters Ruth Tomie and Nancy Yoshiko. His parents arrived from Gushikawa, Okinawa Prefecture, Japan, in 1906 and 1908, respectively.
The family moved to Oahu before 1930. Hidenobu graduated from McKinley High School in 1937.
In 1940, Hidenobu was living with his family on the Hind-Clarke Dairy property, on Ranch Road off Kalanianaole Highway. His parents operated a hog farm and he was a salesman in a retail radio store.
Hidenobu (also known as "Jimmy") signed his draft registration card on October 26, 1940, Local Board No. 2. He was living at Hind-Clarke Dairy, Wailupe, Honolulu. His point of contact was his cousin Matsusuke Tamae of Kapakahi Road. He was employed by Standard Sales Co., 75 South Pauahi Street, and he was 5'5½" tall and weighed 123 pounds.
He was inducted into the Army on November 15, 1941, at Schofield Barracks. His civilian occupation category was listed as "Semi-skilled mechanic and repairman."
Jimmy shipped out with the 100th from Hawaii to California on the S.S. Maui, arriving on June 12, 1942. After a train ride across country, they arrived for basic training at Camp McCoy, Wisconsin, and then did advanced training at Camp Shelby, Mississippi. They left Camp Shelby on August 11, 1942, and arrived two days later at Camp Kilmer, New Jersey. On August 20, at midnight Battalion received orders to proceed by train to Brooklyn, New York. They ferried to Staten Island and Hiyane boarded the S.S. James Parker as a member of the Communication Platoon, Headquarters Company.
The 100th Battalion (Separate) arrived in Oran, Algeria, on September 2, and was assigned to the 34th Division, known as the "Red Bull" Division. On September 23, they landed at Salerno, Italy.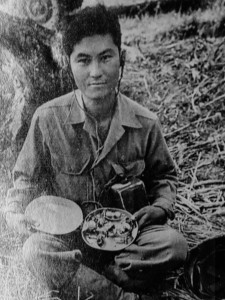 Hiyane was a radio operator in Headquarters Company. He later recalled how lucky he was in battle. Once, he was standing next to an officer using the radio and he was shot in the head and killed. Another time, a shell or grenade landed next to Jimmy and did not explode.
Right: Jimmy with his mess kit that he made into a radio
Hiyane served in the following campaigns of the 100th/442nd: Naples-Foggia and Rome-Arno in Italy; Rhineland-Vosges and Rhineland-Maritime Alps in France; and Po Valley back in Italy.
In April 1945, he was at a "repple depple" (replacement depot) awaiting shipment home on furlough/rotation. After leaving Naples on May 11, just days after V-E Day, he arrived in New York on May 20 on the Liberty ship Mount Vernon, one of 31 returning 442nd and hundreds of other World War II veterans.
For his military service, Technician Fourth Grade Hidenobu Hiyane was awarded the Bronze Star Medal, Good Conduct Medal, American Defense Medal, American Campaign Medal, Asiatic-Pacific Campaign Medal, European-African-Middle Eastern Campaign Medal with one silver service star, World War II Victory Medal, Combat Infantryman Badge, Distinguished Unit Badge, and Expert Marksman Badge with Rifle Bar.  He was awarded the Congressional Gold Medal on October 5, 2010, along with the other servicemen of the 100th/442nd Regimental Combat Team.  This is the highest Congressional Civilian Medal.  On June 1, 2019, he received the Légion d'Honneur, France's highest military order, for his service in France during World War II.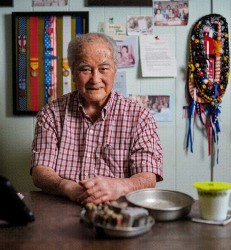 After the war, he went to Chicago and used the GI Bill to attend DeForest Training School and learn more about radios. In 1947 while there, he met and married Hisae Patsy Ochikubo from Waipahu. They soon returned to Hawaii. Hiyane worked for the Army as an electronic maintenance/radio operator for 30 years. He also repaired donated radios and other electrical items for 12 years for the Salvation Army.
Left: Hiyane at age 101 in 2019
They raised a family of two daughters. As of this writing (2021), he lives with one of his daughters on Oahu.
Below: Anzio days, 1944. Back l to r: Akiyoshi Kuriyama, Hidenobu Hiyane, James Horikoshi, James Oki, David Suzuki. Front l to r: Albert Oki, Isaac Akinaka, Edward Saito. (Courtesy of Joyce Walters)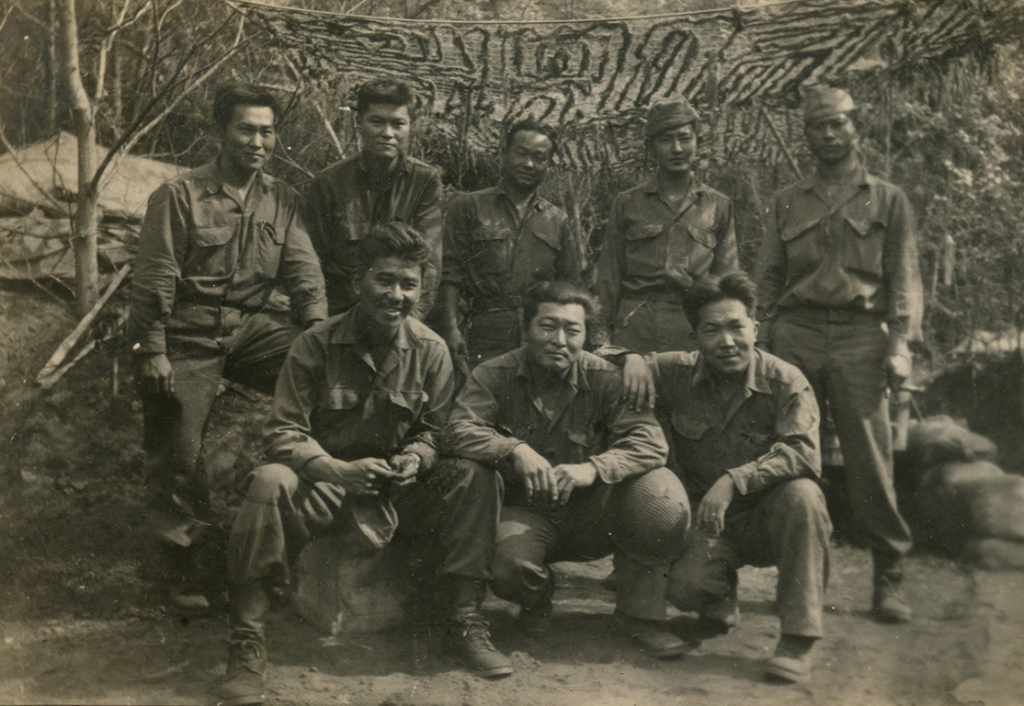 Below: Breakthrough before Rome, June 1, 1944, Yoshio Nakatsui, Hidenobu Hiyane, (first name not given) Kimura. (Courtesy of Joyce Walters)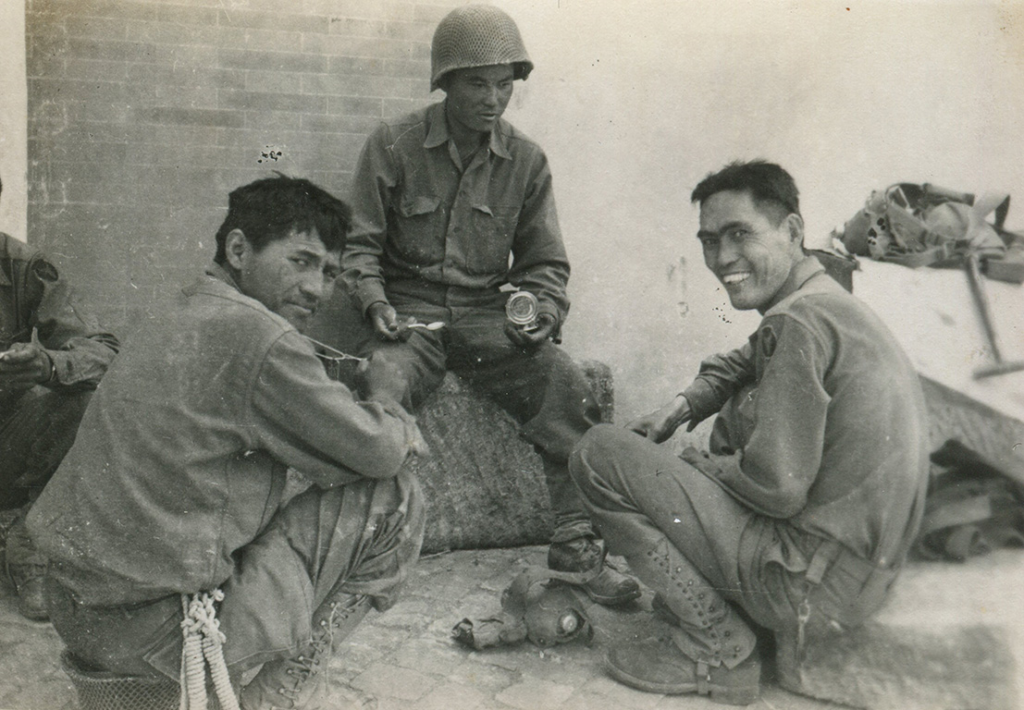 Below: Forward Command Group, Radio and Message Center Unit, Venafro, Italy, 1943: Back l to r: Ed Ikuma, Capt. Oscar King, Hidenobu Hiyane, Katsuto Komatsu (later KIA), Howard Yamamoto. Front l to r: Albert Mikio Shimizu, S. Ushijima (later went home on furlough), last man unidentified. (Courtesy of Joyce Walters)
Below left to right: Hidenobu Hiyane in foxhole at Anzio; and relaxing during Champagne Campaign in Southern France (Courtesy of Joyce Walters)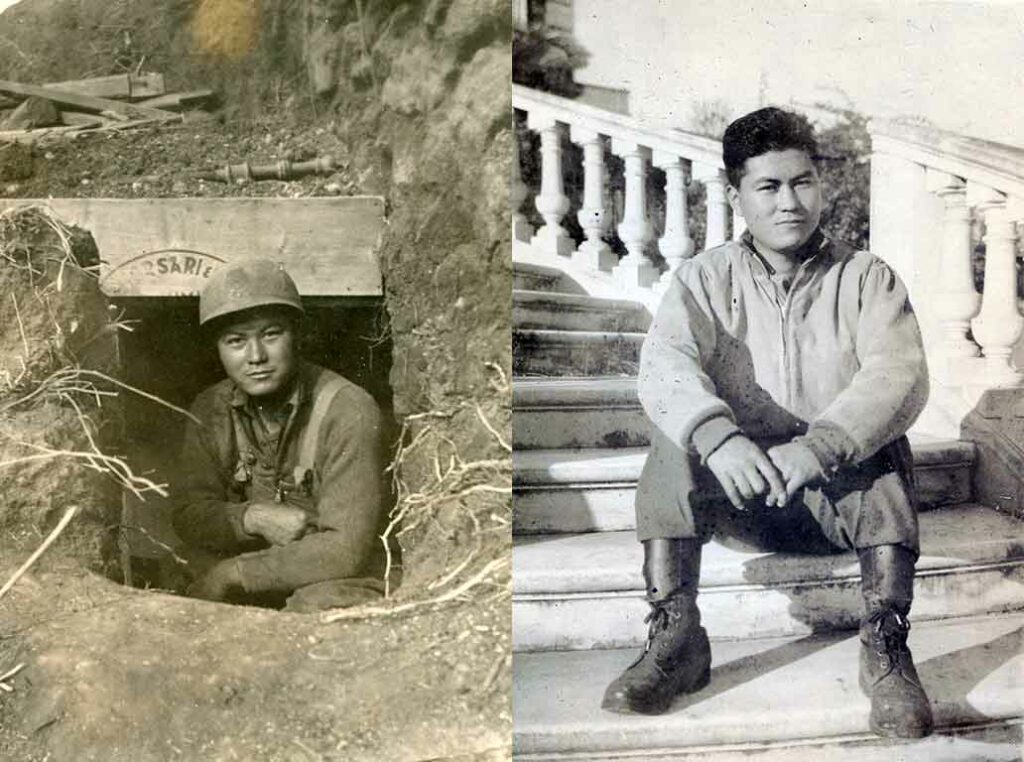 Following are links to articles about Hiyane:
Memories Don't Fade – Generations Magazine
https://www.100thbattalion.org/archives/photos/h-m/hidenobu-hiyane/
Shigeo P. Hiyane, Jimmy's brother, also served in Headquarters Company.
Researched and written by the Sons & Daughters of the 442nd Regimental Combat Team in 2021.