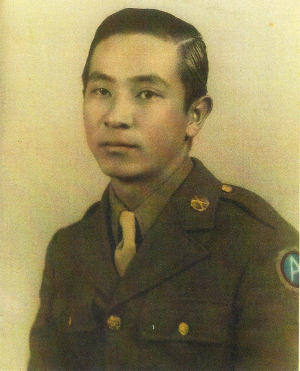 Hideo Nimori
Private First Class
442nd Regimental Combat Team
Service Company
Hideo Nimori was born on September 29, 1920, in Kahului, Maui, Territory of Hawaii. He was the oldest of six children of Kenichi and Yoshiko (Kikkawa) Nimori. His siblings were: brothers Yukio, Saburo, Shiro, and Joseph Satoru, and sister Nancy. His parents arrived in Hawaii from Hiroshima Prefecture, Japan, in 1906 and 1919, respectively.
By 1930, the family had moved to Oahu and was living in the Waialae area of Honolulu. Kenichi operated a hog farm.
Hideo lost his father as a teenager and dropped out of school to help run the family businesses – Moiliili Meat Market and a pig farm on Kapakahi Road (now Ainakoa Avenue). This was one of the reasons he enlisted in the military, despite his deferment from active duty as the oldest son in a family without a father. Hideo hoped the Nisei soldiers' service could help bring change and more opportunities for Americans of Japanese ancestry.
Nimori signed his draft registration card at Local Board No. 2 at 3563 Waialae Avenue on February 14, 1942, in Honolulu. His point of contact was Warren Sakuma of 1850 North School Street. His employer was his mother Yoshiko Nimori of 2643 South King Street. At the time, he was living at Lot 12, Kapakahi Street, and was 5'4" tall and weighed 120 pounds.
He enlisted in the U. S. Army on March 30, 1943. At the time, his weight was 103 pounds and his civilian profession was "Semiskilled meatcutter." He was sent to the "tent city," known as Boom Town, at Schofield Barracks. On April 4, he was with the new soldiers as they left Honolulu on the S.S. Lurline for San Francisco and a train trip across country from Oakland to Camp Shelby, Mississippi. He was assigned to Service Company of the 442nd Regimental Combat Team.
After a year of training, Hideo was with the 442nd as they left Camp Shelby on April 22, 1944, for Camp Patrick Henry, Virginia. On May 2, they sailed from nearby Hampton Roads in a convoy of over 100 ships. They arrived at Naples, Italy, on May 28. The Combat Team spent a week at a staging area in Bagnoli, near Naples, before leaving on LSTs for Anzio on June 6. After arrival, they marched five miles to a bivouac area. From Anzio, the 442nd went to a large bivouac area at Civitavecchia, north of Rome, where they went through additional training and final preparations for going to the front lines.
The 442nd entered combat on June 26 near Suvereto, Italy.
After pushing the Germans north of the Arno River line, the 442nd was ordered to France. They left on September 27 and arrived in Marseilles. The Combat Team was in a bivouac area in nearby Septèmes until October 9, when they were transported north to participate in the Rhineland-Vosges Campaign. In October-November, the 442nd liberated the important road junction of Bruyères, followed by Biffontaine and the famous "Rescue of the Lost Battalion" – the 1st Battalion of the 141st (Texas) Infantry Regiment that had advanced beyond its support, become surrounded by the enemy, and was unable to extricate itself.
Following the Vosges, Nimori went with the 442nd for participation in the Rhineland-Maritime Alps Campaign in southern France. They were in the area of Nice, Menton, and Sospel beginning on November 21. The 442nd returned to Italy on March 25, 1945, for the Po Valley Campaign, leading to the end of the war in early May 1945. After V-E Day in Europe on May 8, 1945, he remained for the occupation of Italy.
Nimori served in four campaigns of the 442nd: Rome-Arno in Italy, Rhineland-Vosges and Rhineland-Maritime Alps in France, and Po Valley back in Italy.
For his service in World War II, Private First Class Hideo Nimori was awarded the Bronze Star Medal, Good Conduct Medal, American Campaign Service Medal, Asiatic-Pacific Service Medal, European-African-Middle Eastern Campaign Medal with four bronze stars, World War II Victory Medal, Army of Occupation Medal, and Combat Infantryman Badge. He was awarded the Congressional Gold Medal on October 5, 2010, along with the other veterans of the 100th/442nd Regimental Combat Team. This is the highest Congressional Civilian Medal.
He arrived back in Hawaii in late 1945, and was discharged at an Army Separation Center on Oahu on December 21. At the time, his home address was listed as 2629 South King Street.
Hideo returned to work at the family business and met Dorothy C. Kunimune. They married on November 15, 1947. He and Dorothy raised two daughters, Jeanne and Gail, in the Pauoa neighborhood of Honolulu. Hideo worked as a meat cutter for his father-in-law at Moiliili Store, and Dorothy, a seamstress and bookkeeper, helped run her family's store, Kuni Dry Goods.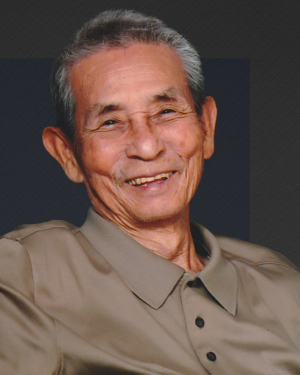 To Jeanne and Gail, Hideo was the dad who just couldn't say no.  After working long hours, Hideo would set his alarm and sleep for a few hours and then wake up to pick the girls up from late-night social club activities.  He was the dad who was always laughing, smiling, and cracking jokes.  
Right: Nimori in his later years
Hideo was also the beloved grandpa to three grandchildren and two great-grandchildren.  To them, he was the grandpa who always let them win at board games, slept on the floor with them during sleepovers, and drove them to and from school.  His family will always remember his distinct laugh – his entire face would light up as a big smile swept across his cheeks.
As a jack-of-all-trades, he was also a skilled gardener and a fixer-upper of anything from simple plumbing to electrical and home repairs.
Hideo Nimori passed away on June 25, 2012, and was inurned at the National Cemetery of the Pacific at Punchbowl, Section CT8FF, Row 300, Site 315. His niche overlooks the calm beauty of Punchbowl, a place of honor for the men and women buried there. His legacy of hard work, love, care, and humility is forever imprinted in the hearts of those who loved him.
His younger brother Yukio Nimori served in the 442nd in Service Company.
Researched and written by the Sons & Daughters of the 442nd Regimental Combat Team with assistance by the Nimori family in 2021.