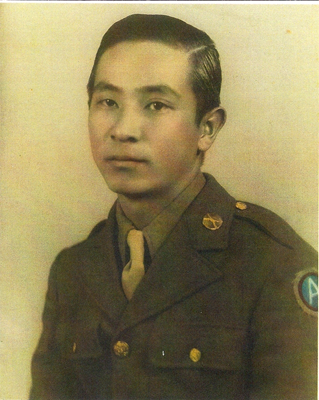 Hideo Nimori served as a Private First Class in Service Company, 442nd Regimental Combat Team. He was born on September 29, 1920, in Kahului, Maui, T.H., and was the oldest of six children (five sons and one daughter) of Kenichi and Yoshiko (Kikkawa) Nimori. His parents arrived in Hawaii from Hiroshima, Japan, in 1906 and 1919, respectively.
Hideo lost his dad as a teenager and dropped out of school to help run the family businesses – Mo'ili'ili Meat Market and a pig farm on Kapakahi Road (now Ainakoa Avenue). This was one of the reasons he enlisted in the military, despite his deferment from active duty as the oldest son in a family without a father. Hideo hoped the Nisei soldiers' service could help bring change and more opportunities for Americans of Japanese ancestry.
Nimori signed his WWII Draft Registration card for Local Board No. 2 on February 14, 1942, in Honolulu. His point of contact was Warren Sakuma of 1850 N. School Street. His employer was his mother Yoshiko Nimori of 2643 S. King Street. At the time he was living at Lot 12, Kapakahi Street, and was 5'4", 120 lbs.
The 442nd RCT contingent left Honolulu on the SS Lurline for the mainland and a train trip across country from Oakland to Mississippi.
After completing basic training at Camp Shelby, Mississippi, Hideo served in all the campaigns of the 442nd in Italy, France, and back to Italy during World War II. He was awarded the Combat Infantryman Badge for his service.
When he was discharged in Honolulu on December 21, 1945, he returned to work at the family business and met Dorothy Kunimune. They married in 1947 and raised two daughters, Jeanne and Gail, in Pauoa. Hideo worked as a meat cutter for his father-in-law at Mo'ili'ili Store, and Dorothy, a seamstress and bookkeeper, helped run her family's store, Kuni Dry Goods.
To Jeanne and Gail, Hideo was the dad who just couldn't say no. After working long hours, Hideo would set his alarm and sleep for a few hours and then wake up to pick the girls up from late night social club activities. He was the dad who was always laughing, smiling, and cracking jokes. Hideo was also the beloved grandpa to three grandchildren and two great grandchildren. To them, he was the grandpa who always let them win at board games, slept on the floor with them during sleepovers, and drove them to and from school. His family will always remember his distinct laugh – his entire face would light up as a big smile swept across his cheeks.
As a jack-of-all-trades, he was also a skilled gardener and a fixer-upper of anything from simple plumbing to electrical and home repairs.
Hideo Nimori passed away on June 25, 2012, and was inurned at the National Cemetery of the Pacific at Punchbowl, Section CT8FF, Row 300, Site 315. His niche overlooks the calm beauty of Punchbowl, a place of honor for the men and women buried there. His legacy of hard work, love, care, and humility is forever imprinted in the hearts of those who loved him.