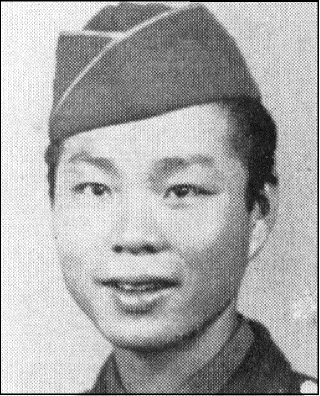 Ichiro Tsukano
Private First Class
442nd Regimental Combat Team
100th Battalion, D Company
Ichiro Tsukano was born in Pepeekeo, Hawaii island, Territory of Hawaii, on July 21, 1923. He was one of six children born to Kiyukichi and Mume (Endo) Tsukano. His siblings were: brothers James Jusaku and Glenn Akira; sisters Jane Chizue, Jean Kikue, and Hisae. Kiyukichi and Mume emigrated from Nakajo City, Niigata Prefecture, Japan, arriving at Honolulu on May 15, 1908, on the China Maru. The ship manifest stated that they were going to Waialae, Oahu, to join Kiyukichi's brother.
By 1910, they were in Pepeekeo, and Kiyukichi was working for a sugar mill. In 1930, the family lived in Mill Camp, south Hilo, and father Kiyukichi was a sugar mill laborer. By 1940, he had left the sugar mill and was self-employed doing odd jobs.
Ichiro was educated at Pepeekeo Elementary and Intermediate Schools and graduated from Hilo High School in 1942. He registered for the draft on June 30, 1942, at Local Board No. 2 in Hilo. His point of contact was his father, and he was employed by the Pepeekeo Sugar Company. He was 5'8" tall and weighed 130 pounds.
On March 18, 1943, Ichiro enlisted in the U.S. Army at Hilo. His civilian occupation was listed as "Farm Hand." He was sent with other enlistees by inter-island steamer to Oahu and then on to the "tent city," known as Boom Town, at Schofield Barracks.
On March 24, his parents joined the parents of other Pepeekeo volunteers in printing a Message of Appreciation in the Hilo Tribune-Herald to the family, friends, Pepeekeo Youth Association and the Y.M.A. for the gifts and kindnesses shown their sons in the days leading up to their departure. They expressed their confidence that "these boys will perform their duties as American soldiers in a manner that will bring pride to all of us." The other new soldiers were: Shigeto Kozawa, Tetsuo Takushi, Yoshio Higa, and Hiroo Endo.
The new soldiers were given a farewell aloha ceremony by the community on March 28 at Iolani Palace. On April 4, they left on the S.S. Lurline for San Francisco enroute to Camp Shelby, Mississippi. Ichiro was assigned to 1st Battalion.
After basic training, and several months of unit training, he was sent to Italy as a replacement for the 100th Battalion (Separate), D Company.
The 100th had landed on the beachhead at Salerno in southern Italy on September 22 and began the march inland. After liberating several towns, in late October 1943, the 100th had sustained heavy casualties and needed replacements. Ichiro came in as a replacement in early spring of 1944, and fought in the Rome-Arno Campaign.
The 442nd Regimental Combat Team arrived in Italy on May 28, 1944, and the 100th Infantry Battalion was attached to it on June 11 as its first of three infantry battalions. It was subsequently assigned and integrated into the 442nd as its 1st battalion, but allowed to keep its original name, the 100th Battalion, in honor of its heroic achievements in combat.
On July 1, the Combat Team marched from Bibbona to an assembly area immediately south of the Cecina River.  By 4:00 a.m. on the next day, the 100th and the 2nd Battalions crossed the river and attacked at dawn.  German artillery fire became increasing heavy.  The Germans held a key observation post on Hill 140 – the main line of enemy resistance.  During this five day battle, Ichiro was seriously wounded on July 3.  On September 8, it was announced that he had recovered from his wounds, been released from the hospital, and returned to his company.
In the first week of September, the Regiment began withdrawing from the battlefront south to the Naples area. On September 27, they left Naples and landed in Marseilles, France, on September 30 for participation in the Rhineland-Vosges Campaign. They traveled 500 miles north through the Rhone Valley, by trucks, walking, and or boxcar, until October 13.
On October 14, 1944, the 442nd began moving into position in the late afternoon preparing for the assault on the German-held hills surrounding the important rail and road junction of Bruyères. The 442nd had named them Hills A, B, C, and D. Each hill was heavily guarded and key to liberating and securing the town. Hill A was located northwest of Bruyères, Hill B to the north, Hill C northeast, and Hill D to the east. The 442nd had experienced mainly prairie in Italy, but the Vosges Mountains provided a very different terrain. The unit – still in their summer uniforms – faced cold, dense fog, mud, heavy rain, heavily forested hills, and intense enemy gunfire and artillery while moving through the Vosges. Hitler had ordered the German frontline to fight at all costs, as this was the last barrier between the Allied forces and Germany.
After four days of intense fighting, Bruyères was liberated on October 18. The fighting continued in the area, however. The high ground above the nearby town of Biffontaine needed to be seized to cut off the Germans from the Belmont-Biffontaine road. There was no organized resistance to the forward movement of the 100th Battalion and by mid-afternoon they had reached their objective and were digging in.
At 8:30 a.m. on October 22, the 100th Battalion held a semicircular defensive position overlooking Biffontaine from three sides. The Germans launched an attack, and firefights were soon raging on three sides of the battalion. It was during this battle that Pfc. Ichiro Tsukano was killed on October 22, 1944. He was interred in the U.S. Military Cemetery at nearby Epinal, France.
On March 26, 1945, it was announced in the Hilo Tribune-Herald that Mrs. Mume Tsukano had received the Purple Heart Medal for her son, Ichiro, in a presentation ceremony at the family home.  The presentation was made by Major Lester W. Bryan, District Intelligence Officer.
Right: Mrs. Tsukano receiving her son's Purple Heart
For his military service, Private First Class Ichiro Tsukano was awarded the Bronze Star Medal, Purple Heart Medal with one oak leaf cluster, Good Conduct Medal, American Campaign Medal, European-African-Middle Eastern Campaign Medal with two bronze stars, World War II Victory Medal, Combat Infantryman Badge, and Distinguished Unit Badge. He was awarded the Congressional Gold Medal on October 5, 2010, along with the other veterans of the 100th/442nd Regimental Combat Team. This is the highest Congressional Civilian Medal.
In 1948, the remains of Americans buried overseas began slowly to return to the US, if the family so wished.  Ichiro was brought home.  He was one of seven war dead whose remains were returned home on the USAT Pier Bend, arriving at Pier 40 in Honolulu Harbor's Kapalama Basin on September 19, 1949.  A joint Army-Navy-Army Air Force service was held at the ship's arrival at 10:00 a.m.  Chaplain Edwin L. Kirtley conducted the service.  A prayer was offered by Chaplain L. Lane McCannon.  A short address was given by Acting Governor Oren E. Long in which he said, We honor these men for their valor.  They fought because they believed in America.  The 264th Army Band played Evening Prayer and There is No Death.  The benediction was given by Chaplain Joseph P. McBarron of Fort Shafter.  The caskets were taken to the Army mausoleum at Schofield Barracks, awaiting funeral plans by the families.
On October 4, 1949, Pfc. Tsukano's remains arrived in Hilo on LST 857 from Honolulu along with those of two other war dead. A funeral service was held for Pfc. Tsukano at his family home in Pepeekeo. A military service was held at 5:00 p.m. on October 5 at the Hawaii Veterans Cemetery at Homelani in Hilo. Former members of the 100th Infantry Battalion and the 442nd Regimental Combat Team were asked to attend the burial.
Private First Class Ichiro Tsukano was later reinterred in the National Memorial Cemetery of the Pacific (Punchbowl), Honolulu, Section U, Grave 319N.
On May 28, 1989, Pfc. Tsukano was honored along with 21 other deceased veterans at Taishoji Soto Mission Junior Y.B.A. in Hilo. The Family Memorial Service, which included offerings of incense by the families and the congregation, also honored the families of these men. This began in earlier years as an annual tradition at the church. Each year a guest speaker from the 100th/442nd gave a presentation at the service.
Researched and written by the Sons & Daughters of the 442nd Regimental Combat Team in 2022.