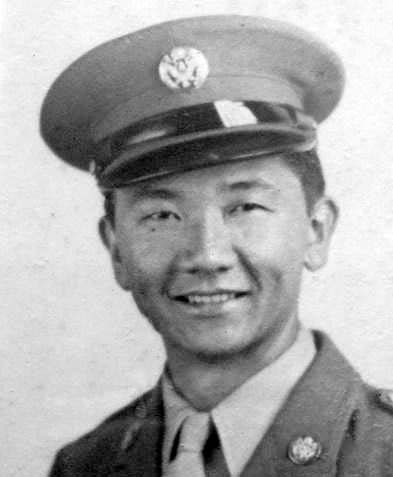 Ikito Ike Muraoka
Technician 3rd Grade
442nd Regimental Combat Team
100th Infantry Battalion, Medical Detachment
The youngest of 10 children, Ikito was born on October 17, 1921, in Koloa, Kauai, to Hiroki and Fui (Urakawa) Muraoka, immigrants from Kumamoto Prefecture, Japan.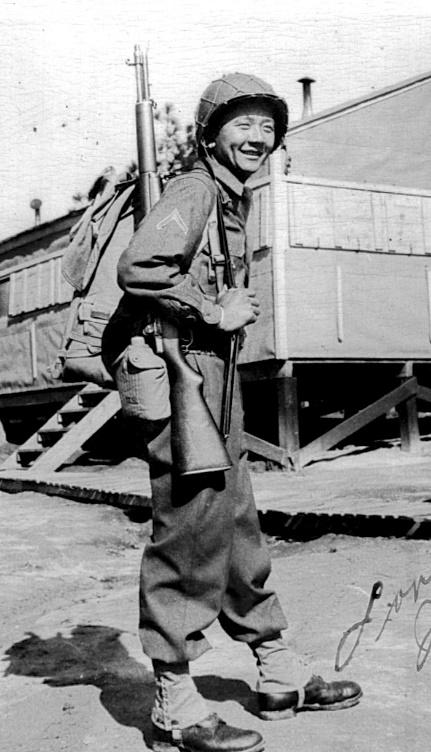 Ike signed his WWII Draft Registration card on February 15, 1942, in Hanapepe. He later enlisted in the U.S. Army on March 12, 1943, in Kalaheo. After training at Camp Shelby, Mississippi, (photo below, January 8, 1944, at Camp Shelby) as an infantry assault rifleman, he was assigned to Company I, 3rd Battalion, 442nd RCT. Upon his unit's arrival in Italy, however, he was abruptly ordered to take a 1-week crash course in combat medical training and reassigned to the Medical Detachment, 100th Infantry Battalion (Separate), as a combat medic. He later attained the rank of Technician Third Class (Tec/3).
Muraoka was wounded in the leg by artillery shrapnel near Castellina, Italy, for which he received the Purple Heart Medal. After time in a field hospital during July and August, he was returned to duty with his unit in Italy.
In late September, the 100th/442nd was sent to France, where Muraoka participated in the Vosges Campaign and the rescue of the Lost Battalion. After the 442nd returned to Italy, Muraoka was awarded the Bronze Star Medal for combat action in the Northern Apennines. A citation given to him from the 92nd Infantry Division reads:
On 15 April 1945 Technician Muraoka, then Private First Class, an aid man, constantly exposed himself to enemy grenade and machine gun fire to treat numerous casualties. On 18 April 1945 one of our platoons set out to rescue a patrol which had been trapped in a house in hostile territory by strong enemy forces. Technician Muraoka, in this action, dashed across exposed ground under enemy fire to treat casualties from two companies.
For his military service, Technician 3rd Grade Ikito Ike Muraoka was awarded the Bronze Star Medal with oak leaf cluster, Purple Heart Medal, Good Conduct Medal, American Campaign Medal, European-African-Middle Eastern Campaign Medal with four bronze stars, World War II Victory Medal, Army of Occupation Medal, Distinguished Unit Badge with oak leaf cluster, and Combat Medical Badge. He was awarded the Congressional Gold Medal on October 5, 2010, along with the other veterans of the 100th/442nd Regimental Combat Team. This is the highest Congressional Civilian Medal.
After the war, Muraoka enrolled in Honolulu Business College and then married the love of his life, Yoneko Nancy Arakaki, on May 18, 1946. His finance background landed him work in Honolulu over the years with Clarke-Halawa Rock Company, Young Brothers, and Raydon Electric.
However, Kauai called him home and he returned there and found work as a patrolman with the Kauai Police Department, staying with the Department for 16 years. In 1975 Mayor Eduardo Malapit appointed Muraoka to the Kauai Police Commission, where he served for 8 years, including 2 years as Chairman. He also served on the boards of Big Save Market, N. F. Kawakami Store Ltd., and Eleele Associates Inc.
Ike and Nancy Muraoka had two daughters, two grandchildren, and one great-grandchild. Sadly, Mrs. Muraoka died in August 2018. On August 31, 2019, Mr. Muraoka was awarded the Legion of Honor, by the government of the Republic of France, for his part in the liberation of France. As of 2020, Mr. Muraoka lives on Kauai.
Ike Muraoka holding a citation from the Mayor of Kauai and wearing his French Légion d'honneur medal
Researched and written by the Sons & Daughters of the 442nd Regimental Combat Team in 2021.