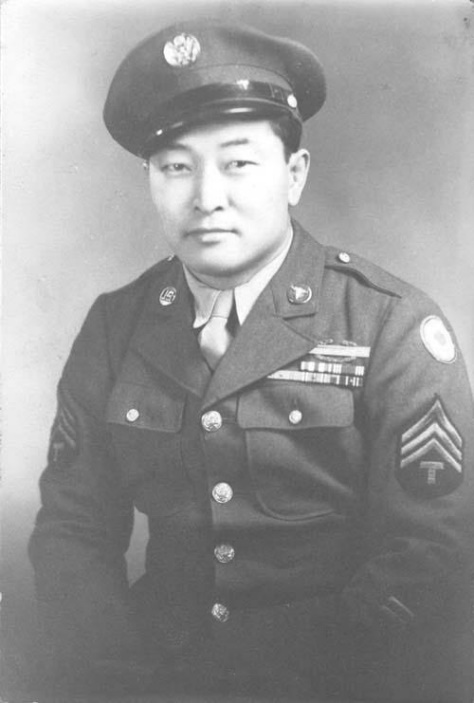 Isaac Fukuo Akinaka
Technician Fourth Grade
100th Infantry Battalion (Separate), Medical Company
Isaac Fukuo Akinaka was born May 15, 1911, in Honolulu, Hawaii, the son of Kenjiro and Fusa (Akagi) Akinaka. There were four boys and two girls in the Akinaka family. Kenjiro emigrated from Hiroshima Prefecture, Japan, in 1896. Fusa emigrated from Jinseki-mura, Hiroshima Prefecture, on the Korea Maru; arriving in Honolulu on February 4, 1908. Kenjiro started as a field hand on a pineapple plantation on Maui. As reported in the 1920 Federal Census, Kenjiro was working as a stone mason, and later became a cement contractor in Honolulu.
Isaac graduated from McKinley High School in 1930. He registered for the draft on October 26, 1940, at Local Board No. 3, National Guard Armory, Honolulu. He listed his sister, Masaye, as his point of contact, and was working for the Alexander Young Building Company in Honolulu. He was 5'5" tall and weighed 135 pounds.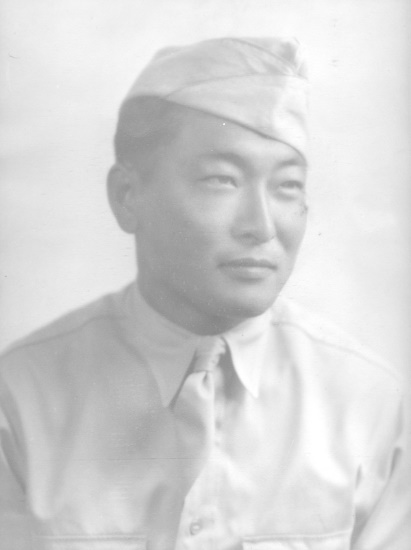 Isaac enlisted in the 298th Infantry Regiment on December 9, 1940, for one year; he was stationed at Schofield Barracks, Oahu.  His enlistment was due to end on December 8, 1941.  As Pearl Harbor had been attacked on December 7, he reenlisted on December 8.  In late May 1942, the 298th Japanese American soldiers were transferred to a separate unit called the Hawaii Provisional Battalion, and on 5 June transported on the U.S. Army transport ship, USAT Maui, to Oakland, California.  At this point, the battalion was renamed the 100th Infantry Battalion (Separate) and put on trains and taken to Camp MCoy, Wisconsin. Akinaka was with the 100th Battalion throughout the training at Camp McCoy and later at Camp Shelby, Mississippi.
When the 100th arrived in Italy on September 22, 1943, Akinaka was in the Communications Platoon of Headquarters Company. After so many were lost in the early days of combat, he volunteered to become a medic. He received the Silver Star for his actions near Cassino on February 8, 1944. His Silver Star citation reads:
The President of the United States of America, authorized by Act of Congress, July 9, 1918, takes pleasure in presenting the Silver Star to Technician Fourth Grade [then Technician Fifth Grade] Isaac F. Akinaka, for conspicuous gallantry and intrepidity in action against the enemy while serving as a Medical Aidman with the Medical Detachment, 100th Infantry Battalion (Separate), attached to the 34th Infantry Division, on 8 February 1944, in the vicinity of Cassino, Italy. The company to which Technician Fourth Grade Akinaka was attached was attacking under cover of a smoke screen. The wind suddenly changed direction, exposing the attacking company to the full view of the enemy, and immediately terrific machine gun and artillery fire was directed upon them. Technician Fourth Grade Akinaka unhesitatingly left his defiladed position, went forward, and moving swiftly from one wounded man to another during the fire fight, administered first-aid to the several wounded. Finding two of his comrades in a particularly exposed position, Technician Fourth Grade Akinaka carried them from the field of battle. Although exploding shells showered him with dirt and rocks and any movement brought intense enemy machine pistol and machine gun fire upon him, he did not stop until he had cared for all the wounded. Technician Fourth Grade Akinaka's courage and unstinting devotion to duty in saving the lives of several of his comrades reflects credit upon himself and is in keeping with the high traditions of the military service.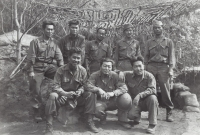 Above – Headquarters gang in Civitavecchia, Italy. First row (l-r): Albert Oki, Isaac Akinaka, Edward Saito. Second row (l-r): Akiyoshi Kuriyama, Hidenobu Hiyane, James Oki, David Suzuki
For his military service, Technician Fourth Grade Isaac Fukuo Akinaka was awarded the Silver Star Medal, Bronze Star Medal, Purple Heart Medal, Good Conduct Medal, American Defense Medal, American Campaign Medal, Asiatic-Pacific Campaign Medal, European-African-Middle Eastern Campaign Medal with two bronze stars, World War II Victory Medal, and Combat Infantryman Badge. He was awarded the Congressional Gold Medal on October 5, 2010, along with the other veterans of the 100th/442nd Regimental Combat Team. This is the highest Congressional Civilian Medal.
Isaac was shipped back to the US shortly after the 100th was sent to the bivouac area in Civitavecchia in June 1944. After some time at Madigan General Hospital in Fort Lewis, Washington, Akinaka was sent to Fitzsimmons General Hospital in Denver, Colorado, where he received three months of medical training in early 1945. After marrying Gwen Yaiko Yamaki on April 17, 1945, they returned to Fort Lewis, where he was wardmaster of the prisoner-of-war psychiatric ward. After the war, they returned to Honolulu for several years before moving to California.
Isaac Fukuo Akinaka died on June 25, 1984. He was buried at the National Memorial Cemetery of the Pacific at Punchbowl in Honolulu, Section E, Grave 133-A. Gwen is buried with him.
Please click here for a more in-depth look at Akinaka's life story.
Researched and written by the Sons & Daughters of the 442nd Regimental Combat Team in 2021.