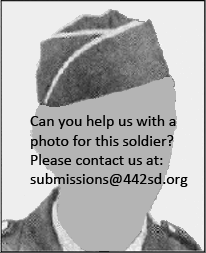 Jack Masaichi Furukawa
Private
442nd Regimental Combat Team
100th Battalion, A Company
Masaichi Furukawa was born on December 2, 1910, at Camp 9, Puunene, Maui, Territory of Hawaii. His parents were Kamekichi and Kame (Asara) Furukawa, who arrived in 1899 from Hiroshima Prefecture, Japan. There were three sons and one daughter in the Furukawa family: sons Takeo, Masaichi, and Masaru; daughter Sumi.
Jack signed his draft card on October 26, 1940, at Local Board No. 2 in the Bank of Hawaii Building in Wailuku, Maui. His father was his point of contact and he was residing with his family in House No. 1313, Ah Fong Camp, Puunene. His employer was Mr. W.C. Taylor of the HC&S Company, and he was 5'5" tall, and weighed 148 pounds. He was a cane cutter on the sugar plantation.
Furukawa was inducted into the U.S. Army on March 25, 1943. His civilian occupation was given as "baker." He was in the "tent city" known as Boom Town at Schofield Barracks, the March 28 farewell ceremony at Iolani Palace, and with the rest of the 442nd as they left Honolulu on April 4 for San Francisco on the S.S. Lurline. After training at Camp Shelby, Mississippi, he was in one of the three groups of replacements sent from Camp Shelby in early 1944 to replenish the ranks of the 100th Infantry Battalion (Separate) that was already in combat. Their ranks had been severely diminished due to battle casualties.
During his time in Italy, in August 1944, Jack was admitted to the hospital, but soon returned to duty. The exact date was not given; however, the battalion was in training near Vada for the first half of August before moving out to the front lines on the Arno River near Pisa. The rest of August saw fighting in this area.
He served in the following campaigns: Naples-Foggia and Rome Arno in Italy; Rhineland-Vosges and Rhineland-Maritime Alps in France, and Po Valley back in Italy.
After the war, Jack arrived back in Honolulu on January 22, 1946, on the S.S. Columbia from San Francisco. The notation by his name on the ship manifest was "Army-sponsored."
For his wartime service, Jack was awarded the Bronze Star Medal, Good Conduct Medal, American Campaign Medal, European-African-Middle Eastern Campaign Medal with one silver star, World War II Victory Medal, Army of Occupation Medal, Combat Infantryman Badge, and Distinguished Unit Badge. He was awarded the Congressional Gold Medal on October 5, 2010, along with the other veterans of the 100th/442nd Regimental Combat Team. This is the highest Congressional Civilian Medal
Jack settled in Honolulu and over the years worked for the YWCA and Honolulu Iron Works as a watchman, janitor, and maintenance man. Jack played in the AJA Senior Baseball League for Punchbowl and was considered an excellent hitter. In 1966 at the age of 55, he married Mildred Hatsuko Arakawa Seki (the widow of Edward Bunyei Seki), and they lived in Moiliili. Mildred had two daughters and one son from her first marriage.
Jack M. Furukawa died on October 1, 1995. He was inurned in the Columbarium at the National Memorial Cemetery of the Pacific, Section Ct3-J, Row 100, Site 132. He was survived by his wife, three stepchildren, eight grandchildren, and ten great-great-grandchildren. His wife died in 2019, and was inurned next to him at Punchbowl.
Researched and written by the Sons & Daughters of the 442nd Regimental Combat Team in 2021.