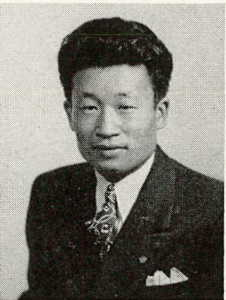 Jack Yoshiharu Furukawa
Private
442nd Regimental Combat Team
100th Infantry Battalion, Headquarters Company
Jack Yoshiharu Furukawa was born on May 13, 1922, in Mountain View, Santa Cruz County, California. His father was S. Furukawa, who emigrated from Japan. His father was a farm operator/manager.
In 1935, he was living in Marysville, north of Sacramento. Growing up, Jack spoke Japanese but did not attend Japanese language school and had not traveled to Japan.
In 1940, Jack was age 16 and living with Victor R. and Katherine Larson in Elkhorn, San Joaquin County, California. Larson was an insurance broker. Jack was listed as their "house boy" or "chore boy." Later that year, he was living in Lodi and attending Lodi High School, where he was a sophomore and on the yearbook staff.
Jack was living in Lodi when he was evacuated to the Stockton WCCA Assembly Center in May 1942. While there, he signed his draft card on June 30. His home address was given as Lodi, and his guardian was listed as Victor R. Larson. He was 5'4" tall and weighed 135 pounds. His potential occupation was shown as "skilled mechanic/repairman, motor vehicle." On September 18, 1942, he was incarcerated at the Rohwer WRA Relocation Center (internment camp) in Jerome, Arkansas. He was released on December 26, 1943, to attend Phillips University in Enid, Oklahoma.
Furukawa was drafted in August 1944, while a student at Phillips University. He was sent to Camp Wheeler, Georgia, for basic training. He was still there in January 1945, assigned to A Company, 10th Training Battalion. His arrival date in Italy was not found; however, in October 1945, he was in Headquarters Company, 100th Infantry Battalion, 442nd RCT, in Livorno, Italy, attending Signal Corps radio training.
For his military service, Private Jack Yoshiharu Furukawa was awarded the Good Conduct Medal, American Campaign Medal, World War II Victory Medal, and Army of Occupation Medal, He was awarded the Congressional Gold Medal on October 5, 2010, along with the other veterans of the 100th/442nd Regimental Combat Team. This is the highest Congressional Civilian Medal
After the war Jack returned to Phillips University in September 1946, where he earned a Bachelor of Science in Business Administration on May 24, 1948. His senior class photo is above.
Jack married Frances Miyoko Shibata of Denver, Colorado, on November 11, 1951, at which time he was also a resident of Denver. Donald S. Furukawa was a witness at their wedding at a Buddhist church. They lived in Denver, where Jack owned a commercial carpet service.
Jack Furukawa died on June 1, 1999, in Denver and was buried in the Garden of Roses Plot at Olinger Highland Cemetery in Thornton, Colorado.
Researched and written by the Sons & Daughters of the 442nd Regimental Combat Team in 2021.