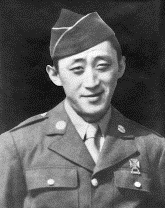 James Shigeru Okamoto
Private
442nd Regimental Combat Team
3rd Battalion, K Company
James Shigeru Okamoto, son of Kikuhachi and Kane (Kobayashi) Okamoto, was born on March 23, 1919, in San Francisco, California. He was the youngest of four siblings: Masaaki Louis, Kikuye Alice, Sumiko Dorothy, and Shigeru James.
Kikuhachi emigrated from Hiroshima Prefecture, Japan, arriving on March 28, 1894, on the S.S. Empress of Japan in Vancouver, British Columbia, Canada. He then traveled to Portland, Oregon, and eventually moved to San Francisco where he owned a dry goods store at 433 Clement Street. He and Kane were married on July 16, 1908, in Hiroshima. Kane emigrated on April 6, 1911, on the Korea Maru from the village of Kusatsu, Saeki District, Hiroshima Prefecture, Japan. Kikuhachi died of tuberculosis on October 5, 1923. At the time, he was the proprietor of an art store.
Jim, as James was known, graduated from Galileo High School in San Francisco. He was a member of the San Francisco Buddhist Church and the basketball team at the YMCA. By 1940, he and his widowed mother lived in San Mateo with sister Alice and her family.
Okamoto registered for the draft on October 16, 1940, at Local Board No. 105, at City Hall in San Mateo, California. His address was 720 Mount Diablo, San Mateo. His point of contact was his sister, Mrs. Alice Yamada, of the same address. He was employed as a gardener for private families. Okamoto was 5'4" tall and weighed 130 pounds.
On July 11, 1942, Jim and his family were incarcerated at the Tule Lake WRA Relocation Camp in Modoc County, California, near the Oregon border. Jim was transferred on December 24, 1943, to the Central Utah WRA Relocation Center, also known as Topaz.
Jim was released from Topaz in order to enlist in the Army on August 7, 1944, at Fort Sheridan, Illinois. He was sent to Camp Shelby, Mississippi for basic training, then sent as a replacement for the 442nd Regimental Combat Team, 3rd Battalion, K Company.
On March 23, 1945, the 442nd shipped out from Marseilles and traveled to Livorno, Italy, and attached to the 92nd Division. The Fifth Army had been stalemated at the Gothic Line for the prior five months. Private Okamoto came into the war zone just as this major battle was beginning for the Regiment.
In front of the 442nd lay mountains code-named Georgia, Florida, Ohio 1, Ohio 2, Ohio 3, Monte Cerreta, Monte Folgorito, Monte Belvedere, Monte Carchio, and Monte Altissimo. These objectives hinged on surprising the Germans. The 100th went after Georgia Hill and the 3rd Battalion attacked Mount Folgorito. On April 3, the 442nd moved into position under the cover of nightfall to hide from the Germans, who had good sight lines from their location on the mountains. The next day the 442nd waited. At 5:00 a.m. the following morning, they were ready to strike. A little over 30 minutes later, objectives Georgia and Mount Folgorito were taken, cracking the Gothic Line. They achieved surprise and forced the enemy to retreat. After counterattacking, the Germans were defeated. The 442nd made a continuous push against the German Army and objectives began to fall: Ohio 1, 2, and 3, and Mount Belvedere on April 6 by 2nd Battalion, Montignoso on April 8 by 3rd Battalion, Mount Brugiana on April 11 by 2nd Battalion, Carrara by 3rd Battalion on April 11, and Ortonovo by the 100th on April 15. The 442nd turned a surprise diversionary attack into an all-out offensive. The advance came so quickly that supply units had a hard time keeping up.
The 442nd drove so hard that beginning on April 17 the Germans decided to destroy their fortifications and pull back to make a final stand at Aulla. The last German defense in Italy was Monte Nebbione, directly south of Aulla. San Terenzo lay east of Mount Nebbione and became the launching point for the Aulla assault. The final drive of the 442nd began April 19, and lasted until April 23, when the 3rd Battalion finally took Mount Nebbione and Mount Carbolo.
On April 22, 1945, K Company launched an attack on the town of Tendola with all three platoons, one from the south and two from the north. Private James Shigeru Okamoto was killed in action during this firefight, which lasted all day and into the night.
Private James Shigeru Okamoto was interred at the U.S. Military Cemetery at Granaglione, Italy, Plot D, Row 12, Number 574.
For his military service, Private James Shigeru Okamoto was awarded the Bronze Star Medal, Purple Heart Medal, European-African-Middle Eastern Campaign Medal with one bronze star, World War II Victory Medal, Combat Infantrymen Badge, and Expert Marksmanship Badge. Jim was awarded the Congressional Gold Medal on October 5, 2010, along with the other veterans of the 100th/442nd Regimental Combat Team. This is the highest Congressional Civilian Medal.
In 1948, the remains of Americans buried overseas began slowly to return to the US, if the family so wished. Mrs. Yaye Okamoto was living at 14 North Fremont Street in San Mateo and she and the family wanted Jim's remains to be sent home. As a result, he was brought home aboard the USAT Lawrence Victory. He was among the 7,129 war dead arriving in New York Harbor on November 5, 1948. There 323 Californians and 145 from Northern California on the ship. It arrived at Pier 4 at the Brooklyn Army Base at 58th Street and 1st Avenue at 8:00 a.m. At 11:00 a.m. an inter-faith memorial service was held at the dock with Colonel Edward R. Martin officiating. The speaker was Supreme Court Justice-elect Anthony DiGiovanna. The service included participation by military groups and the public was invited. This was the largest number of war dead returned from cemeteries in Italy.
After being sent on to California, Pfc. Okamoto was interred with military honors on December 14, 1948, in the Golden Gate National Cemetery in San Bruno, Section C, Site 248C.
Mother Kane Okamoto became a U.S. citizen on December 9, 1953.
Researched and written by the Sons & Daughters of the 442nd Regimental Combat Team in 2021.