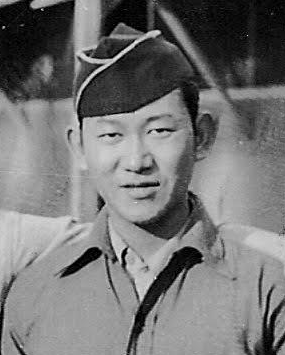 Jerry Suyeichi Iwamoto
Private
442nd Regimental Combat Team
3rd Battalion, I Company
Suyeichi Jerry Iwamoto was born on January 25, 1922, in Honolulu, Territory of Hawaii. He was one of six children of Yoshijiro and Chiyo (Kawamoto) Iwamoto. His siblings were: Kimiko, Tomie (died in infancy), Haruko, Gladys Mitsue, and Larry Gunichi. His parents arrived from Yamaguchi Prefecture, Japan, in 1897 and 1910 respectively.
In the 1940 Federal Census, Jerry was living with his family at 3007 Kahaloa Drive and working as a tile mason in the building construction business.
Jerry signed his World War II Draft Registration card on June 30, 1942, at Local Board No. 4 on Pensacola Street. At the time, he and his brother were living with their family. His brother was his point of contact, and he was employed at Red Hill by the U.S. Navy. He was 5'6" tall and weighed 127 pounds.
On March 24, 1943, Jerry enlisted in the U.S. Army.  His civil occupation was listed as "Skilled brick/stone mason and tile setter."  He was sent to Boom Town, the "tent city" at Schofield Barracks where all the recent volunteers were housed.  On March 28, they were given an aloha farewell ceremony by the community at Iolani Palace.  On April 4, they left on the S.S. Lurline for San Francisco.
After arriving on the mainland, Jerry and the rest of the new soldiers were sent by train to Camp Shelby, Mississippi, for training. After months of basic and specialized training and military exercises, the Combat Team was called on to send a group of 10 officers and 165 men as replacements to the 100th Infantry Battalion, which was in Italy participating in the Foggia-Rome Campaign, as part of the 34th Division, in the hills before Cassino. This group was sent on January 19 to Fort George G. Meade in Maryland and thence to Italy. They arrived just in time to participate in the battle of Anzio, landing on March 26 at Anzio Harbor, about 35 miles south of Rome. Enemy resistance kept the 34th Division and the 100th Battalion pinned down on the beachhead. Through April and into May, the Germans and the Allies fenced and sparred, sending out patrols and raiding parties looking for prisoners and information. The enemy kept the Allies on the Anzio beachhead constantly under fire, causing many casualties. On May 23, the Allies were finally able to begin their breakout from the beachhead.
According to the Iwamoto family, Anzio is where Jerry had an interesting encounter with a soldier from another unit. The soldier was William B. Casey (known as Bill) from Waco, Texas. Casey later recalled, "We first met on the battlefield on our way to Anzio. I had been very seriously wounded and Jerry found me bleeding out. He picked me up and took me to a mobile medical unit more than 2 miles away. Now, mind you, Jerry was a small man in stature, but strong as an ox. I am 6'4" and was 200 pounds at the time. I was impressed with the stamina of this man. When we arrived at the medical unit, he dropped me off and returned to the battlefield."
After Anzio, the 100th quickly moved north. On June 3, they took the last enemy stronghold before Rome – Hill 435 near the town of Lanuvio. After being stopped seven miles short of Rome, they watched as other elements of the Fifth Army rode triumphantly through the city to a hero's welcome. The 100th was allowed later to quickly drive through the outskirts. On June 11, they entered a large bivouac area in Civitavecchia, where they would meet up with the newly arrived 442nd. They were attached to the Combat Team as its "first" infantry battalion.
The 442nd entered combat on June 26 near Suvereto in the Rome-Arno Campaign. Jerry was present for the action seen by the 442nd in Italy until they left on September 27 for France. At some point, he was transferred to 3rd Battalion, I Company.
After arriving in Marseilles, the men of were transported north to participate in the Rhineland-Vosges Campaign. In October-November, I Company helped to liberate the important road junction of Bruyères, followed by Biffontaine, and the famous "Rescue of the Lost Battalion" – the 1st Battalion of the 141st (Texas) Infantry Regiment that had advanced beyond its support, become surrounded on three sides by the enemy, and was unable to extricate itself.
Following the Vosges, Jerry went with the 442nd for participation in the Rhineland-Maritime Alps Campaign in southern France. He returned with the Combat Team to Italy on March 20-22, 1945, for the Po Valley Campaign, and was in Italy when the war ended – V-E Day on May 8. He remained in Italy for the occupation, until he had accrued enough "points" to qualify for return home.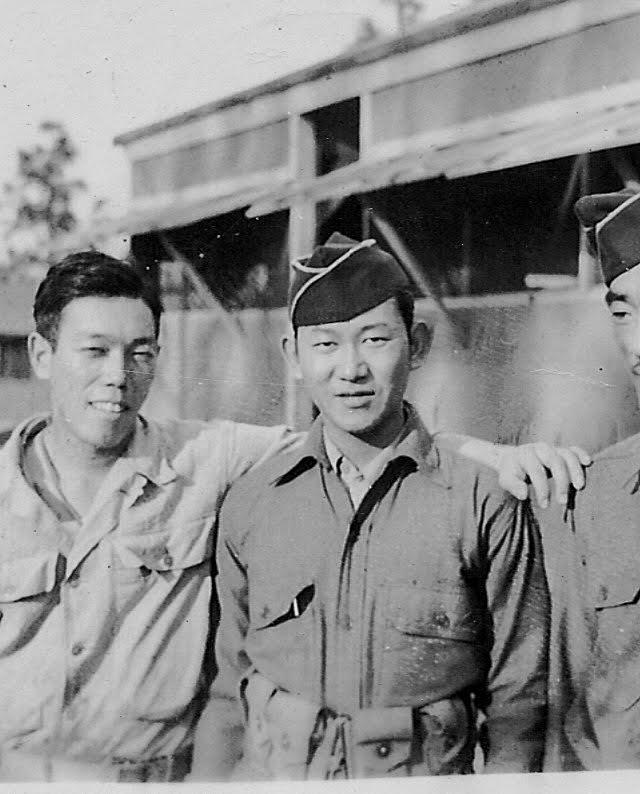 Jerry with buddies at Camp Shelby, December 22, 1943
According to Bill Casey's recollections, he and Jerry unexpectedly met in Belgium as they were awaiting transportation back to the U.S. "As I was walking across the street after leaving a bar, I ran into this small Japanese guy and I said, 'Hey, aren't you the guy who carried me two miles to the medical station? I need to know your name." Casey recalled years later to Jerry's son that the doctors told him that if Jerry had not taken him to the aid station, he would have died. From that moment in Belgium when they exchanged names and shared some drinks, they became friends for life. Bill felt that he owed Jerry for saving his life. The two men would remain friends, exchanging cards and gifts over the years. As Jerry's son-in-law remembered, "Jerry was humble and carried this experience and others quietly in his heart and soul. This was an experience that only veterans understand, and the bond that is created by such actions."
Pvt. Jerry Iwamoto arrived in Honolulu on December 17, 1945, on the USAT Aconcagua at 8:00 a.m., Pier 26 – one of 551 returning soldiers. He was discharged from the Army at the Fort Kamehameha separation center on Oahu on December 27.
For his wartime service, Private Jerry Suyeichi Iwamoto was awarded the following:  Bronze Star Medal, Good Conduct Medal, American Campaign Medal, European-African-Middle Eastern Campaign Medal with four bronze stars, World War II Victory Medal, Army of Occupation Medal, Distinguished Unit Badge, and Combat Infantryman Badge.  He was awarded the Congressional Gold Medal on October 5, 2010, along with the other veterans of the 100th/442nd Regimental Combat Team.  This is the highest Congressional Civilian Medal.
After the war, Jerry married Stella Fumiko Tamanaha on March 29, 1947, in Honolulu. They lived in Honolulu where he was employed as a tile mason. Over the years, they raised a family of two sons and one daughter.
Jerry Suyeichi Iwamoto died on October 22, 2006, in Honolulu.  He was buried in the Hawaii State Veterans Cemetery in Kaneohe, Section 52-N, Site 5A.  His survivors included his wife, three children, seven grandchildren, and four great-grandchildren.  His wife died in 2011 and was buried next to him.
Researched and written by the Sons & Daughters of the 442nd Regimental Combat Team in 2021.