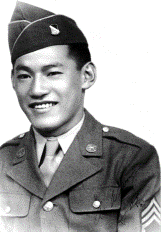 Joe Ryo Hayashi
Staff Sergeant
442nd Regimental Combat Team
3rd Battalion, K Company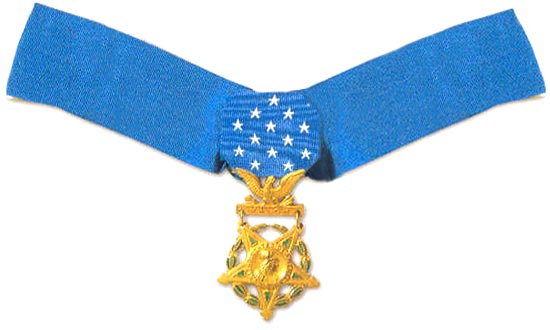 Joe Ryo Hayashi, son of Chiukichi and Toyo (Sakamoto) Hayashi, was born on August 14, 1920, in Salinas, California. He had two sisters – Chiye and Kiyo. Joe's father had emigrated from Kagoshima Prefecture, Japan in 1904. His mother had emigrated in 1903. They were married in Kagoshima.
When Joe was four years old, his father was working on the Chappell Ranch in Buena Vista District, Monterey County, and was killed when he came into contact with a live wire on the ranch. His mother moved to Pasadena in Los Angeles County. She then met and married Kakichi "Jimmie" Nakawatase and had three more children – sons Seichi and Shizuo and daughter Sayo.
In 1930, the Nakawatase family was living at 151 Hammond Street in Pasadena. Joe's step-father had arrived from Japan in 1905. In 1940, the family was living at 190 Vernon Avenue in Pasadena, where Jimmie was a gardener for private homes. Joe was working as an auto mechanic at a garage.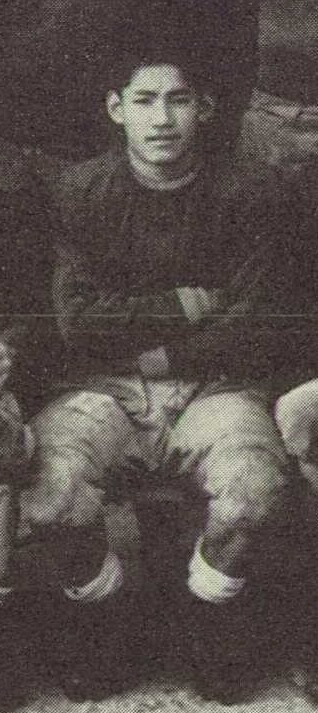 Joe attended Washington and Garfield Elementary Schools, McKinley Junior High School, and John Muir Technical High School.
Right: 1938, Joe on the Muir High School football team
He was a member of the Boy Scouts Troop 41 of the Pasadena Presbyterian Church. He was very athletic and loved football and baseball, being outdoors, and hunting and fishing. He took kendo (martial arts) classes at the Japanese Cultural Center, raised pigeons, was mechanically talented – fixing cars and making his own boat, and bottled his own root beer.
Hayashi registered for the draft on October 16, 1940, at Local Board No. 188 in Pasadena. He listed his step-father as his point of contact and the family address was 190 North Vernon Avenue. Joe was self-employed and gave his place of employment as 250 West Mary. He was 5'3½" tall and weighed 125 pounds.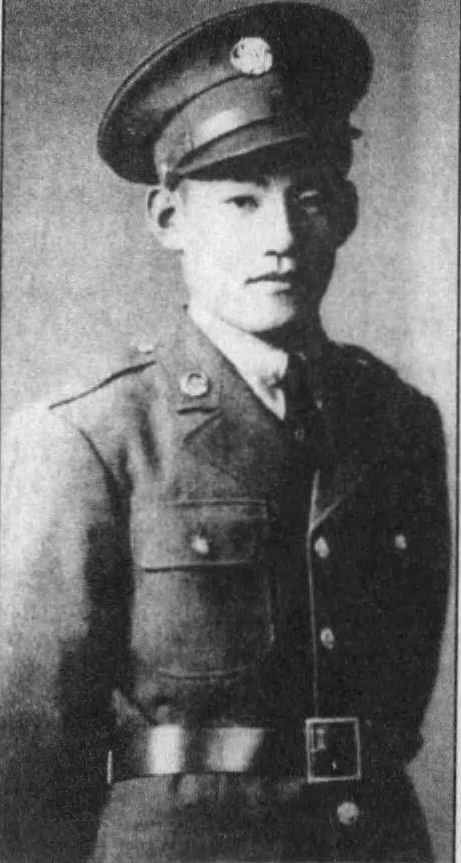 Joe volunteered and enlisted in the U.S. Army on May 19, 1941. His civilian occupation was listed as "Semiskilled mechanics and repairmen, motor vehicles." He was stationed at the Presidio of San Francisco and later the Port of Stockton, California. After the Pearl Harbor attack on December 7, 1941, he was transferred to Fort Sheridan, Illinois.
His mother, step-father, half-brother, and two half-sisters were evacuated in early May 1942, to the Pomona WCCA Assembly Center, located on the Los Angeles County Fairgrounds. They were then incarcerated on August 18 at Heart Mountain WRA Relocation Camp in northwest Wyoming. Joe's step-father died at Heart Mountain in December 1944; the rest of the family was released in the summer of 1945.
When the 442nd Regimental Combat Team was formed in early 1943, he was transferred to Camp Shelby, Mississippi and assigned to the 3rd Battalion, K Company, as a drill sergeant.
When the 442nd left Camp Shelby on April 22, 1944, according to his family, Hayashi remained there as part of the training cadre. He had visited the family at Heart Mountain, Wyoming, several times. Joe volunteered in October to go to the 442nd in Europe and join the fight, and he shipped out to France in November. At that time the Combat Team was just finishing the Rhineland-Vosges Campaign and preparing to head south to the area of Nice, France. On November 18, 382 replacements arrived in the Vosges and the next day the 442nd soldiers were trucked south to their initial bivouac areas at St. Jeannet, near Nice on the French Riviera.
S/Sgt. Hayashi was with the Combat Team for the Rhineland-Maritime Alps Campaign from November 21, 1944, until they sailed from Marseilles on March 20-22, 1945, to Italy for participation the Po Valley Campaign. The 442nd had been specifically requested for this push up the Italian peninsula with the mission of launching a decoy attack on the western anchor of the Gothic Line. The objective was to force the Germans to divert critical reserve forces to defend against the 442nd, thus weaking their defenses against the coming main Allied attack on the center of the Gothic Line. Before the 442nd arrived, attacks on the western sector of the line had been unsuccessful for the prior five months. Moving in secret at night, and climbing steep cliffs to reach the Nazi bunkers at the top, the Nisei soldiers struck at dawn and rapidly captured the strategic positions, completely routing the enemy. Not satisfied with this successful diversionary action, the 442nd aggressively pursued the retreating Germans, giving them no rest or opportunity to regroup. The "decoy" had been turned into a full breakthru of the Gothic Line by the 442nd.
By April 20, 1945, the 442nd had progressed to 10 miles south of Aulla, the strategically located rail center where German forces were set to make a "last stand" as nearly all of their remaining forces were trying to retreat through this area. On this day, at a strongly defended hill near Tendola, S/Sgt. Hayashi was ordered to take a patrol of seven men and flush out enemy machine-gun nests. He led his men within 75 yards of the enemy position when they were fired upon. Hayashi dragged his wounded comrades to safety, returned to his position, and exposed himself to small arms fire in order to determine the exact enemy positions and radio the coordinates to the mortar team so they could adjust their fire against the enemy. This action resulted in neutralizing three machine guns, killing 27 of the enemy and wounding many others.
On April 22, Company K attacked the village of Tendola, which was held by a company of about 50 Germans, with three rifle platoons – one from the south and two from the north. The resulting firefight lasted all day and into the night with house to house combat. Joe Hayashi, an acting squad leader, led his men up a steep, terraced hill to within about 100 yards of the enemy. He then advanced alone to a hostile machine-gun position and threw in a hand grenade, which killed one German and forced the others in the nest to surrender. When Hayashi saw another squad of his platoon come under attack from four more guns, he again exposed himself and fired a rifle grenade, destroying the second nest. Then S/Sgt. Hayashi crawled to the right flank of a third machine-gun nest and killed the entire crew of four enemy soldiers. As he got up to pursue the fleeing enemy, he was killed by a burst of machine pistol fire.
For these heroic actions on April 20 and 22, 1945, S/Sgt. Joe Hayashi was awarded the Distinguished Service Cross posthumously. This was upgraded on May 11, 2000, to the Medal of Honor, the nation's highest honor for heroism and valor in combat. The presentation was made with other 442nd veterans at a White House ceremony on June 21, 2000, by President William J. Clinton. The framed Medal of Honor was presented to his nephew.
For his military service, Staff Sergeant Joe Ryo Hayashi was also awarded the Bronze Star Medal, Purple Heart Medal, Good Conduct Medal, American Defense Medal, American Campaign Medal, European-African-Middle Eastern Campaign Medal with three bronze stars, World War II Victory Medal, Distinguished Unit Badge, and Combat Infantryman Badge.  He was awarded the Congressional Gold Medal on October 5, 2010, along with the other veterans of the 100th/442nd Regimental Combat Team.  This is the highest Congressional Civilian Medal.
Staff Sergeant Joe Ryo Hayashi was interred in the U.S. Military Cemetery at Granaglione, Italy, Section E, Row 4, No. 620. He was survived by his mother Mrs. Toyo Nakawatase, sisters Mrs. Chiyo Hayashi Watanabe, Kiyo Hayashi, and Sayo Nakawatase, and brothers Seichi and Shizuo Nakawatase.
In 1948, the remains of Americans buried overseas began slowly to return to the US, if the family so wished. As a result, Joe was brought home. On February 6, 1949, his remains arrived at the Brooklyn Army Base in New York Harbor on the USAT Corporal Eric C. Gibson, one of 5,205 war dead, 296 of whom were from California.
S/Sgt. Hayashi's funeral was held on March 12, 1949, at 1:30 pm at the Nishi Hongwanji Temple on First Street and Central Avenue in Los Angeles. Immediately afterward, he was given a military funeral at Evergreen Cemetery, Section A, next to the 442nd Nisei Memorial. The Honor Guard was furnished by the Nisei Veterans Association under the direction of Sergeant Swish Ogura, and Army Chaplain John Yamazaki officiated at the graveside service.
On October 30, 1949, the first National Nisei Soldier Memorial Day was observed by the Los Angeles Young Buddhist Association at 1:30 pm in a special ceremony held at the Nishi Hongwanji Temple. A bronze plaque at the temple bears Joe Hayashi's name along with 15 other Los Angeles-area Nisei men who were killed in the war.
Joe's sister Mrs. Kiyo Hayashi Hori later wrote: Joe attained the rank of S/Sgt. He was in the service for four years. I'm not sure of the true story. But over in Italy during the last days of heavy fighting some of the men went AWOL – and he defended them. So he was demoted to Private, but the Army Service does allow the soldier to be buried at their highest rank. So we have him buried as S/Sgt. Joe Hayashi.
He nephew Mark Nakatani also wrote his memories: Uncle Joe was remembered as being friendly, good-humored, straightforward, and a fair person. He had many friends. He was not afraid of speaking his mind or defending himself or others as he did get in occasional fights. His leadership abilities were already well-defined in his youth……He had a girlfriend in Chicago whom he had met while stationed at Fort Sheridan….she did visit the family one time after the war…On Joe's death, he wrote: He remained alive for several hours before expiring, and did not wish to be rescued in order to prevent his fellow soldiers from being fired upon by the Germans.
Researched and rewritten by the Sons & Daughters of the 442nd Regimental Combat Team in 2021.