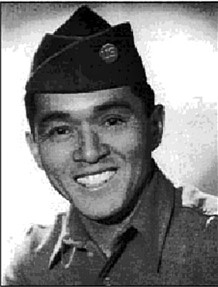 John Norio Ogawa
Sergeant
442nd Regimental Combat Team
3rd Battalion, I Company
John Norio Ogawa, son of Kirisuke and Taneno (Muraki) Ogawa, was born on March 10, 1916, in Garden Grove, California. He was the second child in a family of six sons: Nagatoshi, Masami, Hidemi, John Norio, Kenneth Yasuo, and Wilson S.; and two daughters: Yaeko Mary and Kimie Marie. Kirisuke and Taneno were from the villages of Matsushige and Otsu in Tokushima Prefecture on Shikoku Island. They were married on January 12, 1906, in Japan, and arrived in San Francisco, California, on the Shinyo Maru on December 27, 1912. Their two eldest sons remained in Japan. Kirisuke was a vegetable farmer and a ranch manager in Orange County. Taneno became a U.S. citizen on May 23, 1955.
John attended Garden Grove Grammar School and graduated from Garden Grove Union High School in 1935. He also attended the Garden Grove Japanese School. While in high school, he participated in football, track, basketball, and the Alchemists Club. Before entering the service, he was engaged in farming and ranching with his father.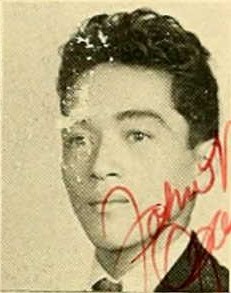 John registered for the draft on October 16, 1940, at Local Board No. 172, City Hall, Santa Ana, California. He listed his father as his next of kin and as his employer. He was 5'5" tall and weighed 135 pounds.
On December 1, 1941, John Norio Ogawa was inducted into the U.S. Army at Santa Ana. He received his basic training at Fort MacArthur, California, and Fort Riley and Camp Whitside, both in Kansas. Ogawa was transferred to Camp Shelby, Mississippi, in early 1943, and assigned to the 442nd Regimental Combat Team, 3rd Battalion, I Company.
On May 17, 1942, John's parents, brothers Hidemi (and wife Kiyoko) and Wilson, and two sisters were incarcerated at Colorado River WRA Center (also known as Poston) in Yuma County, Arizona. Wilson was released on August 4, 1944, Yaeko on February 15, 1945, and parents and Kimie on October 30, 1945 – all to Denver, Colorado. Hidemi was released to Albuquerque, New Mexico, on October 12, 1944, and Kiyoko two months later.
After over a year of training, the 442nd left Camp Shelby for Camp Patrick Henry, Virginia, on April 22, 1944. They shipped out to the European Theater of Operations in a large convoy of troop ships on May 2 and arrived in Italy the end of the month.
John participated in the Rome-Arno Campaign in Italy. The 442nd was then sent to France on September 27, 1944, to join in the Rhineland-Vosges and the Rhineland-Maritime Alps Campaigns. He returned with the 442nd to Italy for the Po Valley Campaign on March 20-22, 1945.
It was during this last campaign that Sergeant John Norio Ogawa was hit by enemy artillery fire in the vicinity of Mt. Nebbione at approximately 9:30 p.m. on April 21, 1945, just weeks before the War ended. The hospital form indicates that he sustained head injuries and also underwent a traumatic amputation. He was declared a battle casualty.
Sergeant John N. Ogawa was buried in the U.S. Military Cemetery at Granaglione, Italy, Plot D, Row 9, No. 532.
For his service during World War II, Sergeant John Norio Ogawa was awarded the Bronze Star Medal with one oak leaf cluster, Purple Heart Medal, Good Conduct Medal, American Defense Service Medal, American Campaign Medal, European-African-Middle Eastern Campaign Medal with four bronze stars, Distinguished Unit Badge with one oak leaf cluster, and Combat Infantryman Badge.  He was awarded the Congressional Gold Medal on October 5, 2010, along with the other veterans of the 100th/442nd Regimental Combat Team.  This is the highest Congressional Civilian Medal.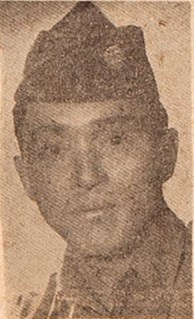 In 1948, the smaller wartime cemeteries in Italy were being closed and families were given the choice of having their loved one reinterred at a larger cemetery or returned home. Sgt. Norio's family chose to have his remains brought home. He arrived on the USAT Lawrence Victory at Brooklyn Army Base in New York Harbor on November 4, 1948, after leaving Livorno on October 26. He was one of 154 Southern Californians among the 7,129 war dead on the ship.
Sergeant John Norio Ogawa's family held his memorial service on December 11, 1948, at the Garden Grove Baptist Church at 2:00 p.m., with Rev. Harry Murakani of the Garden Grove Japanese Baptist Church officiating. Interment followed at Magnolia Memorial Park in Garden Grove with full military honors under the direction of the Garden Grove post of the Veterans of Foreign Wars, aided by a detachment from El Toro Marine Base.
John's brother Wilson Ogawa served in the 442nd in 2nd Battalion, G Company.
His brother Kenneth Ogawa served in the MIS.
Katherine Baishiki/Marie Hashimoto/Wilson Ogawa/Shuji Taketomo
3/29/01 (revised 5/1/03)
Original Biography prepared by Americans of Japanese Ancestry World War II Memorial Alliance, and provided courtesy of Japanese American Living Legacy (http://www.jalivinglegacy.org/)
Researched and updated by 442nd S&D 6/11/2021.