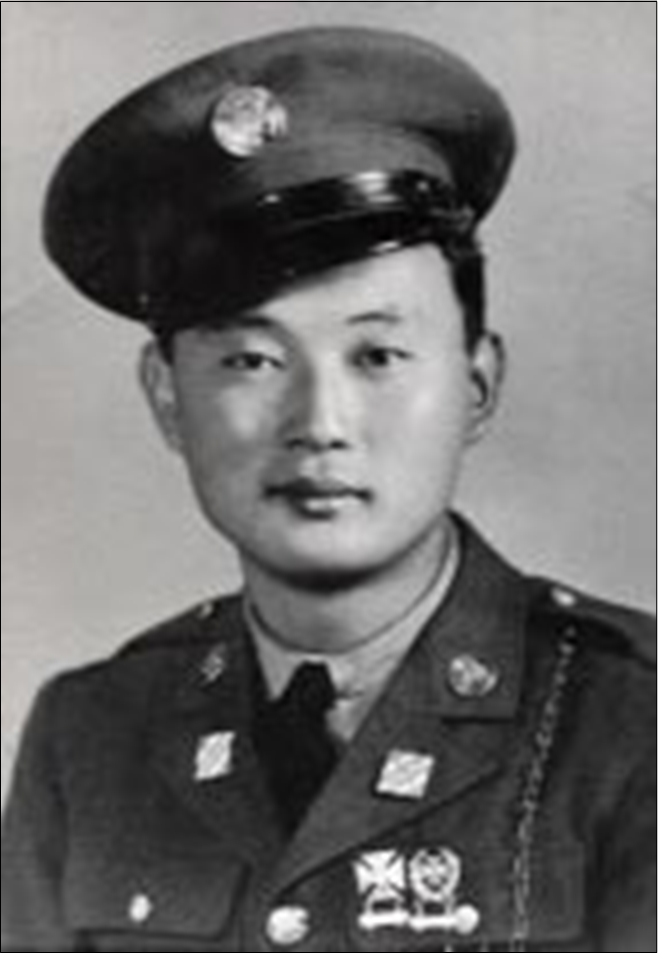 John Shizuo Kanazawa
Sergeant
442nd Regimental Combat Team
3rd Battalion, K Company
John Shizuo Kanazawa was born on August 15, 1919, in Seattle, Washington, to Fred Kaganojio and Hanako (Shinkai) Kanazawa. Both parents emigrated from Japan, in 1908 and 1911 respectively. Kaganojio arrived in Seattle on the Tango Maru on March 4, 1908, from Hiromichi, Wakayama Prefecture.
John's parents were married on October 9, 1917, in Seattle. In the 1920 Federal Census, they were living at 4006 38th Avenue South in Seattle and his father, known as Fred, was employed as a car driver. They had two sons, Takuchi and Shizuo, and one daughter, born in 1922. His father died in 1923, and the following year, his mother Hanako married Taro Nagafuchi.
John attended Seattle public schools and graduated from Lincoln High School. He and his brother, Richard Takuichi, moved to West Los Angeles and lived with their maternal grandfather, Tamajiro Shinkai of 11205 Mississippi Avenue. John worked as a market salesman.
John registered for the draft on October 16, 1940, at Local Board No. 248 in West Los Angeles. He listed his brother Richard as his point of contact and they were living at 11205 Mississippi Avenue. He was 5'5" tall and weighed 136 pounds. J. S. Ikuta of 422 N. Beverly Drive, Beverly Hills, was his employer.
Kanazawa was inducted into the U.S. Army at Fort MacArthur, San Pedro, California, on March 12, 1941. He was stationed at Fort Lewis, Washington, and Camp McClellan, Alabama.
In the spring of 1942, while John was serving in the Army, his stepfather, mother, and their children were evacuated to the Santa Anita Assembly Center, located at the Santa Anita Racetrack in Arcadia, Los Angeles County. On September 6, they were incarcerated at Heart Mountain WRA Internment Camp, in northwest Wyoming. Mary K. and Sumito were released in 1944 to Des Moines, Iowa, and Chicago, Illinois, respectively. The others were released in October 1945 to Los Angeles.
In 1943, John was transferred to Camp Shelby, Mississippi, and assigned to the 442nd Regimental Combat Team, 3rd Battalion, K Company. After months of training, the 442nd left Camp Shelby for Camp Patrick Henry, Virginia, on April 22, 1944. They shipped out to the Mediterranean Theater of Operations in a large convoy of troop ships on May 2, and arrived in Naples, Italy, on May 28. John participated in the Rome-Arno Campaign, entering combat at Suvereto on June 26. After fighting north up the Italian peninsula, the 442nd was sent to France to join in the Rhineland-Vosges Campaign.
On September 26 and 27, Kanazawa was among the 442nd men as they were loaded aboard light assault boats in Naples that shuttled them to the waiting transport shios – Thurston, Dickman, Chase, and Henrico. At precisely 12:00 p.m. on the 27th, they sailed for France, arriving in Marseilles on September 30.
After a week at a staging area near Septèmes, just outside Marseilles, the Combat Team was moved north to the Vosges Mountains about 500 miles away. The 3rd Battalion was transported by train – an assortment of "40×8" boxcars, the last of the 442nd to arrive into the assembly area at Charmois-devant-Bruyères at midnight on October 13.
Sergeant Kanazawa participated in all the Combat Team's actions to liberate the important road junction of Bruyères and the village of Biffontaine. Fighting was intense and the weather cold and wet. After a brief rest in nearby Belmont, on the afternoon of October 26, the Regiment was ordered to the front lines again to aid in the rescue of the Lost Battalion – the 1st Battalion of the 141st (Texas) Infantry Regiment. This battalion had gotten ahead of the lines and was surrounded on three sides by the enemy. Attempts by the 141st and other units to free it had been unsuccessful, so the 442nd was assigned the mission. The initial objective of the Texas "lost" battalion had been to clear the Germans from the entire long, densely forested ridge where it had become surrounded – until their rescue by the 442nd.
The 442nd's 3rd Battalion was then ordered to push on down to the end of this ridge. On November 7, 1944, Sergeant Kanazawa was killed during the action to take the ridge from the Germans. The hospital record states that he was hit in his side by artillery fire in the line of duty and he was listed as a battle casualty. The fighting would go on until November 9. The German line was completely shattered, but 442nd losses were so great that the Combat Team was temporarily ineffective as a fighting force.
Sergeant John Shizuo Kanazawa was interred in the U.S. Military Cemetery in nearby Epinal, France. His death was reported in the February 12, 1945, edition of the Casper Star-Tribune (Wyoming), with his home address given as Heart Mountain.
For his military service, Sergeant John Shizuo Kanazawa was awarded the Bronze Star Medal, Purple Heart Medal, Good Conduct Medal, American Defense Medal, American Campaign Medal, European-African-Middle Eastern Campaign Medal with two bronze stars, World War II Victory Medal, Distinguished Unit Badge, Combat Infantryman Badge, and Expert Marksman Badge.  John was awarded the Congressional Gold Medal on October 5, 2010, along with the other veterans of the 100th/442nd Regimental Combat Team.  This is the highest Congressional Civilian Medal.
In 1948, the remains of Americans buried overseas began slowly to return to the US, if the family so wished. John Kanazawa's remains returned to the U.S. on July 9, 1948, on the USAT Oglethorpe Victory. It arrived at the Brooklyn Army Base in New York Harbor carrying 4,383 war dead who had been initially buried in France and Belgium, including 103 from southern California and 35 from Los Angeles. A dockside memorial service held at 58th Street and 1st Avenue at 11:00 a.m. was attended by over 250 family and friends.
Sergeant John S. Kanazawa was reinterred at Evergreen Cemetery in Los Angeles, California, Section A, 442nd Nisei Memorial. He was survived by his mother, Mrs. Hanako Nagafuchi, of 234 E. 24th Street, his brother Richard Takuichi Kanazawa, and six half-siblings from his mother's second marriage: Sumito, Dabo Hideoki, Johnny Yoshiaki, Mary Kinuko, Oda Nagafuchi, and Frances J. Shimane.
John Kanazawa's name is listed on the Roll of Honor Wall at the Heart Mountain site with the names of other soldiers who died in service during World War II.
Original Biography prepared by Americans of Japanese Ancestry World War II Memorial Alliance, and provided courtesy of Japanese American Living Legacy (http://www.jalivinglegacy.org/),
Researched and rewritten by the Sons & Daughters of the 442nd Regimental Combat Team in August 2021.