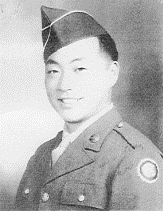 John Yukiharu Harano
Staff Sergeant
442nd Regimental Combat Team
3rd Battalion, I Company
John Yukiharu Harano was born on January 5, 1924, in Berkeley, California. He was one of six boys and three girls born to Sataro and Toku (Koga) Harano – sons George Satoru, Frank, Earl Mitsuo, Masashi, John Yukiharu, and Roy Yoshiharu; daughters Sue Yoshie, Sumaye, and Tomika.
Sataro arrived in the United States in 1902, from the town of Kaishi, Fukuoka Prefecture, Japan. Toku arrived on the Aki Maru on September 21, 1908, from the town of Koishiwara, Fukuoka Prefecture, Japan. She and Sataro were married in the Seattle Immigration Office the day that she arrived. By 1920, Sataro was the proprietor of his own barber shop and she was the proprietor of a laundry.
Johnny, as Harano was known, attended McKinley and LeConte Elementary Schools, and Willard Junior High School, where he was on the 115-lb. basketball team. He was active in the Boy Scouts, Troop 26, in Berkeley. During the Christmas break in 1940, he was among the 63 troop leaders from the Berkeley-Contra Costa Area Council chosen to attend the annual three-day leadership conference at Camp Pahatsi in the Soda Springs winter sports area of the high Sierra snow country. The program focused on the principles of leadership, responsibilities to community institutions, and latest camping methods and equipment.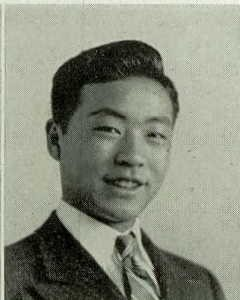 Johnny was set to graduate from Berkeley High School at the end of the 1942 school year. About this time, however, he, his parents, and younger brother were evacuated to the Tanforan WCCA Assembly Center located in San Bruno, California.
Right: 1942 Berkeley High School senior class photo
On June 30, 1942, while at Tanforan, Harano registered for the draft, Local Board No. 70, Alameda County. His home address was 2152 Dwight Way in Berkeley. His point of contact was his father. His employer was listed as "Custody of the U.S.A." He was 5'6½" tall and weighed 150 pounds. His sister Tomika later recalled that he was a handsome, outgoing, and very nice fellow. He was an athlete and enjoyed sports.
On September 24, 1942, the Harano family was incarcerated in the newly opened Central Utah War Relocation Center internment camp (also known as Topaz) in Millard County, Utah. His brother Roy was released on June 17, 1944, to work in North Platte, Nebraska. His father was released on August 16, 1945, and went to Pittsburgh, Pennsylvania.
Harano was one of the first volunteers from Topaz and was released to enlist in the U.S. Army on June 28, 1943, in Salt Lake City. He reported to the Army Reception Center at Fort Douglas, Utah. After processing, he was transferred to Camp Shelby, Mississippi, for basic training in the 442nd RCT. He was assigned to 3rd Battalion, I Company.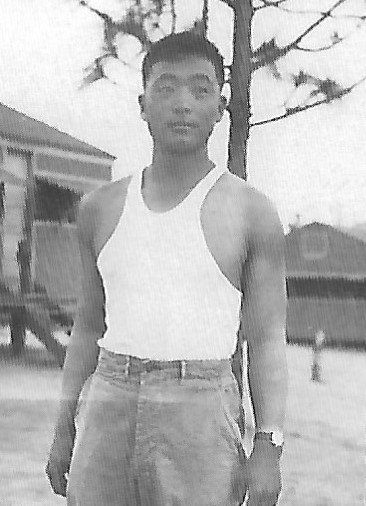 After over a year of training, Johnny left Camp Shelby with the 442nd on April 22, 1944, for Camp Patrick Henry, Virginia. Just four days earlier, his mother had been admitted to the local hospital in Topaz, Utah, from the War Relocation internment camp where she and her family had been incarcerated for one year, eight months, and nine days.
Left: S/Sgt. John Y. Harano, 1st Platoon, Camp Shelby
Johnny shipped out with the regiment to Italy from Hampton Roads, Virginia, in a large convoy of troop ships on May 2, 1944. After arriving in Naples, Italy, on May 28 they remained at a staging area at nearby Bagnoli until June 6 when they left for Anzio. Three days before they left Bagnoli, Johnny's mother died in the Topaz Hospital of metastatic breast cancer at the age of 63. She was sent to Salt Lake City for burial.
From Anzio, the 442nd transferred to a bivouac area near Civitavecchia, just north of Rome. They went into combat near Suvereto, farther north, on June 26, in the Rome-Arno Campaign.
Harano left Italy with the 442nd for Marseilles, France, on September 27, 1944. From there they traveled north 500 miles to join in the Rhineland-Vosges Campaign near the German border.
On October 29, 1944, Staff Sergeant John Yukiharu Harano was killed while leading his unit to rescue the 1st Battalion of the 141st (Texas) Infantry Regiment. This unit became known as the "Lost Battalion" as they were in a position in the Vosges Mountains surrounded on three sides by the enemy. The 100th and 3rd Battalions launched an attack at dawn on October 29. The terrain was extremely steep, the ridgeline was very narrow, and it was held by the Germans. K Company was stopped in the attack with heavy losses. In the third attack, the soldiers of I and K Companies got to their feet and charged in a "banzai attack" up the hill with a will to win. They drove the Germans off the top of the hill. Staff Sergeant Harano was one of five killed and twenty wounded in this engagement.
S/Sgt. John Y. Harano was buried in the U.S. Military Cemetery at Epinal, about 20 miles away, which had just been opened to receive the soldiers killed in the Vosges Campaign.
For his military service, Staff Sergeant John Yukiharu Harano was awarded the Bronze Star Medal, Purple Heart Medal, Good Conduct Medal, American Campaign Medal, European-African-Middle Eastern Campaign Medal with two bronze stars, World War II Victory Medal, Distinguished Unit Badge, and Combat Infantryman Badge.  He was awarded the Congressional Gold Medal on October 5, 2010, along with the other veterans of the 100th/442nd Regimental Combat Team.  This is the highest Congressional Civilian Medal.
In 1948, the Army began the process of closing the smaller military cemeteries in France, and offered families the choice of at the U.S. Military Cemetery in Epinal, or returning him for reburial at a cemetery designed by the family. The Harano family decided to have Johnny returned to the US. His father filed for his government tombstone on June 22, 1948 – an upright granite marker with the Christian cross. It was verified on June 30, 1949, and ordered from Tate, Georgia, on August 8 to be shipped to North Platte, Nebraska, in care of Earl Harano, 1016 W. 12th Street.
Harano's remains were among those of 41 Nebraskans on the USAT Oglethorpe Victory that arrived in New York Harbor on July 10, 1948.
Staff Sergeant John Yukiharu Harano was interred next to his parents at the North Platte Cemetery, Lot 356E, in North Platte, Nebraska.
Johnny's brother Roy Yoshiharu Harano served in the 100th Battalion, A Company.
Researched and written by the Sons & Daughters of the 442nd Regimental Combat Team in 2021.