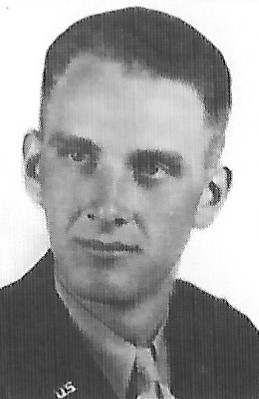 Joseph Laurence Byrne
Captain
442nd Regimental Combat Team
3rd Battalion, I Company
Joseph Laurence Byrne, son of Laurence Joseph and Alice Marie (Dalton) Byrne, was born on August 24, 1918, in Elmira, New York. He was one of three siblings – John D., Joseph L., and Mary Alice. Joe, as he was called, attended St. Mary's Elementary School and was a member of the Boy Scouts of America. He graduated in 1936 from Southside High School where he was a star on the basketball team.
Joe's father Laurence worked as an electro-plater at the A.L.&F. Corporation, a fire apparatus factory. His parents had come to the US from Northern Ireland.
According to Joe's sister Alice Byrne, after graduating from high school he first took a job as a "soda jerk" in a downtown drugstore. Some of his patrons were directors and salesmen at the JP&M Sullivan store next door. They offered him a job delivering furniture and making some sales, a stroke of fortune during the Great Depression. However, he aspired to a career in the Army.
Joe enlisted in the New York National Guard, 108th Infantry, L Company, as a Private on October 10, 1940, as he preferred not to be drafted. He was living with his family at 411 Phoenix Avenue in Elmira. On October 17, the community gave a big sendoff to the men at the National Guard Armory and followed them as they marched to the Erie Railroad Station and entrained for Fort McClellan, Alabama. In early 1942, the 108th was sent by train to Fort Ord, California, and from there to Schofield Barracks, Territory of Hawaii. While in Hawaii, Joe was recommended for Officer Candidate School (OCS) by his Commanding Officer, Colonel Leroy Weaver. He returned to the mainland in September 1942 to enter OCS.
In January 1943, Joe graduated from OCS at Fort Benning, Georgia, and was commissioned a Second Lieutenant. He then received additional training at Fort Robinson, Arkansas. Afterwards, he was sent to Camp Shelby to join the 442nd Regimental Combat Team. He became an officer in I Company, 3rd Battalion.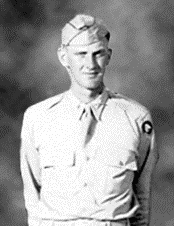 After nearly a year of training, Lt. Byrne went with his battalion to Italy, arriving on May 28, 1944, at Naples. The 442nd entered combat on June 26 near Suvereto, north of Rome. While in Italy, he was promoted to Captain on August 1. Joe wrote home to his family of the architectural wonders and Christian monuments. He also said he hoped one day to be at the top of the hill looking down at the enemy, instead of the reverse.
After serving in the Rome-Arno Campaign, Capt. Byrne left Italy on September 27, 1944, with the 442nd for participation in the Rhineland-Vosges Campaign in the mountains of northeast France.
The 6'6", blond, blue-eyed Byrne was a giant in the eyes of his men for more than just his physical stature. As written by Dorothy Matsuo in Boyhood to War, "One soldier declared: 'If there's any officer that you'd be willing to die for, it would be Capt. Byrne.'…He knew the men's names and, as they put it, 'he was one haole that could pronounce buddhahead names.'"
Capt. Byrne fought shoulder-to-shoulder with his men in Italy and France. Thelma Chang in her book, I Can Never Forget: Men of the 100th/442nd, wrote, "Byrne…was known for his calm nature and thoughtfulness…[As related by] I Company's Minoru Suzumoto. 'Byrne stuck by us all the way. He was a classy guy.'"
Byrne was in I Company's battles in the Vosges Mountains to liberate the important road and rail junction of Bruyères, followed by Biffontaine. After eight days of heavy fighting in very cold and wet conditions, they were taken off the front lines and given a rest break in nearby Belmont. After just two days, they were ordered to rescue the 1st Battalion of the 141st (Texas) Infantry Regiment, who had moved beyond their line of support and were surrounded on three sides by the Germans. Unable to extricate themselves, attempts to rescue them by the other battalions of the 141st had not been successful.
After three days of the most intense fighting the Combat Team had seen, the rescue of the "lost battalion" was affected on October 30, 1944.
That day, Capt. Joseph Byrne was killed in action by a mine blast.
Captain Joseph L. Byrne was interred in the U.S. Military Cemetery in Epinal, France. A Mass for the repose of his soul was celebrated on November 20 at 9:00 a.m. at St. Mary's Church in Elmira.
As Thelma Chang wrote of the memory of 232nd Combat Engineers' Captain Gilbert Kobatake of that day:
Later that day, the engineers were clearing the mines when Byrne saw them, according to Kobatake. Byrne was accompanied by officers…Kobatake advised Byrne to follow a safer track through the woods. "But another officer said, 'No, our sector is on the right side of the road.' I again said, 'No, it's better to take this trail.' He said, 'No, we'll stick to the right.' I should have forced them to take the safe trail." Kobatake went ahead of them, Byrne following, when a Bouncing Betty exploded between the two men. 'Byrne was next to me, breathing but hurt badly and gurgling blood. I didn't know it was Byrne at the time – I'm an engineer, he was in the infantry. An aid man came to me. I said, 'Take care of him.' But the aid man said, 'He's too far gone.' I said, 'Who was he?' The aid man said, 'Captain Byrne.'"
That night Capt. Kobatake was taken in an ambulance from the aid station to the hospital. In the ambulance with him was S/Sgt. Shiro Kashino from I Company, who had been wounded in his leg about noon. When Kobatake told Kashino about his Captain's death, Kashino replied, "I left the aid station the first time to rejoin my unit because of Captain Byrne."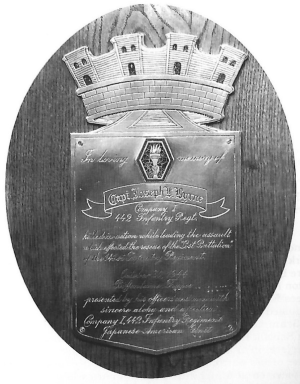 In Honor by Fire written by Lyn Crost, "The Nisei loved Joe Byrne…The Nisei knew they could count on Byrne to be with them in any situation. When I Company faced Banzai Hill during the fight to rescue the Lost Battalion, Byrne grabbed a BAR from a fallen soldier and charged with them up the hill, his tall figure a sure target during this all-out frontal assault. For his valor that day he won a Silver Star…I Company men would never forget him. They chipped in and bought a loving cup, had it inscribed in his memory, and presented it, along with his Silver Star, to his older brother, a West Pointer…"
Left: The plaque presented by I Company "In loving memory of Capt. Joseph L. Byrne, Company I, 442 Infantry Regt., killed in action while leading the assault which affected the rescue of the "Lost Battalion" of the 141st Infantry Regiment, October 30, 1944, Biffontaine, France, presented by his officers and men with sincere aloha and affection. Company I, 442 Infantry Regiment, Japanese American Unit.
On July 19, 1945, the Star-Gazette newspaper of Byrne's hometown of Elmira, New York, reported that the Bronze Star Medal had been posthumously awarded to the Captain. They quoted the accompanying citation for his actions along the Arno River west of Florence in the Rome-Arno Campaign.
For meritorious service in combat on Aug. 25, 1944, in Italy…When two of his men were wounded by shellfire which set a trailer of ammunition on fire, Capt. Byrne, ordering the rest of his men to stay under cover in a house, went 15 yards to the trailer and while exposed to exploding .30 and .50 bullets and grenades made two trips carrying the wounded men into the safety of the house…Capt. Byrne's concern for his men and valorous conduct are to be commended and reflect credit on the high traditions of the United States Army.
For his military service, Captain Joseph L. Byrne received the Silver Star Medal, Bronze Star Medal with one oak leaf cluster, Purple Heart Medal, American Defense Medal, American Campaign Medal, European-African-Middle Eastern Campaign Medal with two bronze stars, World War II Victory Medal, Distinguished Unit Badge, and Combat Infantryman Badge.  Joseph Byrne was awarded the Congressional Gold Medal on October 5, 2010, along with the other veterans of the 100th/442nd Regimental Combat Team.  This is the highest Congressional Civilian Medal.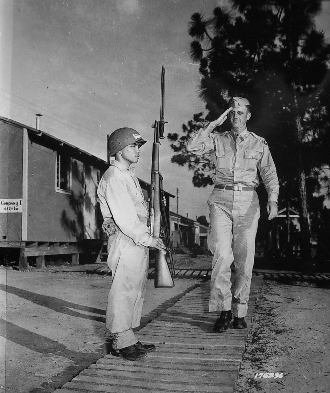 In 1948, the next of kin of the country's fallen soldiers who had been buried in wartime cemeteries overseas were offered the opportunity to have their loved one's remains returned home. The Byrne family chose to leave their son where he was originally buried. The American cemetery at Epinal covers 48 acres on a plateau above the Moselle River in the foothills of the Vosges Mountains. It contains the graves of 5,252 war dead and was established in October 1944. Captain Joseph L. Byrne's grave is located in Plot A, Row 9, Grave No. 32.
Right: The 4'9"-tall Pfc. Takeshi "Shorty" Kazumura was assigned as a scout and runner for Lt. Joe Byrne. They got along well because they respected each other's abilities. After Byrne's death, Shorty adopted the nickname "Larry" in memory of his friend.
His brother Lt. Col. John D. Byrne served in Tunisia and Italy during World War II.
Researched and written by the Sons & Daughters of the 442nd Regimental Combat Team in 2021.