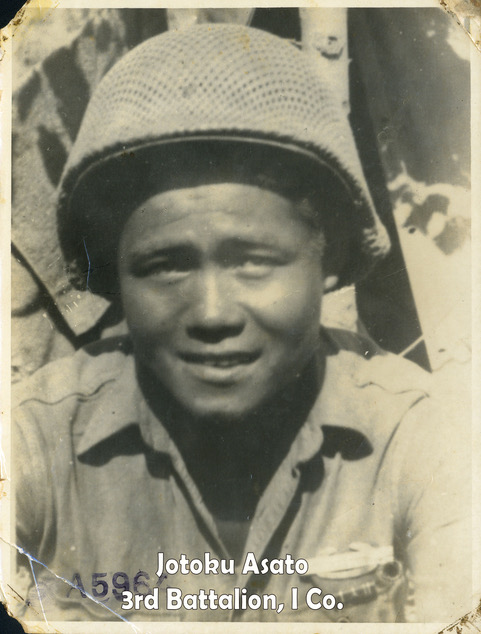 Jotoku Asato was born on December 18, 1923 at Kaheka, Paia, Maui to Uto and Jokichi Asato. He attended Pa'ia School, then worked as a farm hand at Maui Pineapple Company before volunteering for service during WWII. He joined the 442nd on March 23, 1943 and was assigned to 3rd Battalion, I Company.
He would have likely trained at Camp Shelby, Mississippi before being sent to Italy in 1944. He participated in the Rome to Arno Campaign, North Apennines Campaign, Rhineland Campaign and Central European Campaign. He earned the American Campaign Service Medal, EAME Service Medal, Asiatic-Pacific Service Medal, Good Conduct Medal, and WWII Victory Medal. In more recent years, he was awarded the Congressional Gold Medal and the Chevalier de la Legion d'Honneur, the French Legion of Honor.
Jotoku was honorably discharged on December 27, 1945 at the rank of Private First Class but reenlisted for service in Japan from 1947-1950, serving in the Yokohama Signal Depot. He received the Army of Occupation Medal with clasp for Japan and was honorably discharged at the rank of Corporal on January 12, 1950.
He again enlisted when the Korean War broke out, serving in the 25th Infantry. He completed his service at the rank of Sergeant First Class. Following his military service, he worked as a heavy equipment operator at Maui Land and Pineapple Co., Ltd. until his retirement in 1985. He was an avid golfer and enjoyed working in his garden, and was a member of the Maui 442nd Veterans Club.
Jotoku was married to Doris Chizuko Asato and had three children and several grandchildren and great-grandchildren. He died at the age of 92 on May 1, 2016.