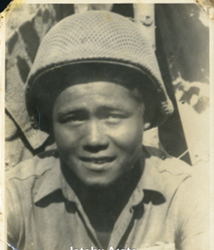 Jotoku Asato
Private First Class
442nd Regimental Combat Team
3rd Battalion, I Company
Jotoku Asato was born on December 18, 1923, in Paia, Maui, Territory of Hawaii. He was the third of seven children born to Jokichi and Uto (Nakasone) Asato – brothers Juichi and Seichi; and sisters Haruko, Hanako Elaine, Tsuruko Edith, and Michiko Marian.
Jokichi and Uto emigrated from Okinawa Prefecture, Japan, in 1907 and 1914, respectively. In 1910, Jokichi lived in Kailua Camp near Makawao and was an irrigator for the sugar plantation. On May 15, 1917, the 43-year-old bachelor married 21-year-old Uto Nakasone in Wailuku, Maui, and they lived in Waiakoa. This was Uto's second marriage, as her first marriage ended in divorce. Her first married surname was Ogusuku. She arrived from Kanegusuku, Okinawa Prefecture, on the Nippon Maru on July 14, 1914, enroute to her husband in Waipahu, Oahu.
In 1920, Jokichi and Uto were both working as field laborers for a sugar plantation and the family lived at Kikania Camp near Wailuku. In 1930, they lived in Paia where Jokichi was working as a "yardboy" for the Mill's clubhouse. In 1940, Jokichi was listed as a contract grower for the sugar plantation and the family lived in Paia.
After attending Paia Grammar School, Jotoku left school and began working as a farm hand at the Maui Pineapple Company. He registered for the draft on June 30, 1942, at Local Board No. 3 at the Paia Mill. At the time, he was living with his family at House No. 102 in Kaheka and worked for the Maui Pineapple Co. in Haliimalie. He was 5'2" tall and weighed 134 pounds.
On March 23, 1943, Jotoku enlisted in the U.S. Army. His civilian occupation was listed as "Farm hand, crop specialty." He later recalled that he had joined the Army in order to escape what he termed the "trapped plantation syndrome."
He was sent with other enlistees to the "tent city" known as Boom Town at Schofield Barracks on Oahu. On March 28, the new soldiers were given a community farewell at Iolani Palace. On April 4, they sailed on the S.S. Lurline to San Francisco. After a train trip across the US, they arrived at Camp Shelby, Mississippi. Jotoku was assigned to 3rd Battalion, I Company, First Platoon, First Squad.
After over a year of basic and specialized training and field maneuvers, Asato left Camp Shelby with the 442nd on April 22, 1944, for Camp Patrick Henry, Virginia. They shipped out from nearby Hampton Roads on May 2, 1944, in a convoy of about 100 ships enroute to the Theater of War.
On May 28, 1944, the 442nd arrived at Naples, Italy. They marched five miles to a staging area at nearby Bagnoli before leaving on LSTs for Anzio on June 6. After a week at Anzio, they were transported in a truck convoy around Rome, and arrived at a large bivouac near Civitavecchia, about sixty miles north of Rome. On June 26, 1944, the 442nd RCT moved forward to the front lines for their first combat engagement in the Rome-Arno Campaign.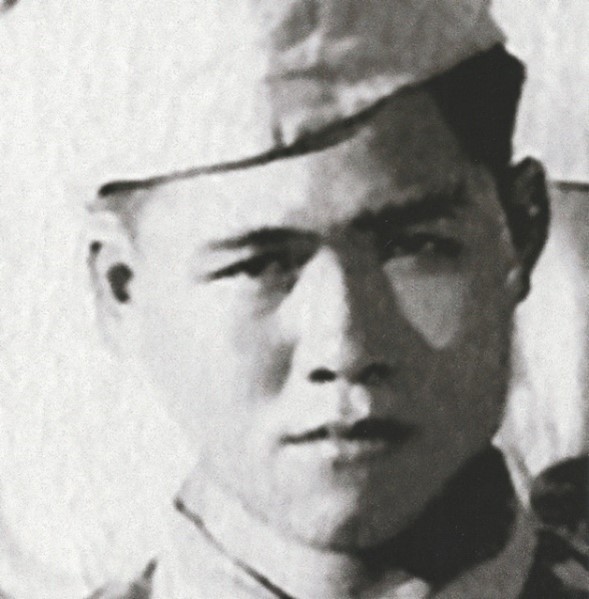 Jotoku later recalled the time in Italy when his squad was staying at the two-story home of a local paisano (peasant). They left to go on a patrol and when they returned they found that the house had been demolished by a direct hit.
Asato while in Europe
In the first week of September, after pushing the Germans north to the Arno River, the 442nd was withdrawn from the battle front and sent south to the Naples area. On September 27, they left Naples and landed in Marseilles, France, on September 30 for combat in the Rhineland-Vosges Campaign.
Once they arrived at Marseilles, they were in a bivouac area in nearby Septèmes until October 9, when they were transported 500 miles north through the Rhône Valley, by truck or rail boxcar. On October 13, they arrived in the vicinity of the important road and rail junction of Bruyères. After a hard-fought battle to liberate Bruyères, they moved on to neighboring Belmont and Biffontaine, before they were tasked with rescuing the 1st Battalion of the 141st (Texas) Infantry, which had advanced beyond the lines and was surrounded by the enemy.
After their victories in the intense and costly battles in the Vosges Mountains, the 442nd had suffered so many casualties that it was below combat strength. They were reassigned to southern France to recover. The 442nd left the Vosges on November 19 by truck convoy for Nice on the Mediterranean coast. They remained in the area of Nice and Menton on the coast and Sospel and Peira Cava in the mountains for several months – this was the Rhineland-Maritime Alps Campaign. The mission was to protect the southeast flank of the 6th Army Group and guard against an improbable, although possible, enemy breakthrough down the southern coast of France. If the Germans had attacked in sufficient strength, there was nothing to stop them between the border and Marseilles except the 442nd Regimental Combat Team.
During this time, Asato suffered a severe illness and was sent to a military hospital. By the time he recovered, the 442nd had been sent back to Italy for the Po Valley Campaign. As a result, Asato was assigned to a series of military units in Europe where he served until the end of the war on May 8, 1945. He then remained for the occupation.
Pfc. Jotoku Asato returned to Hawaii on December 6, 1945, aboard the U.S. Army transport ship USAT Aconcagua. He was honorably discharged on December 27, 1945.
For his military service, Private First Class Jotoku Asato was awarded the Bronze Star Medal, Good Conduct Medal, American Campaign Medal, European-African-Middle Eastern Campaign Medal with two bronze stars, World War II Victory Medal, Army of Occupation Medal, Distinguished Unit Badge with one oak leaf cluster, and Combat Infantryman Badge. He was awarded the Congressional Gold Medal on October 5, 2010, along with the other veterans of the 100th/442nd Regimental Combat Team. This is the highest Congressional Civilian Medal. On January 22, 2015, he was awarded the Chevalier de la Legion d'Honneur, the French Legion of Honor, for his World War II combat service in France.
Immediately after his discharge in 1945, Asato reenlisted at Schofield Barracks for Signal Corps service in Japan from 1947 to 1950, serving at the Yokohama Signal Depot. As he later said, he made sure he was in a non-combat unit. For this military service, Asato received the Army of Occupation Medal with clasp for Japan. He was honorably discharged at the rank of Corporal on January 12, 1950. He then reenlisted yet again and remained in Japan.
At this time, the Korean War broke out and, Asato later noted that "every enlisted man stationed in the Far East Theater became a combat replacement." He was transferred to the 27th Infantry Regiment, 25th Infantry Division. They were sent to Korea, where they chased the North Koreans north to the Yalu River. Then the Chinese intervened, and the Americans were chased back to Seoul. At one point, the Chinese penetrated the defensive line. Asato later vividly recalled the terse orders of their company commander: "Every man for himself! Run for your life!" At the new defensive line, he fired his rifle until the red-hot barrel jammed. The war continued until 1953, when he debated whether or not to reenlist. He decided not to do so. As he said, "Enough about wars and me. I'm going to play a round of golf!"
He completed his service with the rank of Sergeant First Class.
Following his military service, Asato worked as a heavy equipment operator at Maui Land and Pineapple Co., Ltd., until his retirement in 1985. Asato was an avid golfer and enjoyed working in his garden. He was a member of the Maui 442nd Veterans Club.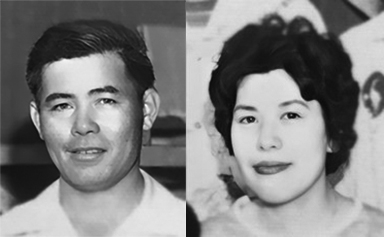 Jotoku and Doris Asato in the 1960s
Jotoku married to Doris Chizuko Yamamoto in the late 1940s, when he was stationed in Japan. She was born August 10, 1928, in Tokyo, Japan. Over the years they raised a family of three children.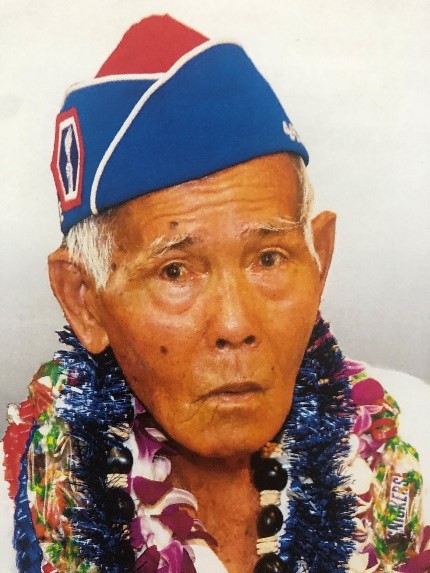 In the 1990s, Jotoku and his family lived in Makawao, Maui, at 40 Noho Place.
Jotoku attending a 442nd Veterans event about 2012
Jotoku Asato died in Pukalani, Maui, at the age of 92 on May 1, 2016. He was buried on May 13 in the Maui Veterans Cemetery in Makawao. His military tombstone states that he received the Silver Star Medal and the Bronze Star Medal. His wife predeceased him on September 5, 1992, in Pukalani and he was buried with her in Plot 14, Site 375. Asato was survived by his children, three grandchildren, and two great-grandchildren.
Visit Jotoku Asato oral history interview, part 2 of 2, April 26, 2008 · Japanese American Military History Collective (omeka.net) to view his oral history interview.
Researched and written by the Sons & Daughters of the 442nd Regimental Combat Team in 2022.