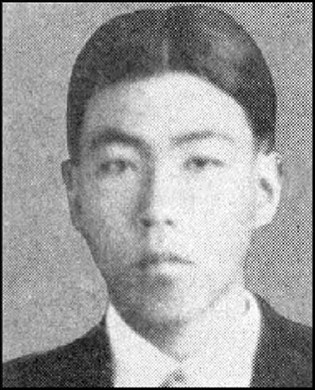 Kiyoshi Masunaga
Private First Class
100th Infantry Battalion (Separate)
B Company
Kiyoshi Masunaga was born on May 22, 1917, in Hookena, South Kona District, Hawaii island, Territory of Hawaii. He was the son of Tsurumatsu and Yui (Nakayama) Masunaga. His siblings were: Tsuruki, Kazuo, Hachiro, and Masato; and sisters: Kiyoko, Shijuka, Yoshika, Kazuye, and Momoya.
Tsurumatsu first arrived in Hawaii in 1890. He arrived again in 1907 from Naura, Kumamoto Prefecture, Japan, and his wife Yui arrived two years later. Their two eldest children were born in Japan. The family were coffee farmers in South Kona. In 1920, they lived in the area between Keokea and Alika Flow.
In March 1934, Tsurumatsu filed a report with the Japanese Consulate General in Honolulu for his sons Kazuo, Kiyoshi, and Hachiro to lose their Japanese citizenship. The report was known as "loss of citizenship in order to complete the expatriation from Japan." His eldest son, Tsuruki, was not included in this petition as he had died in 1922.
Masunaga signed his draft registration card on October 26, 1940, Local Board No. 5, American Factors Building, Kailua-Kona, Hawaii island. At the time, he was living with his parents in Kai Malino, employed as a paniolo (cowboy) by Mr. A.L. Greenwell at the Greenwell Ranch in the town of Captain Cook. He was 5'5½" tall and weighed 150 pounds. His father was listed as his point of contact. He had graduated from Konawaena High School.
On November 5, 1941, the Hawaii Herald listed Kiyoshi one of twelve volunteer for service from Local Board No. 5. On November 11, 1941, Kiyoshi enlisted in the U.S. Army. He was 5'5" tall and weighed 140 pounds. His civilian occupation was listed as "Farm hand, animal and livestock." His enlistment ceremony was held at Kailua-Kona, and three days later Kiyoshi and fourteen other men from south Kona (Local Draft Board No. 5) left for Honolulu by boat from Hilo for Schofield Barracks on Oahu. He was initially assigned to the 299th Infantry Regiment, but after the attack on Pearl Harbor on December 7, 1941, Hawaii's soldiers of Japanese ancestry were reassigned to a segregated unit subsequently called the Hawaii Provisional Battalion.
Under the cover of preparations for the Battle of Midway, the Hawaii Provisional Battalion embarked on the S.S. Maui, and a week later disembarked at Oakland, California,on June 12, 1942. On this date the Provision Battalion was renamed the 100th Infantry Battalion (Separate). Kiyoshi was assigned to F Company. They were sent by train to Camp McCoy, Wisconsin.
After over a year of basic, specialized, unit, and combat training and field maneuvers, first at Camp McCoy, and then at Camp Shelby, Mississippi, the 100th (Separate) left on August 11, 1943, for the two-day train trip to Camp Kilmer, New Jersey. On August 21, they boarded the troop ship S.S. James Parker and joined a convoy bound for the Mediterranean Theater. On the ship's manifest Kiyoshi was listed as a Private First Class in 2nd Platoon, F Company. Landing first at Oran, Algeria, in North Africa, three weeks later the 100th was sent to the combat zone, after landing on the beach of Salerno, Italy, on September 22, 1943.
The 100th had been assigned to the 133rd Infantry Regiment of the 34th ("Red Bull") Division. The 100th was considered over-strength as it had six companies, rather than the usual four. Initially, the men of E Company and F Company were used as guards.
They began a series of battles as they marched north toward Rome. As casualties mounted, the men of E Company and F Company were transferred to A, B, C, or D Company. At some point, Pfc. Masunaga was transferred to B Company.
By December the Allied forces were attacking the strong points of the German's Gustav Line in the mountains south of Rome. By early January they were nearing Monte Cassino. The 100th Battalion was then attached to the First Special Service Force to attack and capture Monte Trocchio from the German army.
During several days of intense fighting, Kiyoshi was wounded by artillery fire and died in a field hospital on January 9, 1944. He was buried at the U.S. Military Cemetery at Marzanello-Nuovo near Cervaro, Italy.
For his service to the nation in World War II, Private First Class Kiyoshi Masunaga was awarded the: Bronze Star Medal, Purple Heart Medal, Good Conduct Medal, Asiatic-Pacific Campaign Medal, American Campaign Medal, European-African-Middle Eastern Campaign Medal with one bronze star, World War II Victory Medal, and Combat Infantryman Badge. Masunaga was posthumously awarded the Congressional Gold Medal on October 5, 2010, along with the other veterans of the 100th/442nd Regimental Combat Team. This is the highest Congressional Civilian Medal.
A memorial service was held for Kiyoshi Masunaga at the Central Kona Church on Sunday, February 27, 1944. On March 26, he was among 21 Hawaii island soldiers who had died recently in Italy and whose families were to receive their Purple Heart at a ceremony at the former Yamatoza Theater in Hilo.
In 1949, the small, wartime U.S. Military Cemeteries in Italy were closed and families were given the choice of having their loved one reburied at the large cemetery in Florence or returned home. The Masunaga family decided Kiyoshi should come home.
On April 21, 1949, Kiyoshi's remains were among those of 134 war dead to arrive in Honolulu aboard the U.S. Army Transport ship Sergeant Jack Pendleton. There was a large ceremony at Pier 40-A to welcome them back home. The flag-draped caskets were held at the U.S. Army Mausoleum at Schofield Barracks until burial arrangements were finalized.
Kiyoshi was one of twenty reburials at the National Memorial Cemetery of the Pacific at Punchbowl on July 22, 1949. His grave is located in Section D, Site 180.
Researched and written by the Sons & Daughters of the 442nd Regimental Combat Team in 2021 and updated in 2023.