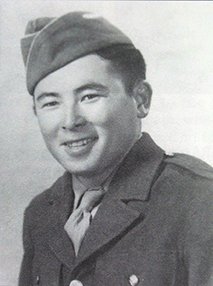 Kosaku Isobe
Private
442nd Regimental Combat Team
I Company/Medical Detachment
Kosaku Isobe was born on February 1, 1923, in Haleiwa, Oahu, Territory of Hawaii. His parents were Sakuzo and Kiyoko (Shimada) Isobe. He was he eldest son and had four siblings: brothers Wallace Kisaku and James Yosaku; and sisters Kimiye and Leatrice Harue. Father Sakuzo was born in Olaa on Hawaii island. Sakuzo's parents, Densaku and Sueo Isobe, emigrated from the village of Hirakita, Kitakambara District, Niigata Prefecture, Japan, on the Toyo Maru, arriving on October 12, 1899. Mother Kiyoko Isobe emigrated from Japan in 1910.
In 1920, Sakuzo and Kiyoko lived at Kawailoa Village in Waialua District and worked on the sugar plantation. By 1930 they lived in Waialua and Sakuzo was a taxi driver. Ten years later, in 1940, Sakuzo was a widower and worked at Pump 3, Waialua Agriculture Company, and lived in Opaeula Camp 3. By 1949, Sakuzo was the proprietor of the Wahiawa Auto Stand, where he was a taxi driver.
In the late 1930s/early 1940s, Kosaku was a featherweight boxer for the Pan-American Sporting Club.
Kosaku Isobe signed his draft registration card on June 30, 1942, Local Board No. 11, Waialua Fire Station. His point of contact was his brother, Wallace Isobe of Waialua. At the time, he was employed by Hawaii Contractors in Kahuku. He was 5'3" tall and weighed 125 pounds.
Isobe enlisted in the U.S. Army on March 23, 1943.  His civilian occupation was listed as "Carpenter," and he had completed three years of high school.  He was sent to the "tent city," known as Boom Town, at Schofield Barracks with other new soldiers.  On March 28, he was present at the aloha farewell ceremony at Iolani Palace.
The men were part of the 442nd Regimental Combat Team and shipped out on the S.S. Lurline on April 4 from Honolulu. They arrived at Oakland, California, and were then sent on a train trip across the US to Camp Shelby, Mississippi. Private Kosaku Isobe was assigned to the Medical Detachment. In addition to basic training he received combat medic training. He was assigned as a medic to I Company.
While at Camp Shelby, Kosaku took out an insurance policy on his life with National Service Life Insurance, listing his father as beneficiary.
After a year of basic and specialized training and field maneuvers, the Combat Team left by train for Camp Patrick Henry, Virginia, on April 22, 1944. On May 2, the 442nd left from nearby Hampton Roads in a convoy of about 100 ships, and arrived at Naples, Italy, on May 28.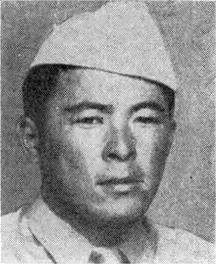 The Combat Team spent a week at a staging area in Bagnoli, near Naples, before leaving on LSTs for Anzio on June 6, where they marched five miles to a bivouac area. From Anzio, the 442nd went to a large bivouac area at Civitavecchia, north of Rome, where they went through additional training and final preparations for going to the front lines. The 442nd entered combat on June 26 near Suvereto in the Rome-Arno Campaign.
Isobe fought in all battles of the 442nd in the Rome-Arno Campaign. After pushing the Germans north to the Arno River, the Combat Team was withdrawn from the battle lines and sent south to Naples. They left for France on September 27. Once they arrived at Marseilles, they were in a bivouac area in nearby Septèmes until October 9, when they were transported north by truck convoy or rail boxcars to fight in the Rhineland-Vosges Campaign.
They arrived in the assembly area at Charmois-devant-Bruyères at midnight on October 13. At 2:00 p.m. the next day, the 442nd began moving into position to attack the important rail and road center of Bruyères the following morning. After several days of intense fighting, the enemy had been cleared from the town and its surrounding hills. On October 23, the 442nd was ordered to take the next town, Biffontaine. Finally, on October 24, they were taken off the front lines and put in reserve in nearby Belmont for a rest after eight days of heavy fighting, little to no sleep, harsh weather conditions, and many casualties.
On the afternoon of October 26, the Regiment was ordered to the front lines again – this time to aid in the rescue of the "Lost Battalion," the 1st Battalion of the 141st (Texas) Infantry. This battalion had advanced ahead of the lines and was surrounded by the enemy. Attempts by the 141st to free it had been unsuccessful, so the 442nd was assigned the mission.
After several days of severe fighting, on October 30, the Lost Battalion was rescued. It came at great loss for the Combat Team, with very high casualties.
On this day, Pvt. Kosaku Isobe was killed on October 30, 1944. He was initially listed as missing in action in the vicinity of La Houssière.
Years later, Matsuji ("Mutt") Sakumoto, who was a Private First Class in I Company, recalled the actions of the days leading up to and including October 30. Beginning on the day they were sent from Belmont to rescue the Lost Battalion, they left while it was still so dark that each man had to hold onto the backpack of the man in front of him. It was very cold and drizzling, and the sticky mud was ankle deep. After much walking, they came to a heavily forested area. The next day, they followed a gully that had been cleared of trees and that the 141st Infantry had reportedly cleared of Germans. Soon, they heard Germans talking up the hill and the Germans opened up with fire. After firing back, the Germans stopped firing. The I Company men proceeded up the hill and found M Company there, with their machine guns set up. The following day, their Company Commander put First Platoon in reserve and Second and Third Platoons sent to "hit the line." Soon after, General Dahlquist, commander of the entire 36th Division (to which the 141st and 442nd were attached), showed up and made First Platoon accompany him to "flank the enemy." They got into the B Company area and from that point on the Germans were blasting them with everything they had.
At this point, Sakumoto recalled that Private Isobe, a buddy from back home in Waialua, came by and asked him where the soldier was who had just been hit. Sakumoto pointed to the injured, and Isobe went to assist him. That was the last that anyone reported seeing Isobe alive.
The exact date of this action was likely October 29, by Sakumoto's reckoning. It was not discovered until October 30 that Pvt. Isobe was missing. His body was not found and he was declared missing in action.
For his wartime service, Private Kosaku Isobe was awarded the: Bronze Star Medal, Purple Heart Medal, Good Conduct Medal, European-African-Middle Eastern Campaign Medal with two bronze stars, World War II Victory Medal, Distinguished Unit Badge, and Combat Medic Badge. He was posthumously awarded the Congressional Gold Medal on October 5, 2010, along with the other veterans of the 100th/442nd Regimental Combat Team. This is the highest Congressional Civilian Medal.
In 1945, Matsuji Sakumoto returned home to Waialua, where he saw Isobe's youngest brother, James, who told him that Kosaku was still officially missing in action. After Isobe had been missing in action for a year, the U.S. War Department declared him officially dead. On December 8, his family held a memorial service for their son at 2:00 p.m. in the Haleiwa Catholic Church. He was survived by his widowed father, his grandmother Sue Isobe, sisters Kimiye Nakata and Beatrice Isobe, and brothers Wallace and James.
On December 27, 1945, in order to file Isobe's life insurance policy claim, father Sakuzo had to file for a duplicate of his own Hawaiian birth certificate.
Private Kosaku Isobe's remains were later found and he was buried at the U.S. Military Cemetery in St. Avold, about 75 miles north of Bruyères.
After the war, many of the overseas military hospitals were being closed. Families were given the choice of having their loved one reburied in one of the larger cemeteries that would remain, or brought home to the US. The Isobe family chose to have their son returned to Hawaii.
On April 21, 1949, Private Kosaku Isobe's remains were returned home on the USAT Sergeant Jack J. Pendleton, arriving at Honolulu Harbor's Kapalama Basin. Isobe was among the 134 war dead aboard the ship. Hundreds of family and friends were present to attend the dockside service. Secretary of Hawaii Oren E. Long officiated, the 264th Army Band played hymns, and military Chaplains participated. One of the Chaplains was Hiro Higuchi, who had served in the 442nd with the war dead who were returning home that day. After the service, the flag-draped caskets were taken ashore and sent to the Army mausoleum at Schofield Barracks for storage pending funeral arrangements.
On May 30, 1949, Isobe was one of sixteen fallen soldiers from Waialua and Kahuku who were commemorated at a service held at the Memorial Tower in Waialua Park. The service was sponsored by the Waialua Lions Club, 100th and 442nd Veterans Clubs, Waialua National Guard, and the local American Legion post.
On July 26, 1949, Pvt. Isobe was among the twenty burials of Hawaii's sons at the National Memorial Cemetery of the Pacific at Punchbowl in Honolulu. He was buried at 1:30 p.m. in Section D, Site 191.
Researched and written by the Sons & Daughters of the 442nd in 2023.