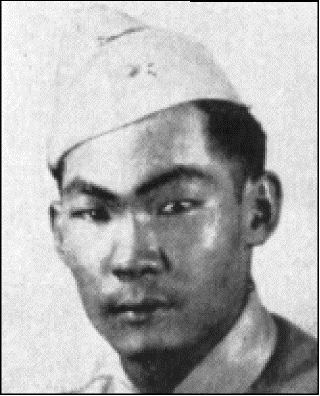 Larry Nagao Miura
Technician Fifth Grade
442nd Regimental Combat Team
3rd Battalion, K Company
Larry Nagao Miura was born on July 24, 1921, in Ewa, Oahu, Territory of Hawaii. He was one of five children born to Torazo and Ume (Watanabe) Miura. He was the only son; his sisters were Jean Tomiko, Yuriko, Eleanor Shigeko, and Kay Yuriko. Torazo emigrated from the village of Otaira, Udachi District, Fukushima Prefecture, Japan, arriving at Honolulu on November 10, 1907, on the French steamer S.S. Amiral Exelmans. Ume emigrated from the same village; arriving at Honolulu on October 5, 1919, on the Korea Maru. Torazo worked for Eva Plantation Company as a laborer in the sugar cane fields. By 1940, he was the caretaker for the plantation's water reservoir, and the family lived at No. 62, Tenney Village, Ewa Plantation.
Larry was educated at Ewa Elementary and Intermediate Schools. In 1933, as a JPO (Junior Police Officer) at Ewa School, he was among 58 students to be commissioned by Police Officer Harvey Cornwall on March 23. A couple of months later, he placed second in District 3 for the Home Vegetable Garden Contest on Oahu. Certificates were presented to all winners on June 1 at Central Intermediate School.
On February 15, 1942, he registered for the draft at Local Board No. 5 at the Tax Office Building in Honolulu. He was working for the Merchant Electric Supply & Construction Company at Kaneohe Hospital. His point of contact was his cousin, Teitoku Suzuki, of 773 South Street, Honolulu. Larry was 5'3" tall and weighed 115 pounds.
On March 25, 1943, Larry enlisted in the U.S. Army at Schofield Barracks, Oahu. His civil occupation was listed as "Semiskilled painters, construction and maintenance." He was employed as a painter for E.E. Black, Ltd., in Honolulu. He was sent to Boom Town, the "tent city" at Schofield Barracks where all the recent volunteers were housed. On March 28, they were given an aloha farewell ceremony by the community at Iolani Palace. On April 4, they left on the S.S. Lurline for San Francisco. After arriving on the mainland, Larry and the rest of the new soldiers were sent by train to Camp Shelby, Mississippi, for training, arriving on April 18. He was assigned to 3rd Battalion, K Company.
After a year of basic and specialized training and military exercises, they left by train for Camp Patrick Henry, Virginia, on April 22, 1944. On May 2, the 442nd left nearby Hampton Roads in a convoy of over a hundred ships, and arrived at Naples, Italy, on May 28.
The battalion spent a week at a staging area in Bagnoli, near Naples, before leaving on LSTs for Anzio on June 6, where they marched five miles to a bivouac area. From Anzio, the 442nd went to a large bivouac area near Civitavecchia, north of Rome, where they went through additional training and final preparations for going to the front lines. The 442nd entered combat on June 26 near Suvereto in the Rome-Arno Campaign. Larry fought in the Rome-Arno Campaign, up the western side of Italy, driving the German Army north of the Arno River.
They left for France on September 27. Once they arrived in Marseilles, the Combat Team was in a bivouac area in nearby Septèmes until October 9, when they were transported north to participate in the Rhineland-Vosges Campaign. In October-November, the 442nd liberated the important rail and road junction of Bruyères, followed by Belmont and Biffontaine, and the famous "Rescue of the Lost Battalion" – the 1st Battalion of the 141st (Texas) Infantry Regiment that had advanced beyond its support, become surrounded by the enemy, and was unable to extricate itself.
After the intense and costly battles in the Vosges Mountains, the 442nd left on November 19 by truck convoy for southern France. They remained in the area of Nice and Menton on the coast and Sospel and Peira Cava in the mountains for several months – this was the Rhineland-Maritime Alps Campaign. The mission of the Combat Team was to protect the east flank of the 6th Army Group, and guard against a possible enemy breakthrough down the southern coast of France.
Combat and reconnaissance patrols roamed back and forth between the lines. It was during a patrol that Tec/5 Larry N. Miura was mortally wounded on November 30, 1944.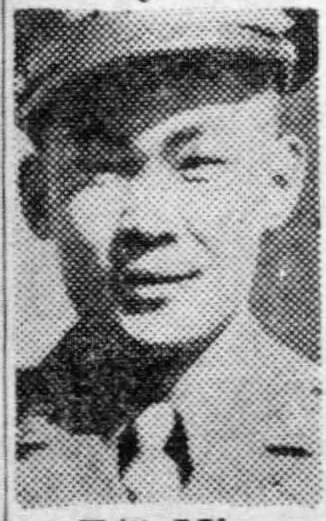 At home, his family had just received their last letter from Larry. He expressed his joy at their thoughtful Christmas gifts that had just arrived. He also wrote about his first experience with snow in France. A memorial service was held for Miura on December 30, 1944, at 2:00 p.m. at Ewa Union Church.
Right: Tec/5 Larry N. Miura
For his military service, Technician Fifth Grade Larry Nagao Miura was awarded the Bronze Star Medal, Purple Heart Medal, Good Conduct Medal, American Campaign Medal, European-African-Middle Eastern Campaign Medal with three bronze stars, World War II Victory Medal, Distinguished Unit Badge, and Combat Infantryman Badge.  He was awarded the Congressional Gold Medal on October 5, 2010, along with the other veterans of the 100th/442nd Regimental Combat Team.  This is the highest Congressional Civilian Medal.
Technician Fifth Grade Larry Nagao Miura was interred in the U.S. Military Cemetery at Draguignan, St. Raphael, France. In 1948, the Army began the process of closing the smaller military cemeteries in France and offering the family the choice of reburial at the large U.S. Military Cemetery in Epinal, or returning home. Tec/5 Larry Miura's family chose to have his remains returned.
Larry arrived home to Hawaii on December 24, 1948, on the USAT Sinnett to Pier M-3 at Pearl Harbor with 121 other of Hawaii's war dead. Over 700 family and friends were waiting on the pier where the 265th Army Band played Aloha Oe as the ship docked at 8:30 a.m. They were eulogized in a shipside service by the Secretary of Hawaii, Oren E. Long, who said, …we are proud to have had such sons. These men stood the test of action and added a new chapter of American heroism to our history. The caskets were taken to the Army mausoleum at Schofield Barracks awaiting burial arrangements.
On July 28, 1949, Technician Fifth Grade Larry Nagao Miura was reinterred in the National Memorial Cemetery of the Pacific (Punchbowl) in Honolulu, Section D, Site 373.
Researched and written by the Sons & Daughters of the 442nd Regimental Combat Team in 2022.