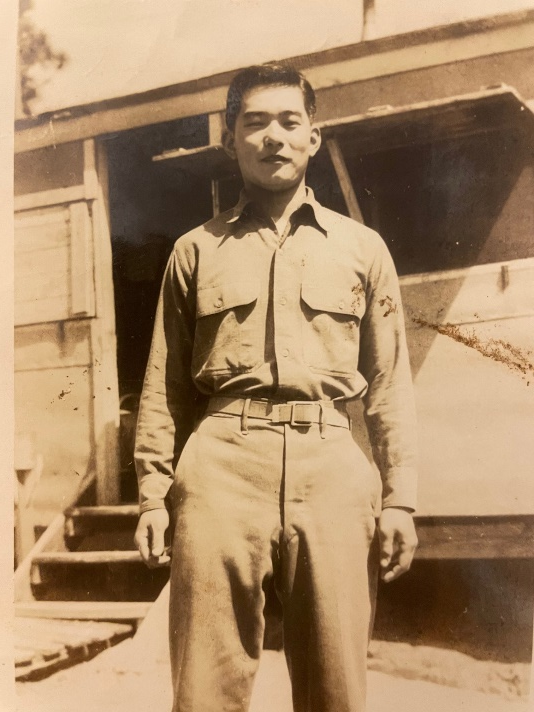 Larry Takashi Hashimoto
Private First Class
442nd Regimental Combat Team
2nd Battalion, Headquarters Company
Larry Takashi Hashimoto was born on November 29, 1924, in Waihee, Maui, Territory of Hawaii. He was the third of the four sons and one daughter of Jizaburo and Tsue (Omura) Hashimoto. His parents had each arrived in Hawaii from Kumamoto Prefecture, Japan, to work on a sugar plantation.
Larry attended Waihee Elementary School and Maui High School. Like his older brothers, Jack and Counsel and younger brother Hito, Larry was an athlete. He loved playing baseball, football, basketball, and golf. His dream in high school was to be able to play football. However, at a thin but muscular 5'6", his dream was denied. So, baseball became his sport.
He was his father's helper in the small truck farm that the family ran after leaving the sugar plantation. This entailed many early mornings and late evenings planting and caring for produce, picking the produce, and getting it ready for selling the next day. Larry often said that he did it to get out of going to Japanese language school, which he hated. But in later years, he often said that he wished he had not jumped out the school window and run away, since those language skills would have proven useful in understanding the samurai movies and TV shows that he dearly loved.
December 7, 1941, brought many changes to Larry's family and the families of Hawaii. His father, who was the head of the local Japanese language school in Waihee, was taken away by the U.S. military. The family would later learn that he was held at Sand Island in Honolulu and eventually was sent to internment camps on the mainland. Without its head, the Hashimoto family faced many decisions about its future. As Larry had just finished high school and did not yet have a full-time job, he enlisted with a group of this friends in the 442nd Regimental Combat Team.
Larry signed his World War II Draft Registration card in Wailuku, Local Board No. 2, on December 26, 1942. At the time he was living in Waihee, he was employed by the U.S. Engineering Department in Wailuku, his point of contact was his mother, and he was 5'6" tall and weighed 135 pounds. He enlisted on March 24, 1943, and was sent to the "tent city," known as Boom Town, at Schofield Barracks on Oahu for training.
Hashimoto was among the hundreds of young inductees given a community farewell at Iolani Palace on March 28, 1943. They were shipped to the mainland on April 4 on the S.S. Lurline, arriving at Oakland a few days later. After a cross-country train trip to Camp Shelby, Mississippi, he went through months of training. His military occupational specialty (MOS) and number were "cannoneer 610."
After a year of basic and specialized training and military exercises, they left by train for Camp Patrick Henry, Virginia, on April 22, 1944. On May 2, the 442nd left from nearby Hampton Roads in a convoy of over 100 troop ships. Once in the Mediterranean, the ships carrying the bulk of the 2nd Battalion dropped out of the convoy and steamed into Oran, on the coast of North Africa, to discharge cargo. The other ships arrived at Naples, Italy, on May 28. It is not known in which of these groups Hashimoto was traveling.
The battalion spent a week at a staging area in Bagnoli, near Naples, before leaving on LSTs for Anzio on June 6, where they marched five miles to a bivouac area. From Anzio the 442nd went to a large bivouac area near Civitavecchia, north of Rome, where they went through additional training and final preparations for going to the front lines. The ships that had stopped in Oran arrived on June 17, going through the same processing as the other units.
Pfc. Hashimoto served in four campaigns of the 442nd: Rome-Arno in Italy, Rhineland-Vosges and Rhineland-Maritime Alps in France, and Po Valley back in Italy.
For his wartime service Pfc. Larry Takashi Hashimoto was awarded the Bronze Star Medal, Good Conduct Medal, Asiatic-Pacific Service Medal, American Campaign Service Medal, European-African-Middle Eastern Service Medal with four bronze service stars, World War II Victory Medal, Army of Occupation Medal, Combat Infantryman Badge, and Distinguished Unit Badge. He was awarded the Congressional Gold Medal on October 5, 2010, along with the other veterans of the 100th/442nd Regimental Combat Team. This is the highest Congressional Civilian Medal.
Hashimoto arrived home to Hawaii on December 17, 1945, one of hundreds of returning veterans on the troop ship USAT Aconcagua to dock at Pier 26 in Honolulu. He was discharged from the U.S. Army at a separation center on Oahu on January 23, 1946. After returning to Maui, Larry found to his regret that while he was gone, his father had died.
With the help of the GI Bill, Larry attended trade school and trained as an electrician. He met Florence Shirai at her family's grocery and liquor store, Nuuanu Cash & Carry, at 1280 Nuuanu Avenue, Honolulu, in 1950. They married on April 12, 1953, and settled in the Kaimuki neighborhood of Honolulu. Over the years, he worked for a brief time as an electrician with the U.S. Navy, followed by jobs at the City & County of Honolulu, and finally at the State of Hawaii Department of Accounting and General Services (DAGS). He retired after 29 years of public service.
Baseball became Hashimoto's sport, and he enjoyed spending many Sundays at Ala Moana Beach Park and Moiliili Baseball Field before eventually playing in the Makule Softball Leagues. In his later years, golf became a passion. Pali Golf Course was his home course, but favorite memories were a hole-in-one at Waiehu Municipal Golf Course and golf tournaments sponsored by California Hotel and Casino.
Larry Takashi Hashimoto died on June 25, 2006, in Kaneohe, Oahu. He was survived by his wife Florence, two daughters, and three grandchildren. His funeral service was held at Hawaiian Memorial Park and a private inurnment followed.
Researched and written by the Sons & Daughters of the 442nd Regimental Combat Team in 2021 with assistance of the family. One of his daughters and her husband and daughter are members of the Sons & Daughters.