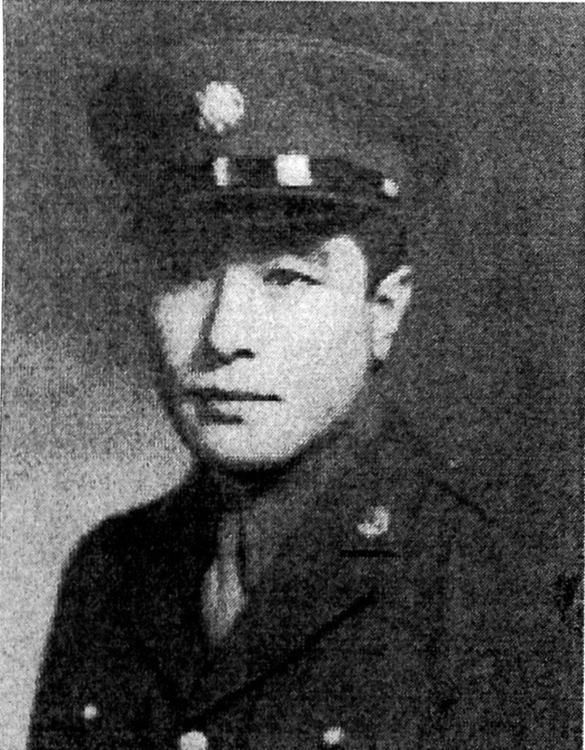 Lloyd Mitsuru Onoye
Private First Class
442nd Regimental Combat Team
3rd Battalion, I Company

Lloyd Mitsuru Onoye, son of Charles Zempachi and Wakiko (Horikawa) Onoye, was born on September 15, 1921, in Salinas, California. He was the sixth born of seven siblings (three sons and four daughters) – Shigeto, Sada M., Charles Koji, Gladys Keiko, Evelyn Yosuko, Lloyd Mitsuru, and Esther Kyeko. Both parents emigrated from Japan; Zempachi in 1897 and Wakiko in 1911. Zempachi owned and operated a truck farm.
Lloyd graduated from Salinas High School, where he was very athletic, good in sports, and played baseball and football. He went on to graduate from Salinas Junior College in 1941.
Lloyd registered for the draft on February 15, 1942, at Local Board No. 120, Monterey Courthouse in Salinas. He was living with his family at 231 Harvest Street, and his mother was his point of contact. He listed George Nagano, 309 Market Street, as his employer. He was 5'10" tall and weighed 175 pounds.
After the War broke out, Lloyd's parents, brother Charles, and sisters were sent first to the Salinas Assembly Center in the spring of 1942, and then on July 5 to the Colorado River WRA Relocation Camp, also known as Poston, in Yuma County, Arizona. His oldest brother, Shigeto, was incarcerated at Granada WRA Center (also known as Camp Amache) in southeast Colorado.
At the time of incarceration, Lloyd's primary occupation was given as "Semiskilled warehousing, storekeeping, handling, loading/unloading," and his potential occupation as "athlete, sports instructor, sports official." While at Poston, Lloyd was active in basketball and baseball.
He was released on July 7, 1943, to go to Salt Lake City, Utah. His parents were released to go to Granada, Colorado, on May 4, 1943, and his sisters on May 13, 1943, to Detroit, Michigan, for work.
He met his Army buddy Rudy Tokiwa in Poston, as they both lived on the same Block 213. Rudy later recalled:
When it came time to volunteer for the 442nd Regimental Combat Team, we all got together, and Lloyd was the one who thought we should volunteer to prove ourselves as Americans. When Lloyd heard that I volunteered, he came over to chew me out, saying "Become someone old enough before you do the job." He called me "his kid brother."
Lloyd Mitsuru Onoye enlisted in the U.S. Army on October 30, 1943, and was inducted at Fort Douglas, Utah. His civilian occupation was listed as "Authors, editors, and reporters." He was then sent to Camp Shelby, Mississippi for training.
Rudy's remembrances continued:
He was in Company I, and I, the youngest volunteer in the whole unit, was in Company K, next to him. We were always near each other – at basic training in Camp Shelby, Mississippi, and went overseas together in May 1944. While overseas, he would tell me, "Write home to your mother, because she worries about you." When I asked him how he knew I didn't write home, Lloyd said, "Don't forget. I get letters from home, too." There were some periods of rest during which either I would go see Lloyd, or he would come see me. He always looked out for me and made sure that I did the right thing, because I was just a kid. Lloyd was a big, strong man, always good-natured and helped the little guys. He always thought he was going to make it all the way through.
After leaving Camp Shelby on April 22, 1944, he left with the 442nd from Hampton Roads, Virginia, on May 2 in a large convoy of troop ships. They arrived in Naples, Italy on May 28.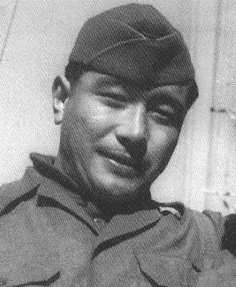 Lloyd fought in the Rome-Arno Campaign in Italy, beginning on June 26, 1944, at Suvereto. The 442nd was then sent to Marseilles, France, on September 27, 1944, to join in the Rhineland-Vosges Campaign. He was wounded during the action to save the "Lost Battalion" – 1st Battalion, 141st (Texas) Infantry Regiment – in the Vosges, sometime between October 27-30.
He was with the Combat Team for the Rhineland-Maritime Alps Campaign from November 21, 1944, until they sailed from Marseilles on March 20-22, 1945, to Italy for participation the Po Valley Campaign.
On April 20, the Combat Team was in the vicinity of Fosdinovo and Mt. Nebbione, which the Germans were fiercely defending. Third Battalion was probing the enemy defenses on Mt. Nebbione from every possible angle, but were consistently beaten back. The men were weary after climbing up and down 3,000-foot peaks for two weeks without much rest.
The following day, April 21, the battalion continued the attack. That night the I Company Command Post (CP) took a direct artillery hit and Private First Class Lloyd Mitsuru Onoye, its Acting First Sergeant who was at the CP at the time, was killed. The hospital admission record states that he was crushed by an artillery or other type of blast and debris and he was a battle casualty. According to the men of I Company, the word was that it may have been friendly fire from a shore battery or it may have been a booby trap set in the cave.
Pfc. Shuji Taketomo wrote about this incident:
During the day … the meadow next to the I Company location was being shelled. Acting Company Commander 1st Lt. Wheatley organized the command post near a shale mine entrance that afternoon…. about 9:30p.m….there was a big swoosh followed by an explosion. The blast was so great that I was tossed into the air, landing a few feet away from where I had been awaiting my turn to go on guard duty. The impact was amazing, for I had been at least 30 feet from the entrance to the mine shaft.
On Taketomo's accompanying map, he noted that the meadow was about eight acres in size with no trees or bushes, only short grass as ground cover. He noted the location of the command post in relation to the placement of the artillery fire and concluded, "Perhaps that may shed some light upon this incident."
Sgt. Richard Shinto wrote about this night:
…I Company under Lt. James Wheatley was waiting for an outfit to relieve us. Approximately seventeen of us were waiting in the opening of a mineshaft. It was stuffy and crowded, so I went out for some fresh air. The mine shaft opening took a direct hit; seven to eight men were killed. We lost a lot of good comrades that day.
According to Pfc. Hideo Takahashi:
We lost Lt. James Wheatley and Pfc. Lloyd Onoye in a tunnel explosion. The tunnel was being used as a command post. Since its entrance faced the Allied troops, it is most likely that the tunnel suffered a direct hit from friendly fire.
T/Sgt. Jim Yamashita later recalled:
The saddest assignment was supervising the removal of the bodies of those who had been killed by a direct hit on I Company's CP at the entry of a mineshaft. Since the shelling had taken place near dusk, only the wounded were taken away and the dead were left in place. The next morning, April 22, 1945, as senior noncom, I had to oversee the removal of the four dead comrades: 1st Lt. James Wheatley, Lloyd Onoye, Eiichi Hata, and Johnny Ogawa. Headquarters had sent up mules and a few Italians as assistants. All I can remember was doing a walk-through; and by then I was so overtaken by what I had seen that I just sat down on a bank near the entrance and barely managed to give instructions as personal effects were brought out. I recall, when asked, telling the Italian detail that they could keep the GI-issue watches.
Pfc. Onoye was interred in the U.S. Military Cemetery at Granaglione, Italy, Plot E, Row 6, No. 642.
For his military service, Private First Class Lloyd Mitsuru Onoye was awarded the Bronze Star Medal, Purple Heart Medal with one oak leaf cluster, Good Conduct Medal, American Campaign Medal, European-African-Middle Eastern Campaign Medal with four bronze stars, World War II Victory Medal, Distinguished Unit Badge, and Combat Infantryman Badge.  He was awarded the Congressional Gold Medal on October 5, 2010, along with the other veterans of the 100th/442nd Regimental Combat Team.  This is the highest Congressional Civilian Medal.
In 1948, the remains of Americans buried overseas began slowly to return to the U.S., if the family so wished. Although Lloyd's mother had died in 1946, his father was living at 2342 W. 31st Street in Los Angeles. Lloyd was brought home on the USAT Cpl. Eric C. Gibson, one of 136 war dead from Southern California returned from Italy. The ship arrived into the Brooklyn Army Base in New York Harbor on February 9, 1949, carrying the remains of 5,205 soldiers. His family decided to have him buried at Arlington National Cemetery, rather than returned to California.
He was interred on April 6, 1949, at Arlington National Cemetery in Arlington, Virginia, Section 13, Site 6683-17. His headstone was ordered from Green Mountain, Vermont on May 26, 1949.
His name appears on the granite memorial erected in the early 1980s of the 31volunteers who were killed during World War II, located at the Amache WRA Center site in Granada, Colorado. Our research did not reveal why he was listed as a volunteer from Granada.
Katherine Baishiki/Rudy Tokiwa/Judy Niizawa/Ira Shimasaki/Alan Onoye, 10/1/03 (revised 10/16/03).
Original Biography prepared by Americans of Japanese Ancestry World War II Memorial Alliance, and provided courtesy of Japanese American Living Legacy (http://www.jalivinglegacy.org/).
Researched and updated by the 442nd S&D 6/18/2021.