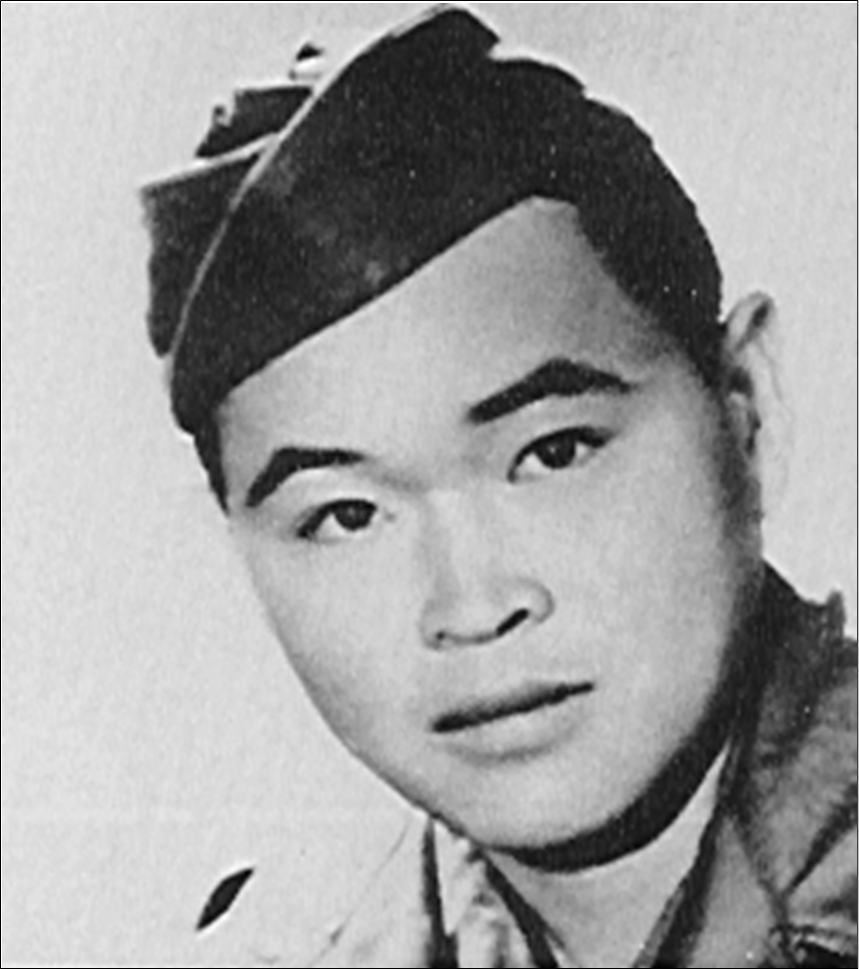 Manzo Takahashi
Private First Class
442nd Regimental Combat Team
3rd Battalion, I Company
Manzo Takahashi was born on August 23, 1919, in Wapato, Yakima County, Washington, to Kazuto and Umeyo (Tahara) Takahashi. Kazuto emigrated from the village of Yahata, Saiki District, Hiroshima Prefecture, Japan, on the S.S. Kinshui; arriving in Seattle, Washington on October 24, 1902. Kazuto and Umayo were married on June 23, 1911, in Seattle. Manzo had four brothers: James Hajime, Noboru, Paul, and George Etsu; and three sisters: Toyoko, Kazue, and Carol Kawaworu.
In 1920, Kazuto was a farmer and the family was living in Yakima County. By 1930, the family had moved to King County and the parents were gardeners at a truck farm. Manzo attended Cleveland High School in Seattle and was a member of the 7B Club and the Boys' Century Games Club.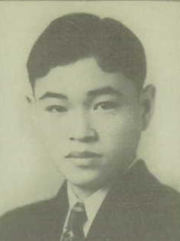 As Manzo's parents died while he was in high school, he moved to Spokane to live with his uncle and aunt. He graduated in 1937 from Lewis and Clark High School. He then attended Kinman Business University in Spokane. In 1940, Manzo was living in Spokane with his uncle Tokutaro Fujita and aunt Toku at 510 E. Courtland Avenue. Manzo was working as a clerk in his uncle's Oriental curio and novelty store, the Fuji Company, which Fujita had established in 1910 at 825 W. Riverside. On December 21, 1941, he was baptized in the Japanese Methodist Church in Spokane.
Right: Manzo's high school photo
"Mon," as Manzo was known, signed his draft registration card on October 16, 1940, Local Board No. 2, Spokane. His uncle Tokutaro Fujita was his point of contact. He was 5'7" and weighed 130 pounds.
Mon volunteered and was enlisted in the U.S. Army on February 3, 1942, in Spokane. His civilian occupation was listed as "Clerk, general office." He was first assigned to Camp Robinson, Arkansas; then later was stationed in Fort Riley, Kansas, and Camp Hale, Colorado. He was sent to Camp Shelby, Mississippi, after the 442nd Regimental Combat Team was organized in 1943 and assigned to 3rd Battalion, I Company.
After a year of training, the 442nd left Camp Shelby for Camp Patrick Henry, Virginia, on April 22, 1944. They shipped out to the Mediterranean Theater of Operations in a large convoy of troop ships on May 2 and arrived in Naples, Italy, on May 28.
Mon participated in the Rome-Arno Campaign in Italy. The 442nd was then sent to France to join in the Rhineland-Vosges Campaign. He was in the battles that captured the towns of Bruyères, Belmont, and Biffontaine, and the fighting during the Rescue of the Lost Battalion. He was wounded in action in October 1944 while in the Vosges Mountains. According to the hospital record, he was hit by rifle fire in the thorax and abdomen. Mon was discharged from the hospital in December and returned to duty with the 442nd, then in southern France for the Rhineland-Maritime Alps Campaign. While he was in the Champagne Campaign, as the Maritime Alps Campaign was nicknamed, it was reported in the Spokesman Review that he was one of four Japanese American soldiers from Spokane fighting in the French Alps.
The 442nd RCT was transferred back to Italy as part of General Mark Clark's Fifth Army for participation in the Po Valley Campaign. They left from Marseilles on March 20-22. On April 10, the Regiment crossed the Frigido River and drove 3,000 yards north to occupy the high ground before the center of the town of Carrara. The Germans began shelling the city and surrounding area controlled by the 442nd, keeping the area under heavy artillery fire for several days. It was during the action on April 10 that Private First Class Manzo Takahashi was killed.
Pfc. Takahashi was interred in the U.S. Military Cemetery at Castelfiorentino, Italy, Plot S, Row 56, No. 2542.
For his military service, Private First Class Manzo Takahashi was awarded the Bronze Star Medal, Purple Heart Medal with one oak leaf cluster, Good Conduct Medal, American Campaign Medal, European-African-Middle Eastern Campaign Medal with four bronze stars, World War II Victory Medal, Distinguished Unit Badge, Combat Infantryman Badge.  Manzo was awarded the Congressional Gold Medal on October 5, 2010, along with the other veterans of the 100th/442nd Regimental Combat Team.  This is the highest Congressional Civilian Medal.
On April 29, 1945, Mon's uncle and aunt Tokutaro and Toku Fujita held a memorial service for him in Spokane at the Japanese Methodist Church on Fifth and Grant Streets. Nearly 200 people attended the service in the "flower-banked church." The service was conducted in English and Japanese. Speakers were Joe Okamoto, of the Japanese American Citizens Club, who pinned the gold star on the church service flag; Harry Ariyama, a longtime family friend; H. Nishibue, who spoke for the church; and Reverend John Cobb, who gave the eulogy. The Young People's Choir gave special music.
On November 11, 1945, Mon Takahashi was among the fourteen soldiers from Spokane who had died overseas and were memorialized in a service at Grant Street Community Methodist Church.
In 1947, the military began returning war dead buried in foreign cemeteries to the US, if the family so desired. Mon's body was returned to Spokane, Washington. On July 16, 1949, graveside services with full military honors were held at Riverside Memorial Park Cemetery.
Researched and written by the Sons & Daughters of the 442nd Regimental Combat Team in August 2021.