Masao Haji, Private, 2nd Battalion, Headquarters Company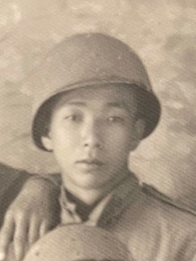 Masao Haji was born August 30, 1923, in Honolulu, T.H. He was the son of Hideichi and Sumiye (Nikuma) Haji, who also had sons Hideyoshi (died in infancy), Harry Hideo and James Kazuo and daughter Hideko. Harry and Hideko were twins. His parents came to Hawaii from Fukutani-mura, Okayama Prefecture, Japan, in 1907 and 1916, respectively.
He signed his WWII Draft Registration card on June 30, 1942, for Local Board No. 6, Kawananakoa School, Honolulu. His point of contact was his brother Harry Haji, whose address was City Florist, S. Beretania Street. At the time, Masao's employer was the Honolulu Dairymen's (Association) on Sheridan Street, and he was 5'2-1/2", 113 lbs.
Masao enlisted on March 23, 1943, and was sent to Schofield Barracks. His civilian occupation was listed as "semi-skilled mechanic and repairman," and his Army Serial No. was 30105315. He was among the hundreds of newly inducted soldiers who were given a community farewell at Iolani Palace on March 28, and then left Hawaii on the SS Lurline on April 4. After arriving in Oakland, California, they were sent by train to Camp Shelby, Mississippi. Training at Camp Shelby lasted from April 1943 until April 1944.
He shipped out with the other 442nd soldiers from Hampton Roads, Virginia, on May 2, 1944, in a convoy of troop ships. After arriving in Italy, they entered combat on June 26, 1944, at Suvereto. Masao participated in all the actions of the 442nd in the Rome-Arno Campaign before they left for France on September 26, 1944. He was in the Vosges Campaign and the Maritime Alps Campaign. He returned home to Hawaii in 1945 and was discharged on March 29.
Masao earned the Combat Infantryman Badge and the Distinguished Unit Medal for his wartime service.
He married Yoshiko Doi of Lihue, Kauai, on October 19, 1946, in Honolulu. After the war Masao (also known as Jerry) was active in the Dairymen's Association Federal Credit Union. In 1957 he and his wife built a house on Lot 165 in Kailua Heights. He worked for Aloha Airlines as an auto mechanic.
Masao Haji died in Kuakini Hospital, Honolulu, on October 31, 1971, at the age of 48. At the time his residence was in Kailua. He was buried on November 30 at the National Memorial Cemetery of the Pacific at Punchbowl in Section U, Row 40-N. He was survived by his wife, his son and three daughters, and his sister and two brothers. His wife Yoshiko died April 21, 2017, and was buried with him.