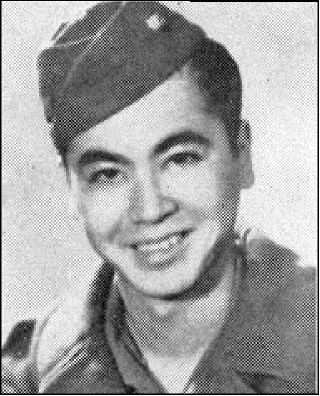 Masao Henry Tamanaha
Sergeant
442nd Regimental Combat Team
3rd Battalion, K Company
Masao Henry Tamanaha was born on July 12, 1922, in Peahi, Maui, Territory of Hawaii. He was the son of Kama and Kamato (Kobashigawa) Tamanaha, both from Okinawa Prefecture, Japan. Mr. and Mrs. Tamanaha had four other children: sons Seichi, Yoshio, and Seisuke; and daughter Tsuruko.
Masao attended Halehaku School and graduated from Maui High School. A 1934 Honolulu Star-Bulletin article on school gardens reported that Masao spent his Easter vacation hoeing weeds in his home garden, and that it was "getting better."
Masao registered for the draft on June 30, 1942, Local Board No. 2, on Waialae Avenue in Honolulu. He gave his mailing address as care of K. Okada Store on Waialae Avenue. He was 19 years old at the time, and employed as a boiler installer for Hawaiian Electric Co., Ltd., in the Construction Department at Bishop and Ala Moana Streets. His point of contact was his mother, Mrs. Kana Taira, who lived at Lot 8, Lower Oili Road, Honolulu. He was 5'4½" tall, and weighed 127 pounds.
On March 24, 1943, Masao H. Tamanaha enlisted in the Army at Wailuku, Maui. His civilian occupation was given as "Skilled mechanics and repairmen." He was sent to the "tent city," known as Boom Town, at Schofield Barracks with other volunteers. On March 28, they were given a farewell ceremony at Iolani Palace by the community. On April 4, they sailed for San Francisco on the S.S. Lurline.
Masao trained at Camp Shelby, Mississippi, and was assigned to Company K. After a year of training, on April 22, 1944, he left with the Combat Team for Camp Patrick Henry, Virginia. On May 4 they shipped out from nearby Hampton Roads, Virginia, in a large convoy of ships carrying the men of the 442nd to the Mediterranean Theater of Operations. They arrived on May 28 at Naples, Italy, and went to Staging Area #4 at nearby Bagnoli to prepare for entry into the combat zone.
On June 6, they went to sea again on LSTs, arriving at the Anzio beachhead the next morning. On June 9, they moved out in a convoy through Rome, finally arriving at a bivouac area near Civitavecchia the next night. After over two weeks of further training preparing them for battle, they entered combat on June 26 near Suvereto in the Rome-Arno Campaign.
Tamanaha was wounded during the Rome-Arno Campaign in Luciana, on July 17, 1944. Luciana and its surrounding hills were critical to controlling the port of Livorno. Intense fighting took place, and K Company made a frontal attack on Luciana on July 17. On July 18, Livorno was liberated by the Americans.
Tamanaha went with the Combat Team to France on September 27, 1944, for participation in the Rhineland-Vosges Campaign, followed by the Rhineland-Maritime Alps Campaign. He returned with the 442nd for the final battles to win the war in Italy, arriving in Pisa on March 25, 1945.
Sgt. Masao H. Tamanaha was killed in action on April 16, 1945, in northwestern Italy during the Po Valley Campaign. April 16 battle records report fighting for the southwestern tip of the La Bandita ridge, and Sgt. Tamanaha's K Company passing over Mt. Pizzacuto, and seizing Mt. Tomaggiora. He was interred at the U.S. Military Cemetery, Castelfiorentino, near Florence, Italy, in Plot Y, Row 70, No. 3423.
For his military service, Sergeant Masao H. Tamanaha was awarded the Bronze Star Medal, Purple Heart Medal with one oak leaf cluster, Good Conduct Medal, American Campaign Medal, European-African-Middle Eastern Campaign Medal with four bronze stars, World War II Victory Medal, Distinguished Unit Badge, and Combat Infantryman Badge.  Masao was posthumously awarded the Congressional Gold Medal on October 5, 2010, along with the veterans of the 100th/442nd Regimental Combat Team.  This is the highest Congressional Civilian Medal.
In 1949, his family was given the choice of having his remains returned from Italy. As a result, on July 11, 1949, Sgt. Tamanaha returned to Hawaii on the USAT Captain Arlo L. Olsen, along with the remains of 33 other sons of Hawaii who died on the battlefields of Europe. This was the sixth such ship to arrive, and it was greeted by a large crowd. Acting Governor Oren E. Long delivered a eulogy, saying, "We are proud to have such sons." Chaplain Edwin L. Kirtley, U.S. Army Pacific, conducted a memorial service following the 9:00 a.m. berthing in Honolulu Harbor's Kapalama Basin. Afterwards, the flag-draped caskets were taken to the U.S. Army mausoleum at Schofield Barracks awaiting final funeral arrangements by the family.
Sgt. Masao H. Tamanaha was interred at Maui Veterans Cemetery, Makawao, on Maui, in Plot 4, Grave 430.
Masao's older brother, Seichi, also served in the 442nd RCT, 2nd Battalion, F Company.
Researched and written by the Sons & Daughters of the 442nd Regimental Combat Team in 2021.