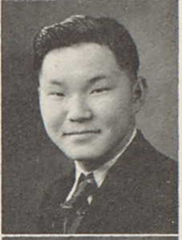 Masaru Abe
Technical Sergeant
442nd Regimental Combat Team
100th Battalion, A Company
Masaru Abe was born on August 20, 1916, in Kingsburg, California. He was the second son of the seven children of Katsuji and Ito (Kimura) Abe. His siblings were: brothers Masaichi Charles and Joe; and sisters Fujiye, Helen, and Miyoko. Katsuji emigrated from Yakuoji, Fukuoka Prefecture, Japan, in 1910, first to Hawaii; then on to California. He later returned to Japan and married Ito Kimura. They returned to the US via Honolulu and then on to San Francisco, arriving on July 21, 1914, aboard the Nippon Maru. Katsuji established a farm in Fresno County in the San Joaquin Valley.
Masaru, known as Mas, graduated from Reedley High School in 1934 (photo above). He was active in the Agriculture Club, basketball, and football. He registered for the draft on October 16, 1940, at Local Board No. 130 in Exeter, California. At the time, he was self-employed; 5'8" tall, and weighed 150 pounds. His father was listed as his point of contact. Their address was Route 2, Box 348 in Dinuba.
On November 7, 1941, Masaru was inducted into the U.S. Army at the Presidio of Monterey, and went through basic training at Camp Roberts, California. Following the attack on Pearl Harbor, he was transferred to Camp Robinson, Arkansas. During this time his parents and five siblings were incarcerated on August 6, 1942, at Colorado River WRA Internment Camp, also known as Poston, located in southwestern Arizona. They entered directly, rather than the more usual route of via a WCCA Assembly Center. His parents were released to New York, New York, on July 23, 1945, and his siblings to various locations during 1943 to 1945.
Mas spent two and one-half years at Camp Robinson doing various duties on the post. In early 1944, he was transferred to Fort McClellan, Alabama. From there, he was sent as a replacement to the 442nd RCT; arriving in late September 1944, just as the Combat Team was being transferred to France for the Rhineland-Vosges Campaign. He was assigned to the 100th Battalion, A Company, as a platoon leader.
At some point between October 16-18, during the battle to take the important road and rail junction of Bruyères, Abe was wounded slightly, treated by a medic, and returned to the fight.
Tec/Sgt. Abe was in all of the action in the Vosges, including being one of men who made initial contact with the Lost Battalion, the1st Battalion of the 141st (Texas) Regiment that had advanced beyond the lines and was surrounded by the enemy on three sides. Attempts by the 141st and other units to free it had been unsuccessful, so the 442nd was called in.
For his actions in the Lost Battalion rescue, which culminated on October 30, 1944, Abe was among twenty 442nd soldiers to be awarded the Bronze Star Medal. The citation reads:
Directed to establish contact with elements of their battalion entrapped in the vicinity of Biffontaine, Abe and his comrades started for their objective mounted on five light tanks. Encountering a hail of fire from well dug-in enemy positions on the road, Abe and the rest of the platoon fearlessly resisted with their individual weapons and the machine guns emplaced on the tanks, neutralizing a considerable portion of the concentrated fire and enabling the tanks to reach friendly forces. By his heroic disregard for personal safety, Abe contributed immeasurably to the attainment of the objective and reflects honor upon the United States Army.
Following the Vosges, Abe served in the Rhineland-Maritime Alps Campaign in southern France from November 21, 1944, to March 19, 1945. This was mostly a defensive position for the 442nd, guarding the border with Italy against incursion by the Germans.
Abe then served in Italy during the Po Valley Campaign for the final push against the enemy from March 25 to the surrender of German forces in Italy on May 2, 1945. He remained in Italy during the occupation, engaged in such duties as guarding and processing German prisoners of war.
He was discharged from the U.S. Army on November 28, 1945. On January 4, 1946, Abe's hometown newspaper, The Reedley Exponent, reported that he had returned home to Reedley from overseas duty.
For his military service, Technical Sergeant Masaru Abe was awarded the Bronze Star Medal with one oak leaf cluster, Purple Heart Medal, Good Conduct Medal, American Defense Medal, American Campaign Medal, European-African-Middle Eastern Campaign Medal with three bronze stars, World War II Victory Medal, Army of Occupation Medal, Distinguished Unit Badge with one oak leaf cluster, and Combat Infantryman Badge. Masaru was posthumously awarded the Congressional Gold Medal on October 5, 2010, along with the other veterans of the 100th/442nd Regimental Combat Team. This is the highest Congressional Civilian Medal.
After the war, Mas was a founding member of the United Veterans Organization, a group for Nisei veterans in central California. In 1950, he was living with his parents and three siblings at 116 Manning Street in Fresno, where he and his father were employed as farm helpers.
On December 7, 1957, in Fresno, Masaru married Sadano Kikumoto, known as Sadie, the daughter of Kyujiro and Tsune Kikumoto of Imperial, California.  Sadie had been incarcerated at Colorado River WRA Relocation Camp with her family from May 21, 1942, to her release to New York, New York, on November 12, 1945.
At the time of their marriage, Mas was the manager of Royal Valley Fruit Distributors. The couple remained in Reedley and over the years raised a family of two sons.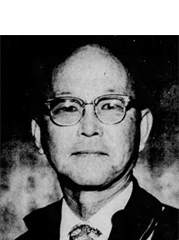 Abe was very active in local affairs: the Memorial Sequoia Community Concert Association, Reedley Buddhist Church, Reedley Chapter of the Japanese American Citizens League (JACL), and Reedley fireworks committee. In 1989, he participated in "The AJA Community of San Joaquin Valley 1890-1954," an exhibit at the Fresno Metropolitan Museum. He was supervisor for a packing house at the time of his retirement.
Right: Abe in 1975 was honored for decades of coaching the Manjettes girls' basketball team
According to his obituary, he "enjoyed coaching the Reedley Manjettes for many years." He was also a member of the Nisei Farmers League, the Veterans of Foreign Wars (VFW), the American Legion, and the Military Order of the Purple Heart.
Masaru Abe wearing his Veterans garrison cap in 2002 at a 442nd event.
Masaru Abe died on January 23, 2010. He was survived by his wife, two sons, and two grandchildren. His wife Sadie died on February 12, 2017. They were inurned together in the Columbarium at Reedley Cemetery, Fresno County, California.
Researched and written by the Sons & Daughters of the 442nd Regimental Combat Team in 2020 and updated 2023.