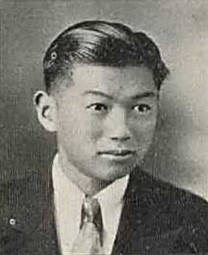 Masaru Tashima
Private First Class
442nd Regimental Combat Team
3rd Battalion, I Company
Masaru Tashima, son of Genjiro and Maki (Mayeda) Tashima, was born on October 28, 1914, in Fresno, California. He had three brothers: Kaichi Henry, Satoru, and Frank Masashi; and one sister, Shizuko. His parents arrived in California in 1905 and settled in Fresno. Their eldest son was born in the Territory of Hawaii in 1904.
In 1918, Masaru's family was living on a ranch in Fresno where his father was a rancher. He attended Roeding Elementary School and Fresno High School. In the 1920 Federal Census, his father owned his own farm where they lived on the outskirts of Fresno.
At Fresno High School, Masaru was on the baseball, basketball, and football teams before graduating in 1933 (Photo – below). In January 1937, the Tashima Brothers opened the "new home" of their "new and modern super service station and complete repair shop" at Tulare and D Streets. It featured 11,200 square feet of service space and 1,800 square feet of repair shop space. By the 1940 Federal Census, Masaru and brother Frank are living with their parents on Hughes Street and his father still owned the ranch.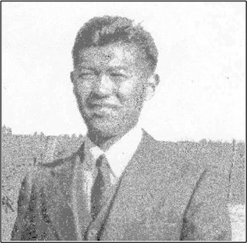 Masaru signed his World War II Draft Registration card on October 16, 1940, Local Board 128 in Fresno. His oldest brother Kaichi, who lived at 927 C Street, was listed as his point of contact. He was 5'7" tall and weighed 145 pounds. At the time, he was living at 940 D Street and was a mechanic at Tashima's Garage, which he and his brother Frank owned.
Tashima was inducted into the U.S. Army on January 28, 1942, at the Presidio of Monterey, California. His civilian occupation was listed as "Semiskilled mechanic and repairman." At the time he was 5'8" tall and weighed 138 pounds. He had graduated from high school, was living in Fresno, and was married.
A few months later in the spring of 1942, Masaru's family was evacuated to the WCCA (Wartime Civilian Control Administration) Fresno Assembly Center located on the county fairgrounds. Then, on October 28, his parents and eldest brother Henry, plus wife Masato and children Yoshie, Masato, and Keijo, were incarcerated at Jerome WRA Relocation Camp in southeast Arkansas. On November 3, his brother Frank was incarcerated at Jerome, where a month later he married Mikiye Matsuda of Fresno.
Meanwhile, Masaru received his basic training at Fort Ord, California. He was later stationed at Fort Riley, Kansas, prior to being sent to Camp Shelby, Mississippi, after the formation of the 442nd Regimental Combat Team. While Masaru was in training, his parents and brother Henry and family were transferred from the camp in Jerome, Arkansas, to the Tule Lake WRA Camp in California near the Oregon border on September 25, 1943; and brother Frank and wife were transferred on June 30, 1944, to Rohwer WRA Camp in southeast Arkansas.
Following training, according to his sister-in-law and niece, Masaru left Camp Shelby in August 1944 for Italy. On September 18, 1944, Tashima was among 672 replacements who arrived in the 442nd bivouac area outside Naples. He was assigned to I Company, 3rd Battalion and was quickly trained and integrated into his unit. They soon moved to Staging Area No. 1 in what had once been the University of Naples.
On September 26 and 27, Tashima was among the 442nd men as they were loaded aboard light assault boats that shuttled them to the waiting transport ships – Thurston, Dickman, Chase, and Henrico. At precisely 12:00 p.m. on the 27th they sailed for France, arriving in Marseilles, France, on September 30.
After a week at a staging area near Septèmes, just outside Marseilles, the Combat Team was moved north to the Vosges Mountains about 500 miles away. The 3rd Battalion was transported by train – an assortment of "40×8" boxcars, the last of the 442nd to arrive into the assembly area at Charmois-devant-Bruyères at midnight on October 13.
Tashima participated in all the Combat Team's action to liberate the important road junction of Bruyères and the village of Biffontaine. Fighting was intense and the weather cold and wet. After a brief rest in nearby Belmont, on the afternoon of October 26, the Regiment was ordered to the front lines again to aid in the rescue of the Lost Battalion – the 1st Battalion of the 141st (Texas) Infantry Regiment. This battalion had gotten ahead of the lines and was surrounded on three sides by the enemy. Attempts by the 141st and other units to free it had been unsuccessful, so the 442nd was assigned the mission.
Masaru was killed in action on October 29, 1944, in the battle to rescue the Lost Battalion – one of five I Company men who died that day. The hospital admission card states that he was wounded in the general area of his thorax/chest. His death came one day after his 30th birthday, and one day before the Lost Battalion was rescued.
Pfc. Masaru Tashima was buried in the U.S. Military Cemetery at Epinal.
For his military service, Tashima was awarded the Bronze Star Medal, Purple Heart Medal, Good Conduct Medal, American Campaign Medal, European-African-Middle Eastern Campaign Medal with one bronze star, World War II Victory Medal, Distinguished Unit Badge, and Combat Infantryman Badge.  He was awarded the Congressional Gold Medal on October 5, 2010, along with the other veterans of the 100th/442nd Regimental Combat Team.  This is the highest Congressional Civilian Medal.
When the Army was closing the many small wartime cemeteries in Europe in 1948, the Tashima family was given the choice to have his remains shipped home or remain at Epinal. They chose to have Masaru's body brought home. He arrived on December 30, 1948, to Pier 3 at Brooklyn Army Base in New York Harbor aboard the USAT Barney Kirschbaum. He was among the 4,384 American war dead, 212 of them from California and five from Fresno, to arrive in the US aboard this ship. The men had originally been buried in wartime cemeteries in France, Belgium, Holland, and Luxembourg. The ship was delayed by a day due to heavy storms in the Atlantic enroute from Europe. A dockside memorial service was held at 11:00 a.m.
On January 30, 1949, Masaru Tashima's family held a wake in his memory at 7:00 p.m. at the Buddhist Temple in Fresno, followed by the funeral service at 2:00 p.m. on January 31. Members of the American Legion Post No. 4 provided the Honor Guard at the funeral. He was buried with full military honors at Liberty Veterans Cemetery on Belmont Avenue in Fresno. Masaru was survived by his parents of 2722 N. Hughes Avenue, and brothers Kaichi Henry Tashima of Yokohama, Japan, and Frank M. Tashima of Fresno.
Researched and written by the Sons & Daughters of the 442nd Regimental Combat Team in 2021.