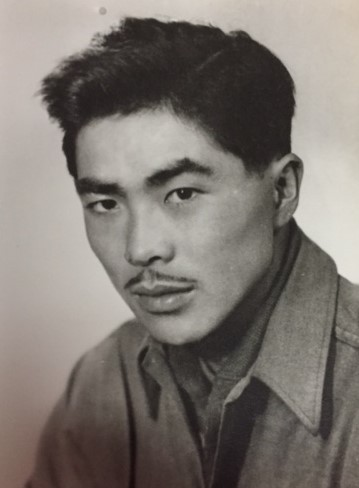 Masato Doi
Technical Sergeant
442nd Regimental Combat Team
Antitank Company
Masato Doi was born on February 4, 1921, in Paauhau, Hawaii island, Territory of Hawaii. He was the youngest of five children born to Toyozo and Shizu "Tose" (Morikawa) Doi. His siblings were Hatsuyo, Mitsu, Ethyl Kiku, and Yutaka. Father Toyozo was born in Kuga District, Yamaguchi Prefecture, Japan, in 1869, and arrived in Honolulu in 1889. Tose was born in Yamaguchi Prefecture and emigrated on the S.S. Coptic, arriving in Honolulu on May 9, 1902. Toyozo worked for the Paauhau Sugar Plantation on the Big Island, and became an overseer by 1910. He retired prior to 1940.
Masato graduated from Honokaa Intermediate School and Mid-Pacific Institute (Honolulu). He was an honors student and active in sports and student government. He was a member of the YMCA's Hi-Y club and won numerous awards for public speaking in regional and statewide competitions. He was also in the Hawaii Future Farmers of America boys club.
Masato enlisted in the Hawaii Territorial Guard, and entered the University of Hawaii (UH). At UH, he was an honors student and active in tennis and golf. When the Guard was federalized, he was discharged from service along with the other Nisei servicemen. He joined 154 other UH Nisei students in forming the Varsity Victory Volunteers (VVV) to serve the war effort. They were mobilized on February 25, 1942, and assigned to Schofield Barracks as a labor battalion to work on projects on Oahu.
Doi registered for the draft on February 16, 1942, at Local Board No. 3 in Honolulu. He was living at 1144-F 2nd Avenue, and listed his father as his point of contact. He was 5'4" tall and weighed 112 pounds.
On January 30, 1943, the VVV were demobilized in a ceremony at Iolani Palace.  Three days later, on February 2, 1943, Masato enlisted in the Army, along with 156 of his fellow VVV members.  They were designated to go to the 442nd Regimental Combat Team or the Military Intelligence Service.  Masato was returned to Schofield Barracks; the majority of his fellow soldiers would enlist in March.  The new volunteers were sent to the "tent city" known as Boom Town at Schofield Barracks.  On March 28, they were given a community farewell at Iolani Palace.
On April 4, they sailed on the S.S. Lurline to San Francisco. After a train trip across the US, they arrived at Camp Shelby, Mississippi, for training. After basic training, Masato was assigned to the Antitank Company. After over a year of training, he shipped out to Europe with the 442nd on May 2, 1944, from Hampton Roads, Virginia, in a convoy of over 100 ships.
After arriving in Naples, Italy, on May 28, the Combat Team spent a week at a staging area in nearby Bagnoli before leaving on LSTs for Anzio on June 6, where they marched five miles to a bivouac area.  On June 26, 1944, the 442nd RCT moved forward to the front lines for their first combat engagement near Suvereto.  Masato fought in the Rome-Arno Campaign.
On July 14, the Antitank Company was pulled out of the battle line and sent to bivouac near Lido de Roma. The Company was assigned to the First Airborne Task Force and their mission was to support the 517th Parachute Infantry Regiment in the invasion of southern France. After unit training for the mission, they took to the air in towed gliders on August 15. The Antitank Company was flown in 44 gliders. The platoons were split up to support different elements of the 517th. They were engaged in combat until October 21. This was an operation in the Southern France Campaign.
On October 24, Masato and the Antitank Company rejoined the 442nd RCT for the battles in the Rhineland-Vosges Campaign, 500 miles north in the Vosges Mountains. Afterwards, he served with the Combat Team in the Rhineland-Maritime Alps Campaign from November 1944 to March 1945, and the Po Valley Campaign back in Italy from March until the war ended in May.
He remained in Italy for the beginning of the occupation. In mid-summer Masato was among a group of twenty 442nd men who were flown to the US. They crossed the country in pullman cars to Camp Beale, California, then were given brief furloughs to visit their families in Hawaii. They were placed on temporary duty at Camp Beale and flew home from Hamilton Air Field. This notice appeared in the September 28, 1945, Honolulu Star-Bulletin. He and several others were discharged from the Army on October 21 from an Army Separation Center on Oahu. He returned to San Francisco on a Pan American Airways flight on December 15, 1945.
For his military service, Technical Sergeant Masato Doi was awarded the Bronze Star Medal, Good Conduct Medal, American Campaign Medal, Asiatic-Pacific Campaign Medal, European-African-Middle Eastern Campaign Medal with one silver star and one bronze service arrowhead, World War II Victory Medal, Army of Occupation Medal, Distinguished Unit Badge, Combat Infantryman Badge, and Glider Badge.
Following the war, Masato enrolled in Columbia University in New York City, graduating in 1947, and honored with membership in the Phi Beta Kappa Honor Society. He then attended Columbia School of Law as a Harlan Fiske Stone Scholar, He married California native Sachiko Yamada on June 12, 1949, while in school. After he earned his law degree, they moved to Hawaii in 1950. They raised two children – one boy and one girl.
Masato was elected as a Territorial Representative. He worked on the Board of Supervisors for the City of Honolulu, and served on the City Council for eight years. He was the Council President when he unsuccessfully ran for Mayor of Honolulu. He served as a District Judge until his retirement in 1978, when he returned to private law practice. He also volunteered at the National Memorial Cemetery of the Pacific at Punchbowl, Project Dana, and the Institute for Human Services.
Sachiko died on November 9, 1992. Masato married Cynthia Chi in 1997. He was an avid golfer and loved to travel, often visiting family and friends in Japan.
Masato Doi passed away on July 21, 2013. He was survived by his wife, two children, and five grandchildren. He was inurned in the National Memorial Cemetery of the Pacific (Punchbowl), Section Ct2-F, Row 100, Plot 112, next to his first wife, Sachiko. In his obituary, he was lauded as "an honorable and just man, who thought deeply and listened carefully…a remarkable man whose heart and moral compass always steered him true…"
Researched and written by the Sons & Daughters of the 442nd Regimental Combat Team in 2021.